You are here: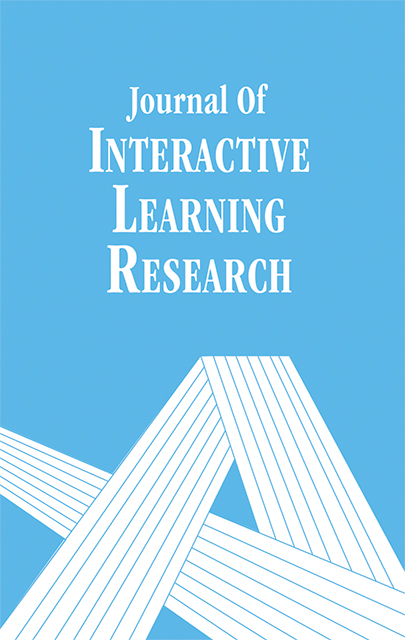 Cognitive Mapping as a Learning Method in Hypermedia Design
Article
Journal of Interactive Learning Research Volume 8, Number 3, ISSN 1093-023X Publisher: Association for the Advancement of Computing in Education (AACE), Waynesville, NC
Abstract
The effectiveness of cognitive mapping is defined operationally in the terms of general beneficial, differential, and compensation effects. The contribution of the concept mapping method will mainly be discussed in the context of student assignments in an ill-structured hypermedia design environment. The supposed effects will be checked against the uniqueness of cognitive mapping, cognitive mapping styles, and cognitive mapping as a creative problem solving technique. The most salient theories on which the current practice of cognitive mapping is built upon are discussed, with an emphasis on problem solving representations and meta-cognition.
Citation
Stoyanov, S. (1997). Cognitive Mapping as a Learning Method in Hypermedia Design. Journal of Interactive Learning Research, 8(3), 309-323. Charlottesville, VA: Association for the Advancement of Computing in Education (AACE). Retrieved May 29, 2023 from https://www.learntechlib.org/primary/p/8903/.
Keywords
References
View References & Citations Map
Brown, A. (1987). Metacognition, executive control, se lf-regu la t ion and other mysterious mechanisms. In F. Weinert& R. Kluwe (Eds.) , Metacognition, motivation, and understanding. NJ: LEA.
Hayes, J. (1978). Cognitive psychology. Thinking and creating. IL: The Dorsey Press.
Jonassen, D., Beissner, K., & Yacci, M. (1993). Structural knowledge. NJ: LEA. Jonassen, D., & Grabowski, B. (1993). Handbook of individual differences, learning, and instruction. NJ: LEA.
Kommers, P. (1990). Hypertext and acquisition of knowledge. Unpublished doctoral dissertation, University of Twente, Enshede, The Netherlands.
Kosslyn, S.M. (1991). A cognitive neuroscience and visual cognition. In R. H. Logie & M. Denis (Eds.), Mental images in human cognition. Amsterdam: Horth Holland.
Minsky, M. (1975). A framework for representing knowledge. In P.H. Winston (Ed.), The psychology of computer vision. New York: McGraw-Hill.
Moonen, J. (1994). Prototyping as a design activity. In T. Husen & N. Postlethwaite (Eds.) , International encyclopedia of education. Oxford: Pergamon Press.
Paivio , A. (1986). Mental representations. Oxford: Oxford University Press. Paris, S.G. , & Winograd, P. (1990). How metacognition can promote academic learning and instruction. In B. Jones& L. Idol (Eds.) , Dimen-
Pask, G. (1988). Learnings trategies, teachings trategies, and conceptual or learning style. In R. Schmeck (Ed.) , Learning, strategies, and learnings ty les. New York: Plenum Press.
Pervin, L. (1993). Personality theory and research. NY: John Wiley & Sons. Piaget, J. (1970). Science of education and the psychology of child. London: Longman.
Sternberg, R. (1994). Intelligence. In R. Sternberg (Ed.) , Thinking and problemsolving. San Diego, CA: Academic Press.
Weiner, B. (1986). An attributional theory of achievement motivation and emotion. NY: Spr inger-Ver lag.
These references have been extracted automatically and may have some errors. Signed in users can suggest corrections to these mistakes.
Suggest Corrections to References