You are here: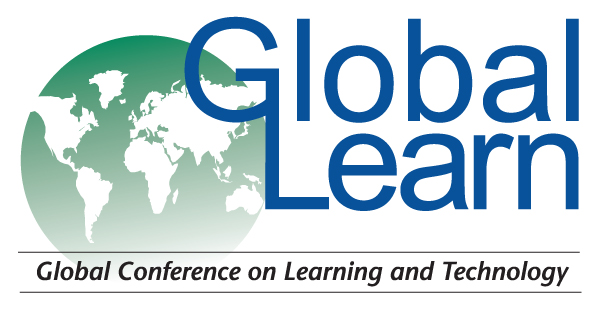 Formulaic Language Use in Virtual Academic Discussions
PROCEEDINGS
Wen-Chun Chen, National Chung-Cheng University, Taiwan
Global Learn, in Online, Publisher: Association for the Advancement of Computing in Education (AACE)
Abstract
The researcher integrates a function-based account of formulaic language learning into online discussion moves, to support nonnative English speakers' interpretation and expressions during online information exchange. Formulaic language items serve as contextualization cues and facilitate nonnative English speakers to make sense of academic talks and partake effectively in online discussions. Twelve graduate students in a TEFL program in Taiwan and 12 Polish Educational Technology majors receive a focused training on mastering formulaic expressions for academic discourses in English. All participants watch online keynote speeches/virtual seminars in the field of Education, and jointly identify how the talks proceed and if/how the formulaic expressions signal discoursal moves. Data are collected from students' needs assessment, learning logs (from watching online videoclips), the records of three forum discussions among all the participants, and students' reflection. Biber, Conrad, and Cortes' (2004) taxonomy of formulaic language for academic purposes is used for data analysis.
Citation
Chen, W.C. (2012). Formulaic Language Use in Virtual Academic Discussions. In Proceedings of Global Learn 2012: Global Conference on Learning and Technology (pp. 152-157). Online,: Association for the Advancement of Computing in Education (AACE). Retrieved June 17, 2019 from https://www.learntechlib.org/primary/p/42058/.
References
View References & Citations Map
Biber, D., Conrad, S., & Cortes, V. (2004). If you look at?? Lexical Bundles in University Teaching and Textbooks. Applied Linguistics, 25(3), 371-405.
Conklin, K., & Schmitt, N. (2008). Formulaic sequences: Are they processed more quickly than nonformulaic language by native and nonnative speakers? Applied Linguistics, 29(1), 72-89.
Ellis, R. (2003). Task-Based Language Learning and Teaching. New York: Oxford.
Hauck, M., & Youngs, B.L. (2008). Telecollaboration in multimodal environments: The impact on task design and learner interaction. Computer Assisted Language Learning, 21(2), 87-124.
Hsieh, W.-M., & Liou, H.-C. (2008). A case study of corpus-informed online academic writing for EFL graduate students. CALICO Journal, 26(1), 28-47.
Kramsch, C. (2008). Language, thought, and culture. The Handbook of Applied Linguistics (pp. 235-261):
Liaw, M.-L. (2007). Constructing a virtual "thirdspace" for EFL learners: Where language and cultures meet. ReCALL, 19(2), 224-241.
Mauranen, A. (2003). The corpus of English as lingua franca in academic settings. TESOL Quarterly, 37(3), 513-527.
Pennebaker, J.W., & Francis, M.E. (1999). Linguistic inquiry and word count. Mahwah, NJ: Taylor and Francis.
Prodromou, L. (2008). English as a lingua franca: a corpus-based analysis. London: Continuum International Publishing Group Ltd.
Sherry, L., Billig, S.H., & Tavalin, F. (2000). Good online conversation: Building on research to inform practice. Journal of Interactive Learning Research, 11(85 – 127).
Schmidt, R. (1992). Awareness and second language acquisition. Annual Review of Applied Linguistics, 13, 206-226.
Teng, L.Y.W. (2007). Collaborating and communicating online: Across-bordered intercultural project between Taiwan and the U.S. Journal of Intercultural Communication, 13. Retrieved from http://www.immi.se/jicc/.
Wood, D. (2001). In search of fluency: What is it and how can we teach It? Canadian Modern Language Review/ La Revue canadienne des langues vivantes, 57(4), 573-589.
Wray, A., & Perkins, M.R. (2000). The functions of formulaic language: An integrated model. Language& Communication, 20, 1-28.
Young, R.F. (2008). Language and interaction: An advanced resource book. London: Routledge.
Zhou, Y.R., Knoke, D., & Sakamoto, I. (2005). Rethinking silence in the classroom: Chinese students' experiences of sharing indigenous knowledge. International Journal of Inclusive Education, 9(3), 287-311.
These references have been extracted automatically and may have some errors. Signed in users can suggest corrections to these mistakes.
Suggest Corrections to References