You are here: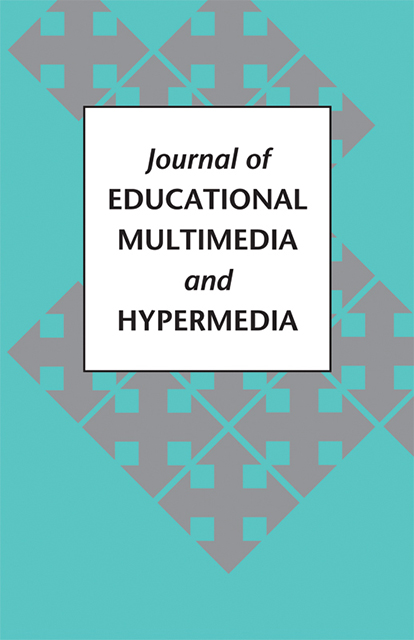 Understand learning style by eye tracking in slide video learning
ARTICLE
Journal of Educational Multimedia and Hypermedia Volume 21, Number 4, ISSN 1055-8896 Publisher: Association for the Advancement of Computing in Education (AACE), Waynesville, NC USA
Abstract
More and more videos are now being used in e-learning context. For improving learning effect, to understand how students view the online video is important. In this research, we investigate how students deploy their attention when they learn through interactive slide video in the aim of better understanding observers' learning style. Felder and Silverman's learning style scale was applied to identify learner's learning preference. Participants' eye movement was recorded in an eye-tracking lab. "eye-mind" assumption is supported by a mild correlation between posttest score and viewing ratio. Different viewing behavior of different learners with strong and intermediate visual learning preference is investigated. Some eye movement metrics like fixation time, speed and direction related to global and sequential learning style are investigated. The result showed a high consistence with corresponding learning style characteristics, which provides another way to verify the validity of learning style. Possible applications such as incorporating with adaptive learning management system are discussed.
Citation
Cao, J. & Nishihara, A. (2012). Understand learning style by eye tracking in slide video learning. Journal of Educational Multimedia and Hypermedia, 21(4), 335-358. Waynesville, NC USA: Association for the Advancement of Computing in Education (AACE). Retrieved July 11, 2020 from https://www.learntechlib.org/primary/p/39182/.
Keywords
References
View References & Citations Map
Anderson, J. R., Bothell, D., & Douglass, S. (2004). Eye movements do not reflect retrieval processes: limits of the eye-mind hypothesis. Psychological Science, 15(4), 225-31.
Aaltonen, A. Hyrskykari, A., & Raiha, K. (1998). 101 Spots, or how do users read menus? In: Proceedings of CHI 98 Human Factors in Computing Systems (pp. 132-139). ACM Press.
Andrews, T., & Coppola, D. (1999). Idiosyncratic characteristics of saccadic eye movements when viewing different visual environments. Vision Research, 39, 2947-2953.
Crosby, M. E., & Peterson, W. W. (1991). Using eye movements to classify search strategies. In: Proceedings of the Human Factors Society 35th Annual Meeting (pp. 14761480). Santa Monica: Human Factors and Ergonomics Society.
Card, S. K. (1984). Visual search of computer command menus. In: H. Bouma and D. G. Bouwhuis (eds), Attention and Performance X, Control of Language Processes. Hillsdale, NJ: Lawrence Erlbaum Associates.
De Boer, J., Kommers, P. A M., & De Brock, B. (2011). Using learning styles and viewing styles in streaming video. Computers & Education, 56(3), 727-735. Elsevier Ltd. Doi:10.1016/J.compedu.2010.10.015
Duchowski,A.T.(2003), Eye tracking methodology: Theory and practice, London: Springer-Verlag.
Felder, R. M., & Spurlin, J.(2005). Applications, reliability and validity of the index of learning styles. International Journal of Engineering Education, 21(1), 103-112
Fitts, P. M., Jones, R. E., & Milton, J. L. (1950). Eye movements of aircraft pilots during instrument-landing approaches. Aeronautical Engineering Review, 24-29.
Graf, S, & Lin, T. (2008). The relationship between learning styles and cognitive traits – Getting additional information for improving student modelling. Computers in Human Behavior, 24(2), 122-137.
Hughes, A., Wilkens, T., Wildemuth, B. M., & Marchionini, G. (2003). Text or Pictures ? An Eyetracking Study of How People View Digital Video Surrogates, 271-280.
Jacob, R. J. K., & Karn, K. S. (2003). Eye Tracking in Human – Computer Interaction and Usability Research : Ready to Deliver the Promises. Work.
Keefe J.(1991), Learning style: Cogntiive and Thinking Skills. National Association of Secondary School Principals, Virgina, Reston.
Mayer, R. (2009). Multimedia Learning, Second Edition, ISBN-10:0521735351.
Nielsen, J. (2006). F-shaped pattern for reading web content. Nielsen Norman Group. Available at: http://www.nngroup.com/articles/f-shaped-pattern-reading-web-content.
Poole, A., & Ball, L. J. (2005). Eye Tracking in Human-Computer Interaction and Usability Research : Current Status and Future Prospects. Psychology.
Rayner, K., Rotello, C., Stewart, A., Keir, J., & Duffy, S. (2001) Integrating text and pictorial information: eye movements when looking at print advertisements. Journal of Experimental Psychology: Applied, 7(3). Pp. 219-226.
Shih, M., Feng, J., & Tsai, C. (2008). Research and trends in the field of e-learning from 2001 to 2005: A content analysis of cognitive studies in selected journals. Computers & Education, 51(2), 955-967. Doi:10.1016/J.compedu.2007.10.004
Yarbus, A. L. (1967) Eye Movements and Vision (Trans. B. Haigh). New York: Plenum Press. (Original work published 1965).
Zhang, D., Zhou, L., Briggs, R., & Nunamakerjr, J. (2006). Instructional video in e-learning: Assessing the impact of interactive video on learning effectiveness. Information & Management, 43(1), 15-27.
These references have been extracted automatically and may have some errors. Signed in users can suggest corrections to these mistakes.
Suggest Corrections to References