You are here: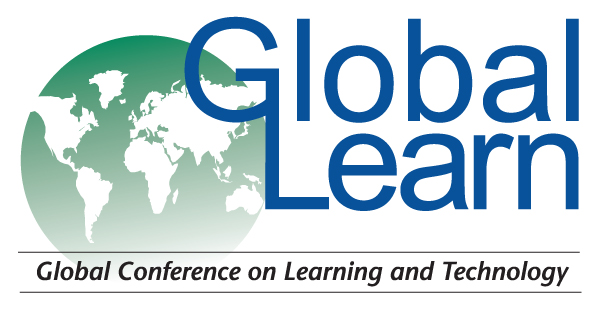 The absence of structure as affordance to support critical reflection?
PROCEEDINGS
Global Learn, in Melbourne, Australia ISBN 978-1-880094-85-3 Publisher: Association for the Advancement of Computing in Education (AACE)
Abstract
During their studies pre-service teachers are repeatedly asked to reflect. In this contribution we examine to what extent structure may be considered as an affordance that supports critical reflection. 176 reflection assignments of pre-service teachers were used in the analysis, of which 88 conducted with a non-linear approach to reflection and 88 with a linear. The results reveal that the reflection assignments -irrespective of the approach- contained few elements of critical reflection. A one-way ANOVA shows a main effect of an approach to reflection on the degree of critical reflection. Further analysis reveals that students score higher on critical reflection when they reflect with a linear approach than when they reflect with a non-linear approach. To conclude, we first make some methodological remarks and next discuss the practical implications of this current study.
Citation
Callens, J.C. & Elen, J. (2011). The absence of structure as affordance to support critical reflection?. In S. Barton, J. Hedberg & K. Suzuki (Eds.), Proceedings of Global Learn Asia Pacific 2011--Global Conference on Learning and Technology (pp. 1346-1351). Melbourne, Australia: Association for the Advancement of Computing in Education (AACE). Retrieved November 21, 2019 from https://www.learntechlib.org/primary/p/37341/.
References
View References & Citations Map
Banaszewski, T. (2005). Digital storytelling, supporting digital literacy in grades 4-12. A thesis presented to the academic Faculty, Georgia Institute of Technology. Retrieved on February 3, 2006, from http://techszewski.blogs.com/techszewski/files/TB_thesis_2006_edits.doc
Boud, D. (2001). Using Journal writing to enhance reflective practice. New Directions for Adult and Continuing Education, 90, 9-18.
Hiemstra, R. (2001). Uses and benefits of journal writing. New Directions for Adult and Continuing Education, 90, 19-26.
Kelchtermans, G., & Ballet, K. (2000). Developing Micro-Political Literacy: A Narrative-Biographical Study on Teacher Development. Proceedings Annual Meeting of the American Educational Research Association, New Orleans, LA, April 24-28.
Kelchtermans, G. (2001). Reflectief ervaringsleren voor leerkrachten. Een werkboek voor opleiders, nascholers en stagebegeleiders (Cahiers voor Didactiek, nr.10). Deurne: Wolters Plantyn.
Kelchtermans, G. (2009). Who I am in how I teach is the message: self-understanding, vulnerability and reflection. Teachers and Teaching: theory and practice, 12 (2), 257-272.
King, P.M., & Kitchener, K.S. (2004). Reflective judgment: theory and research on the development of epistemic assumptions through adulthood. Educational Psychologist; 39 (1), 5-18.
Kirschner, P.A. (2002). Can we support CSCL? Educational, social and technological affordances for learning. In P. Kirschner (Ed.), Three worlds of CSCL: Can we support CSCL. Inaugural address, Open University of the Netherlands.
Korthagen, F., & Vasalos, A. (2005). Levels in reflection: core reflection as a means to enhance professional growth. Teachers and Teaching: theory and practice,11 (1), 47–71.
Lambert, J. (2003). Digital storytelling cookbook and travelling companion, version 4.0. Digital diner press. Retrieved on March 17, 2006, from http://www.storycenter.org/cookbook.pdf
Langer, A. (2002). Reflecting on Practice: using learning journals in higher and continuing education. Teaching in Higher Education, 7 (3), 337-351.
McIntyre, D. (1993). Theory, Theorizing and Reflection in Initial Teacher Education. In J. Calderhead& P. Gates (red.), Conceptualizing reflection in teacher development (pp. 39-52). London: Falmer Press.
Procee, H. (2006). Reflection in education: a Kantian epistemology. Educational Theory, 56 (3), 237-253.
Rogers, R.R. (2001). Reflection in higher education: a concept analysis. Innovative Higher Education, 26 (1), 37-57.
Sherman, L. (1990). Ecological Perspectives on Cooperative Pedagogy: A Gibsonian Interpretation. Paper presented at the international Convention on Cooperative Learning, Baltimore, MD, July 6-10.
Swanborn, P.G. (1987). Methoden van sociaal-wetenschappelijk onderzoek. Amsterdam: Boom Meppel.
Taylor, R. (2004). Informal science learning: influences of explanatory elaboration and learner control on knowledge aqcuistion. Dissertation submitted to the Graduate Faculty of Arts and Sciences in partial fulfillment of the requirements for the degree of Doctor of Philosophy. Retrieved on January 9, 2009, from http://etd.library.pitt.edu/ETD/available/etd-12102004-140257/unrestricted/Roger_Taylor_ETD(1214_2PM).pdf
Van Beirendonck, L. (1998). Beoordelen en ontwikkelen van competenties. Assessment centers, development centers en aanverwante technieken. Leuven/Amersfoort : Acco.
Van Buuren, H., Hummel, H., Berkhout, J., & Slootmaker, A. (2003). Onderzoek de basis. Groningen: WoltersNoordhoff.
Van Eekelen, I.M., Boshuizen, H.P.A., & Vermunt, J.D. (2005). Self-regulation in higher educaton teacher learning. Higher Education, 50 (3), 447-471.
Vergeer, F. (2001). Autonomie en welbevinden. Een onderzoek naar de relatie tussen autonoom handelen van leerlingen en hun welbevinden op school. Proefschrift ter verkrijging van de graad van doctor aan de Katholieke Universiteit Nijmegen. Retrieved on September 1, 2009, from http://webdoc.ubn.kun.nl/mono/v/vergeer_f/autoenwe.pdf
These references have been extracted automatically and may have some errors. Signed in users can suggest corrections to these mistakes.
Suggest Corrections to References