You are here: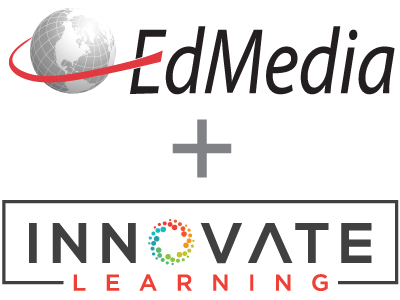 Utility of Interaction in Knowledge-Oriented Activities
PROCEEDINGS
EdMedia + Innovate Learning, in Toronto, Canada ISBN 978-1-880094-81-5 Publisher: Association for the Advancement of Computing in Education (AACE), Waynesville, NC
Abstract
This paper examines the utility of interaction in knowledge-oriented activities. Knowledge-oriented activities refer to those in which a user performs mental activity with some information, thus involving both the mind and external representations. The information being examined by a user is part of an information space, which must be encoded in external representations to provide a tangible form with which to interact. While static representations can be useful aids to knowledge-oriented activities, the addition of interactive elements to representations provides a wide array of benefits to the user. They allow the user to engage in reflective mental activity by combining the mind of the user and the external world into one cognitive system. This paper explores the general benefits interactions have for supporting knowledge-oriented activity, and examines some ILEs that make use of different types of interactions and interaction techniques to support these activities.
Citation
Parsons, P. & Sedig, K. (2010). Utility of Interaction in Knowledge-Oriented Activities. In J. Herrington & C. Montgomerie (Eds.), Proceedings of ED-MEDIA 2010--World Conference on Educational Multimedia, Hypermedia & Telecommunications (pp. 895-904). Toronto, Canada: Association for the Advancement of Computing in Education (AACE). Retrieved January 23, 2020 from https://www.learntechlib.org/primary/p/34741/.
References
View References & Citations Map
Adams, E.S., Carswell, L., Kumar, A., Meyer, J., Ellis, A., Hall, P., and Motil, J. (1996). Interactive multimedia pedagogies: report of the working group on interactive multimedia pedagogy. SIGCSE Bull. 28, 182-191.
Arcavi, A. & Hadas, N. (2000). Computer mediated learning: an example of an approach. International Journal of Computers for Mathematical Learning, 5, 25-45.
Balacheff, N. & Kaput, J.J. (1996). Computer-Based Learning Environments in Mathematics', International handbook of mathematics education, 469–504.
Brickell, G. (1993). Navigation and learning style. Australian Journal of Educational Technology, 9(2), 103-114.
Card, S., MacKinlay, J., & Shneiderman, B. (1999). Readings in information visualization: Using vision to think. San Francisco: Morgan Kaufmann Publishers.
Cox, R. (1999). Representation construction, externalised cognition and individual differences. Journal of Learning and Instruction, pp. 343-363. Elsevier.
Cox, R. & Brna, P. (1995). Supporting the use of external representations in problem solving: the need for flexible learning environments. Journal of Artificial Intelligence in Education, 2/3. 239-302.
De Jong, T., & Van Joolingen, W.R. (1998). Scientific discovery learning with computer simulations of conceptual domains.-902 DASHDASH
De Jong, T. (2005). The guided discovery principle in multimedia learning. In R.E. Mayer (Ed.), The Cambridge handbook of multimedia learning (pp. 215–228). New York: Cambridge.
Derry, S.J., & LaJoie, S.P. (1993). A middle camp for (un)intelligent instructional computing: An introduction. In S.P. LaJoie& S.J. Derry (Eds.), Computers as cognitive tools (pp. 1-14). Hillsdale, NJ: Lawrence Erlbaum Associates.
Dix, A. & Ellis, G. (1998). Starting simple: adding value to static visualisation through simple interaction. Proceedings of the working conference on Advanced visual interfaces, 124-134.
Ford, N. (2000). Cognitive styles and virtual environments. Journal of the American Society for Information Science, 51(6), 543557.
Gilbert, E.W. (1958). Pioneer maps of health and disease in England. Geographic Journal, 124, 172–183.
Hasler, B.S., Kersten, B., & Sweller, J. (2007). Learner control, cognitive load and instructional animation. Applied Cognitive Psychology, 21, 713–729.
Hollan, J., Hutchin, E., & Kirsh, D. (2000). Distributed Cognition: Toward a New Foundation for Human-Computer Interaction Research. ACM Transactions on Computer-Human Interaction, 7(2), 174-196.
Jonassen, D.H., Peck, K.L., & Wilson, B.G. (1998). Learning WITH technology: A constructivist perspective. Columbus, OH: Prentice-Hall.
Jonassen D.H. (2003). Using cognitive tools to represent problems. Journal of Research on Technology in Education, 35, 362381.
Karasavvidis, I. (2002). Distributed cognition and educational practice. Journal of Interactive Learning Research, 13(1/2), 11-29.
Keller, C.J., Finklestein, N.D., Perkins, K.K., & Pollock, S.J. (2006). Assessing the Effectiveness of a Computer Simulation in Introductory Undergraduate Environments, PERC Proceedings, 2006.
Kirschner, P.A., Sweller, J., & Clark, R.E. (2006). Why minimal guidance during instruction does not work: An analysis of the failure of constructivist, discovery, problem-based, experiential, and inquiry-based teaching. Educational Psychologist, 41(2), 75–86.
Larkin, J.H. & Simon, H.A. (1987). Why a diagram is (sometimes) worth ten thousand words. Cognitive Science, 11, 65-99.
Liu, Z., Nersessian, N. And Stasko, J. (2008) Distribution cognition as a theoretical framework for information visualization. IEEE Transactions on Visualization and Computer Graphics 14(6): 1173–1180.
Mayer, R.E., & Chandler, P. (2001). When learning is just a click away: Does simple user interaction foster deeper understanding of multimedia messages? Journal of Educational Psychology, 93(2), 390–397.
Norman, D.A. (1993). Things that make us smart: Defending human attributes in the age of the machine. Reading, MA: Addison-Wesley.
Novick, L. (2006). The Importance of Both Diagrammatic Conventions and Domain-Specific Knowledge for Diagram Literacy in Science: The Hierarchy as an Illustrative Case. In Barker-Plummer, D., Cox, R. & Swoboda, N. (Eds.) Diagrammatic Representation and Inference. Springer Berlin.
Peterson, D. (Ed.) (1996). Forms of representation. Exeter, UK: Intellect Books.
Pike, W., Stasko, J., Chang, R., & O'Connell, T. (2009). The Science of interaction. Information Visualization, 8(4), 263-274.
Proffitt, D.R., Hecht, H., Rock, I., & Schubert, J. (1992). Stereokinetic Effect and Its Relation to the Kinetic Depth Effect. Journal of Experimental Psychology Human Perception and Performance, 18(1). 3-21
Rozenblit, L., Spivey, M., & Wojslawowicz, J. (2001). Mechanical reasoning about gear-and-belt diagrams: do eye-movements predict performance? In Anderson, M., Meyer, B., & Olivier, P. (Eds.) Diagrammatic Representation and Reasoning. Springer.
Sedig, K., Schank, A.M., & Liang, H. (2006). Using task-based interactions to facilitate exploration of 3D lattice visualizations. In Proceedings of British HCI 2006, Combining Visualisation and Interaction to Facilitate Scientific Exploration and Discovery.
Sedig, K. & Sumner, M. (2006). Characterizing interaction with visual mathematical representations. International Journal of Computers for Mathematical Learning, 11(1), 1-55. Berlin: Springer-Verlag.
Sedig, K. & Liang, H.-N. (2006). Interactivity of visual mathematical representations: Factors affecting learning and cognitive processes. Journal of Interactive Learning Research, 17(2), 179-212
Sedig, K. (2008). From Play to Thoughtful Learning: A Design Strategy to Engage Children With Mathematical Representations. Journal of Computers in Mathematics and Science Teaching, 27(1), 65-101.
Smelcer, J. & Carmel, E. (1997). The Effectiveness of Different Representations for Managerial Problem Solving: Comparing Tables and Maps. Decision Sciences, 28(2)
Spence, R. (2007). Information visualization: Design for interaction. Pearson Education Limited.
Strothotte, T. (1998). Computational visualization: Graphics, abstraction, and interactivity. Berlin: Springer-Verlag.
Thomas, J. & Cook, K. (2005). Illuminating the Path: The research and development agenda for visual analytics. National Visualisation and Analytics Center.
Todd, J.T., & Norman, J.F. (1991). The visual perception of smoothly curved surfaces from minimal apparent motion sequences. Perception& Psychophysics. 50, 509-523.
Tweedie, L., Spence, R., Dawkes, H., & Su, H. (1996). Externalizing abstract mathematical models. In Proceedings of CHI'96, 406-412. New York, NY: ACM Press.
Vander Meij, J. & De Jong, T. (2003). Learning with multiple representations. Presented at the EARLI conference 2003, Padua, Italy
Vordeman, C. (1996). How Mathematics Works. Dorling Kindersley, London.
Whiteley, W. (2002). Teaching to see like a mathematician. In 2nd International Conference on Visual Representations and Interpretations (VRI 2002), Liverpool, England.
Wieman, C.E. & Perkins, K.K. (2006). A powerful tool for teaching science, Nature Physics, 290-292.
Yi, J., Kang, Y., Stasko, J., & Jacko, J. (2007) Toward a deeper understanding of the role of interaction in information visualization. IEE Transactions on Visualization and Computer Graphics, 13(6), 1224-1231.
Zhang, J. (1997). The nature of external representations in problem solving. Cognitive Science, 21(2), 179-217.
Zhang, J. & Norman, D.A. (1994). Representations in distributed cognitive tasks. Cognitive Science, 18(1), 87-122.
Zhang, J. (2000). In A. Kent (Ed.), Encyclopedia of Library and Information Science. External Representations in Complex Information Processing Tasks, New York: Marcel Dekker, Inc.
These references have been extracted automatically and may have some errors. Signed in users can suggest corrections to these mistakes.
Suggest Corrections to References