You are here: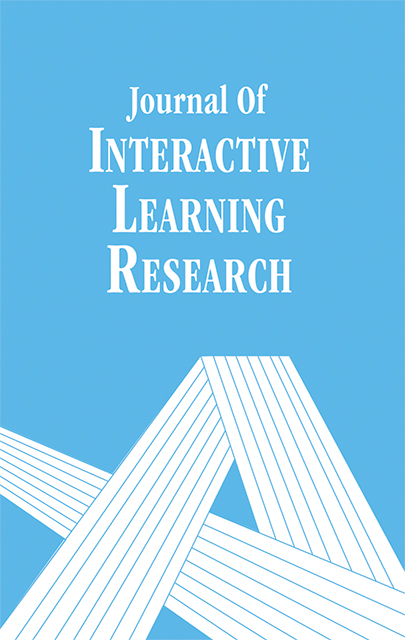 MMOGs: Beyond the Wildest Imagination
Article
Jonathan Gratch, University of North Texas, United States ; Janet Kelly, Texas Christian University, United States
Journal of Interactive Learning Research Volume 20, Number 2, ISSN 1093-023X Publisher: Association for the Advancement of Computing in Education (AACE), Waynesville, NC
Abstract
Invited as a paper from SITE 2007
Historically, Massive Multiplayer Online Games (MMOGs) have been used for entertainment purposes, but that is rapidly changing. Advances in computer technology and an enhanced perception of functionality have allowed MMOGs to combine with other technologies, such as networking and web-based learning, to provide educators with opportunities to create new and unusual learning environments. Through MMOGs, it is possible for learners to engage in explorations that promote a constructivist perspective; that is, learners will experience, build, and modify their virtual world based upon prior knowledge and understanding. In these virtual worlds of MMOGs, learners actually experience the concrete realities that words and symbols only describe. MMOGs represent the wave of the future in not only entertainment, but also in education.
Citation
Gratch, J. & Kelly, J. (2009). MMOGs: Beyond the Wildest Imagination. Journal of Interactive Learning Research, 20(2), 175-187. Waynesville, NC: Association for the Advancement of Computing in Education (AACE). Retrieved June 26, 2019 from https://www.learntechlib.org/primary/p/26195/.
Keywords
References
View References & Citations Map
Alexander, P. (2005). Psychology in learning and instruction. Upper Saddle River, NJ: Pearson.
Bentley, M. (1998). "Constructivism as a referent for reforming science education." In M. Larochelle, N. Bednarz, and J. Garrison (Eds.), Constructivism and education (pp. 233-252).
Bonk, C., and Dennen, V. (2005). Massive multiplayer online gaming: A research framework for military training and education (Technical Report No. 2005-1). Washington, DC: US Department of Defense (DUSD/R): Advanced Distributed Learning (ADL) Initiative.
Brown, A.L., and Campione, J.S. (1990). "Communities of learning and thinkg, or a context by any other name." Contributions to Human Development, 21, 108-126.
Carstens, A., and Beck, J. (2005). "Get ready for the gamer generation." TechTrends, 49(3), 22-31.
Childress, D., and Braswell, R. (2006). "Using massively multiplayer online role-playing games for online learning." Distance Education, 27, 187-196.
Corbeil, P. (1999). "Learning from the children: Practical and Theoretical Reflections on Playing and Learning." Simulation and Gaming, 30, 163-180.
De Freitas, S., and Griffiths, M. (2007). "Online gaming as an educational tool in learning and 186 Gratch and Kelly
Entertainment Software Association (2005). Facts and Research Retrieved on December 1, 2005, from http://www.theesa.com/facts/index.php Garner, R., and Gillingham, M.G. (1996). Internet communication in six classrooms: Conversations across time, space, and culture. Mahawah, NJ: Lawrence Erlbaum.
Gee, J.P. (2005). Why are videogames good for learning? Retrieved on December 1, 2007, from www.academiccolab.org/initiatives/papers.html
Hung, D., and Der-Thanq, C. (2001). "Situated cognition, Vygotskian thought and learning from the communities of practice perspective: Implications for design of web-based e-learning." Education Media International, 38(1), 3-12.
Jenkins, H. (2005). "Getting into the game." Educational Leadership, 62(7), 48-51. Jonassen, D., (2000). "Toward a design theory of problem solving." Educational Technology: Research and Development, 48(4), 63-85.
Jonassen, D., Strobel, J., and Gottdenker, J. (2002). Model building for conceptual change. Retrieved on May 1, 2005, from http://www.coe.missouri.edu/~hans/portfolio/DOCS/Model_Building_final.pdf
Kaffai, Y., and Resnick, M. (1996). Constructionism in practice: Designing, thinking, and learning in a digital world. Mahwah, NJ: Lawrence Erlbaum.
Kirkley, S.E., and Kirkley, J.R. (2005). "Creating next generation blended learning environments using mixed reality, videogames and simulations." TechTrends, 49(3), 42-53.
Lee, M., Eustace, K., Fellows, G., Bytheway, A., and Irving. L. (2005). "Using massivelymultiplayer online role-playing games to enhance collaborative learning and teaching in the Australian high school classroom." Proceedings of World Conference on Educational Multimedia, Hypermedia, and Telecommunications (pp. 2039-2046). Chesapeake, VA: AACE.
Phillips, D.D. (1995). "The good, the bad, and the ugly: The many faces of constructivism." Educational Research, 24, 5-12.
Saunders, W.L. (1992). "The constructivist perspective: implications and teaching strategies for science." School Science and Mathematics, 92, 136-141.
Schiesel, S. (2003, April 10). "The PC generation, back to the board." New York Times, pp. F1, 8.
Shaffer, D.W., Squire, K.R, Halverson, R., and Gee, J.P. (2005) "Videogames and the future of learning." Phi Delta Kaplan, 87(2), 104-111.
Slater, T.F., Carpenter, J.R., and Safko, J.L. (1996). "Dynamics of a constructivist astronomy course for in-service teachers." Journal of Geoscience Education, 44, 523-528.
Squire, K.D. (2005). "Changing the game: What happens when videogames enter the classroom?" Innovate: Journal of Online Education [On-line serial], 1(6). Available: http://www.Innova Teonline.
Squire, K., and Jenkins, H. (2004). "Harnessing the power of games in education." Insight, 3(1), 5-33.
Steinkuehler, C. (2004). "Learning in massively multiplayer online games." Proceedings of the Sixth International Conference on Learning Science (pp. 521-528). Mahweh, NJ: Lawrence
Vygotsky, L.S. (1978) Mind in society: The development of higher psychological process. Cambridge, Ma: Harvard University Press.
Yee, N. (2002). "The demographics, motivations and derived experiences of users of massively multi-user online graphical environments." Retrieved on November 21, 2005, from http://www.cmpgame.com/ Zagal, J.P., and Bruckman, A.S. (2007). "From gamers to scholars: challenges of teaching game studies." Proceedings of the Digital Interactive Games Research Association Conference (pp. 575-582). Tokyo, Japan: DIGRA.
These references have been extracted automatically and may have some errors. Signed in users can suggest corrections to these mistakes.
Suggest Corrections to References