You are here:
Assessment with Technology Integrated Menus: Creating a Bridge Between Traditional and Student-Centered Learning
PROCEEDING
Sarah Barksdale, University of Minnesota, United States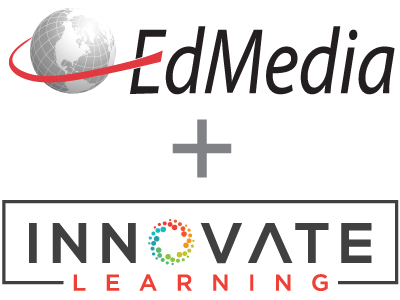 EdMedia + Innovate Learning, in Amsterdam, Netherlands Publisher: Association for the Advancement of Computing in Education (AACE), Waynesville, NC
Abstract
An emphasis on student-centered, or learner-centered, pedagogy is becoming increasingly popular in classrooms, universities, and teacher-preparation programs. With the shift from a transmission model of instruction to the learner-centered model (LCM), challenges arise. One challenge is finding accessible modes to assess student learning that are both flexible and personalized, while still ensuring necessary content is retained. Technology can act as a resource to individualize assessment and make it more meaningful. By creating menus, or choice boards, facilitators can begin to cross the bridge into a LCM, while students are provided with choices to pursue their interests, integrate technology or simulations of popular technology, and demonstrate learned competencies and abilities.
Citation
Barksdale, S. (2018). Assessment with Technology Integrated Menus: Creating a Bridge Between Traditional and Student-Centered Learning. In T. Bastiaens, J. Van Braak, M. Brown, L. Cantoni, M. Castro, R. Christensen, G. Davidson-Shivers, K. DePryck, M. Ebner, M. Fominykh, C. Fulford, S. Hatzipanagos, G. Knezek, K. Kreijns, G. Marks, E. Sointu, E. Korsgaard Sorensen, J. Viteli, J. Voogt, P. Weber, E. Weippl & O. Zawacki-Richter (Eds.), Proceedings of EdMedia: World Conference on Educational Media and Technology (pp. 250-255). Amsterdam, Netherlands: Association for the Advancement of Computing in Education (AACE). Retrieved March 22, 2019 from https://www.learntechlib.org/primary/p/184205/.
View References & Citations Map
References
Algozzine, B., & Anderson, K. (2007). Tips for teaching: Differentiating instruction to include all students. Preventing School Failure: Alternative Education for Children and Youth, 51(3), 49–54.
Barr, R.B., & Tagg, J. (1995). From teaching to learning—a new paradigm for undergraduate education. Change, 27(6), 12–25.
Birenbaum, M., & Dochy, F.J.R.C. (1996). Alternatives in assessment of achievements, learning processes and prior knowledge. Boston, MA: Kluwer Academic Publishers.
Brown, A., & Green, T. (2017). Issues and trends in instructional technology: Increased use of mobile technologies and digital content to provide untethered access to training and learning opportunities. Educational Media and Technology Yearbook, 40, 15–26.
Brush, T., & Saye, J. (2000). Implementation and evaluation of a student-centered learning unit: A case study. Educational Technology Research and Development, 48(3), 79–100. Https://doi.org/10.1007/BF02319859
Farrell, T., & Rushby, N. (2016). Assessment and learning technologies: An overview. British Journal of Educational Technology, 47(1), 106–120.
Global Digital Citizen Foundation (2015). Bloom's digital taxonomy verbs [infographic]. Retrieved from https://globaldigitalcitizen.org/blooms-digital-taxonomy-verbs Gordon, N. (2014). Flexible pedagogies: Technology-enhanced learning. UK.: The Higher Education Academy. Available at https://www.hv.se/globalassets/dokument/stodja/paper-theme-3.pdf
Gulikers, J.T.M., Bastiaens, T.J., & Kirschner, P.A. (2004). A five-dimensional framework for authentic assessment. Educational Technology Research and Development, 52(3), 67–86. Https://doi.org/10.1007/BF02504676Hirumi,A.(2002).Student-centered,technology-richlearning environments (SCenTRLE): Operationalizing constructivist approaches to teaching and learning. Journal of Technology and Teacher Education, 10(4), 497–537.
Huba, M.E., & Freed, J.E. (2000). Learner-centered assessment on college campuses: Shifting the focus from teaching to learning. Needham Heights, MA: Allyn & Bacon.
Ikemoto, G.S., Steele, J.L., & Pane, J.F. (2016). Poor implementation of learner-centered practices: A cautionary tale. Teachers College Record,118(13), 1–34.
Mason, R. (2006). Learning technologies for adult continuing education. Studies in Continuing Education, 28(2), 121–133.
Nicol, D., & MacFarlane-Dick, D. (2006). Formative assessment and self-regulated learning: A model and seven principles of good feedback practice. Studies in Higher Education, 31(2), 199–218. Https://doi.org/10.1080/03075070600572090Renzulli,J.(1988).Themultiple menu model for developing differentiated curriculum for the gifted and talented. Gifted Child Quarterly, 32(3), 298–309.
Rogerson-Revell, P. (2015). Constructively aligning technologies with learning and assessment in a distance education master's programme. Distance Education, 36(1), 129-147.
Segers, M., Dochy, F., & Cascallar, E. (2003). Optimising new modes of assessment: In search of qualities and standards. Dordrecht, The Netherlands: Kluwer Academic Publishers.
Wanner, T., & Palmer, E. (2015). Personalising learning: Exploring student and teacher perceptions about flexible learning and assessment in a flipped university course. Computers and Education, 88, 354–369.
These references have been extracted automatically and may have some errors. If you see a mistake in the references above, please contact info@learntechlib.org.