You are here: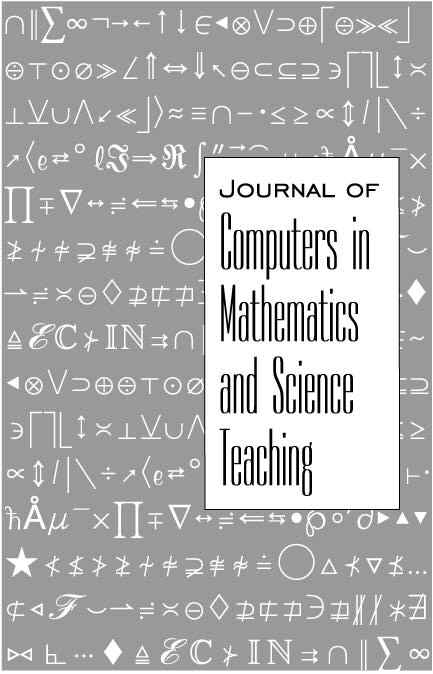 Curriculum and Practice of an Innovative Teacher Professional Development Program
article
Akesha Horton, Air University eSchool of Graduate PME, United States ; Kyle Shack, Allegan Alternative High School, United States ; Rohit Mehta, Michigan State University, United States
JCMST Volume 36, Number 3, ISSN 0731-9258 Publisher: Association for the Advancement of Computing in Education (AACE), Waynesville, NC USA
Abstract
The MSUrbanSTEM fellowship program provides exemplary urban STEM teachers the opportunity to engage in transformative instructional and leadership experiences that support the advancement of their teaching practice. In this chapter, we provide a foundational examination of the development and implementation of a curriculum for this innovative program. This includes an exploration of how the TPACK framework is modeled for the fellows in order to create community of practice for Chicago Public School teachers interested in creating authentic learning experiences for their students. Further we examine how the teacher's expectations inform the development of the curriculum and define what it means to explore, create, and share as praxis in an urban context.
Citation
Horton, A., Shack, K. & Mehta, R. (2017). Curriculum and Practice of an Innovative Teacher Professional Development Program. Journal of Computers in Mathematics and Science Teaching, 36(3), 237-254. Waynesville, NC USA: Association for the Advancement of Computing in Education (AACE). Retrieved September 16, 2021 from https://www.learntechlib.org/primary/p/180386/.
References
View References & Citations Map
Andreasen, N.C. (2005). The creating brain: The neuroscience of genius. New York: Dana Press.
Benade, L. (2015). Teachers' critical reflective practice in the context of twentyfirst century learning. Open Review of Educational Research, 2(1), 42-54.
Borko, H. (2004). Professional development and teacher learning: Mapping the terrain. Educational researcher, 33(8), 3-15.
Boulos, M.N., Maramba, I., & Wheeler, S. (2006). Wikis, blogs and podcasts: a new generation of Web-based tools for virtual collaborative clinical practice and education. BMC medical education, 6(1), 41.
Ferriter, W.M. (2010). Why teachers should try Twitter. Educational Leadership, 67(5), 73-74.
Firestein, S. (2012). Ignorance: How it drives science. Oxford University Press.
Harland, T. (2005). Developing a portfolio to promote authentic enquiry in teacher education. Teaching in Higher Education, 10(3), 327-337.
Henriksen, D., & Mishra, P. (2013). Learning from creative teachers.Educational Leadership, 70(5).
Kaufman, J.C., & Sternberg, R.J. (2007). Resource review: creativity. Change, 39(4), 55-58.
Kimble, C., Hildreth, P.M., & Bourdon, I. (2008). Communities of practice: Creating learning environments for educators (Vol. 1). IAP.
Little, J.W. (2012). Professional community and professional development in the learning-centered school. Teacher learning that matters: International perspectives, 22-46.
Meyerson, D.E. (2008). Rocking the boat: How to effect change without making trouble. Chicago: Harvard Business Press.
McKnight, K.S., & Scruggs, M. (2008). The Second City guide to improv in the classroom: Using improvisation to teach skills and boost learning. John Wiley& Sons. Curriculum& Practice
Seals, C., Lishinski, A. & Pawlicki, D. (2015). Enhancing urban ueachers STEM and leadership capacities: A preliminary report on a unique privatepublic-public partnership. Proceedings from Society for Information Technology& Teacher Education International Conference (Vol. 2015, pp. 8491–8496). Las Vegas, NV. Retrieved from http://www.editlib.org/p/150122/ Mishra, P., & Koehler, M.J. (2006). Technological pedagogical content knowledge: A new framework for teacher knowledge. Teachers College Record, 108(6), 1017–1054.
Prawat, R.S. (1993). The value of ideas: Problems versus possibilities in learning. Educational Researcher, 22(6), 5-16.
Schiro, M. (2013). Introduction to the curriculum ideologies. In M. Schiro Curriculum Theory: Conflicting Visions and Enduring Concerns (2nd. Ed.), pp. 1–13. Thousand Oaks, CA: Sage Publications Inc
Swenson, J., & Mitchell, D. (2006). Enabling communities and collaborative responses to teaching demonstrations. National Writing Project (NJ3).
Tomlinson, C.A. (2014). Differentiated classroom: Responding to the needs of all learners. ASCD.
Unal, Z. (2011). Going the extra step for parental involvement: Connecting family and school with the power of teacher websites. Journal of College Teaching& Learning, 5(6).
Wilson, S.M. (2013). Professional development for science teachers.Science, 340(6130), 310-313.
Wilson, S., & Peterson, P.L. (2006). Theories of learning and teaching: What do they mean for educators? Best practices working paper, Washington: National Education Association. Wolf, L.G. (2009, Aug. 19). Quickfires explained. Retrieved from http://www.leighgraveswolf.com/2009/08/19/quickfires-explained/
Woollen, S., & Otto, S. (2014). Intended consequences: Challenging white teachers' habitus and its influence in urban schools implementing an artsbased educational reform. The Urban Review, 46(1), 86-111.
These references have been extracted automatically and may have some errors. Signed in users can suggest corrections to these mistakes.
Suggest Corrections to References