You are here: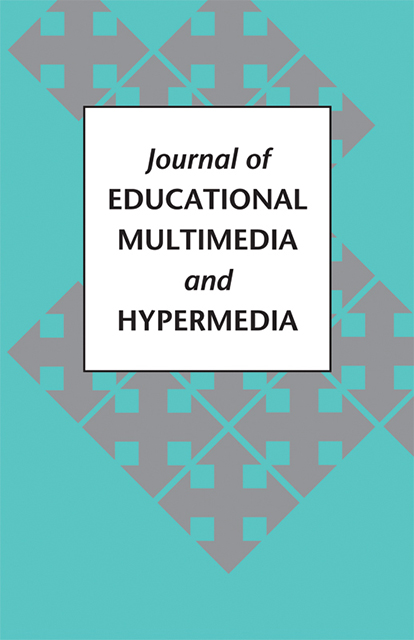 Designing an Interactive Student Orientation to Build Social Connectedness
Journal of Educational Multimedia and Hypermedia Volume 28, Number 1, ISSN 1055-8896 Publisher: Association for the Advancement of Computing in Education (AACE), Waynesville, NC USA
Abstract
A new student orientation is arranged to assist students in their adjustment to college. To do so, it is essential for the program to provide students an opportunity to connect to other students, instructors, academic advisors, and the university. Recently, there are several mobile applications developed to promote collaboration and interaction between different parties in a classroom context. In this study, a mobile application designed to enhance collaboration and interaction was embedded into a new student orientation. A posttest only control group design was used to examine the impacts of integrating an interactive and collaborative application on social connectedness and school connectedness. Learning of the content delivered during the orientation was assessed using a pretest-posttest control group design. The results revealed that the integration of the mobile application yielded an increase in score on connectedness with other students, satisfaction toward the orientation.
Citation
Thongsawat, S., Davidson-Shivers, G. & Chatphoomiphong, B. (2019). Designing an Interactive Student Orientation to Build Social Connectedness. Journal of Educational Multimedia and Hypermedia, 28(1), 99-112. Waynesville, NC USA: Association for the Advancement of Computing in Education (AACE). Retrieved August 11, 2022 from https://www.learntechlib.org/primary/p/178537/.
References
View References & Citations Map
Anderman, L.H., & Freeman, T.M. (2004). Students' sense of belonging in school. In P.R. Pintrich & M.L. Maehr (Eds.), Advances in motivation and achievement (pp. 27–63). Oxford, England: Elsevier.
Arbaugh, J., Cleveland-Innes, M., Diaz, S.R., Garrison, D.R., Ice, P., Richardson, J.C., & Swan, K.P. (2008). Developing a community of inquiry instrument: Testing a measure of the Community of Inquiry framework using a multi-institutional sample. The Internet and Higher Education, 11(3-4), 133-136.
Barber, B.K., & Olsen, J.A. (1997). Socialization in Context. Journal of Adolescent Research, 12(2), 287-315.
Battin-Pearson, S., Newcomb, M.D., Abbott, R.D., Hill, K.G., Catalano, R.F., & Hawkins, J.D. (2000). Predictors of early high school dropout: A test of five theories. Journal of Educational Psychology, 92(3), 568-582.
Bond, L., Butler, H., Thomas, L., Carlin, J., Glover, S., Bowes, G., & Patton, G. (2007). Social and school connectedness in early secondary school as predictors of late teenage substance use, mental health, and academic outcomes. Journal of Adolescent Health, 40(4), 357.e9-357.e18.
Burgette, J.E., & Magun-Jackson, S. (2008). Freshman Orientation, Persistence, and Achievement: A Longitudinal Analysis. Journal of College Student Retention: Research, Theory& Practice, 10(3), 235-263.
Busby, R.R., Gammel, H.L., & Jeffcoat, N.K. (2002). Grades, graduation, and orientation: A longitudinal study of how new student programs relate to grade point averages and graduation. The Journal of College Orientation and Transition, 10 (1), 45-50.
Centers for Disease Control and Prevention (2009). School connectedness: Strategies for increasing protective factors among youth. Atlanta, GA: U.S. Department of Health and Human Services.
Chung-Do, J.J., Goebert, D.A., Chang, J.Y., & Hamagani, F. (2015). Developing a comprehensive school connectedness scale for program evaluation. Journal of School Health, 85(3), 179-188.
Cotten, S., & Wilson, B. (2006). Student-faculty interactions: Dynamics and determinants. Journal of Higher Education, 51(4), 487-519.
Davidson, W.B., Beck, H.P., & Milligan, M. (2009). The college persistence questionnaire: Development and validation of an instrument that predicts student attrition. Journal of College Student Development, 50(4), 373-390.
Gentry, W.A., Kuhnert K.W., Johnson R.M., & Cox B. (2006). Even a weekend works: The value of a weekend-long orientation program on first-year college students. J. College Orientation Transition, 14(1), 26-38.
Goodenow, C. (1993). The psychological sense of school membership among adolescents: Scale development and educational correlates. Psychology in the Schools, 30, 79–90.
Jacobs, B.C. (2003). New student orientation in the twenty-first century: Individualized, dynamic, and diverse. In G.L. Kramer& Associates (Eds.), Student academic services (pp. 127-146). San Francisco: Jossey-Bass.
Jacobs, B.C. (2010). Making the case for orientation: Is it worth it?. In J.A. Ward-Roof (Ed.), Designing successful transitions: A guide for orienting students to college (pp. 29-39). Columbia, SC: University of South Carolina,
Klem, A.M., & Connell, J.P. (2004). Relationships matter: Linking teacher support to student engagement and achievement. Journal of School Health, 74(7), 262-273.
Lee, R.M., & Robbins, S.B. (1995). Measuring belongingness: The Social Connectedness and the Social Assurance scales. Journal of Counseling Psychology, 42(2), 232-241.
Libbey, H.P. (2004). Measuring Student Relationships to School: Attachment, Bonding, Connectedness, and Engagement. Journal of School Health, 74(7), 274-283.
Mullendore, R.H. (1998). Including parents and families in the orientation process. In R. Mullendore (Ed.), Orientation planning manual (pp.56-62).
Richman, J.M., Rosenfeld, L.B., & Bowen, G.L. (1998). Social support for adolescents at risk of school failure. Social Work, 43(4), 309-323.
Rovai, A.P. (2002). Building sense of community at a distance. The International Review of Research in Open and Distributed Learning, 3(1). 1-16.
Rovai, A.P. (2003). In search of higher persistence rates in distance education online programs. The Internet and Higher Education, 6(1), 1-16.
Orientation Directors AssociationSontag, M. (2009). A learning theory for 21st-century students. Innovate: Journal of Online Education. 5(4), 1-8.
Smith, N.V., Erlam, C., Quirke, N., & Syvester, G. (2014). Establishing a sense of connectedness amongst theology students in distance education. Journal of Open Flexible and Distance Learning, 18(2), 11-28.
Tabachnick, B.G., & Fidell, L.S. (2013). Using multivariate statistics. Boston: Pearson/Allyn & Bacon. Thongsawat, Davidson-Shivers, and Chatphoomiphong
These references have been extracted automatically and may have some errors. Signed in users can suggest corrections to these mistakes.
Suggest Corrections to References