You are here: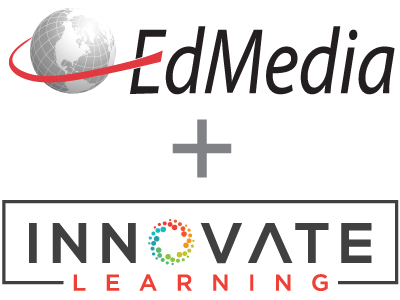 Improving digital competence in teacher training: the design and implementation of learning tasks in 3D virtual learning environments
Proceeding
EdMedia + Innovate Learning, in Vancouver, BC, Canada ISBN 978-1-939797-24-7 Publisher: Association for the Advancement of Computing in Education (AACE), Waynesville, NC
Abstract
As education advances with the help of technology, it becomes very clear that the modern day classroom needs are very different from the conventional classroom needs. 3D Virtual learning environments (VLE) offer an environment through which teachers can engage students in active learning. The aim of this paper is to understand how to use virtual worlds to foster digital competence in preservice teachers to support training and learning activities presents a challenge for the designers and evaluators of this learning technology. A number of key attributes of 3D VLE will be described and discussed in relationship to educational theory and pedagogical practice, in order to establish a possible theoretical base for 3D VLE learning.
Citation
Gisbert, M., Esteve-González, V. & Lázaro, J.L. (2016). Improving digital competence in teacher training: the design and implementation of learning tasks in 3D virtual learning environments. In Proceedings of EdMedia 2016--World Conference on Educational Media and Technology (pp. 1705-1711). Vancouver, BC, Canada: Association for the Advancement of Computing in Education (AACE). Retrieved November 30, 2023 from https://www.learntechlib.org/primary/p/173175/.
References
View References & Citations Map
Barberà, G. & Martín R. (2009). Portfolio electrónico: aprender a evaluar el aprendizaje. Barcelona: Editorial UOC
Blanco, A. (2008). Las rúbricas: un instrumento útil para la evaluación de competencias. In A. Blanco, P. Morales, & J.C. Torre (Eds.), La enseñanza universitaria centrada en el aprendizaje: estrategias útiles para el profesorado. Barcelona: Octaedro
Coiduras, J. (2009). Escuela y Universidad, contextos en alternancia para la formación de docentes. Organización y Gestión Educativa, 3, 10-13. Retrieved from: http://hdl.handle.net/11162/80858 Correa, E. (2011). La práctica docente: una oportunidad de desarrollo profesional. Perspectiva Educacional, 50(2), P. 77-95
Deakin, R. (2008). Pedagogy for citizenship. In F. Oser & W. Veugelers (Eds.), Getting involved: Global citizenship development and sources of moral values (31-55). Rotterdam: Sense Publishers. EPICT (2006). European Pedagogical ICT Licence: Concept description: EContent. Http://www.epict.org/files/EPICTsyllabus.pdf Esteve, F. (2015). La competencia digital docente. Tesis Doctoral. Universitat Rovira i Virgili. Http://www.tdx.cat/handle/10803/291441
Esteve-González, V. & Esteve-Mon, F. (2014). Entornos de simulación 3D: nuevas perspectivas para la formación digital del docente. Aportación al simposio Gisbert-Cervera, M., (Coord.) Capítulo XIV: Indicadores de calidad para el uso de las TIC en los centros educativos. Compartir aprendizaje. En Gairin, J., Barrera, A. (Eds.) Organizaciones que aprenden y generan conocimiento. Actas del Congreso Internacional EDO. Barcelona: Wolters Kluwer Educación
Esteve-González, V. (2015) Els entorns de simulació 3D per a la formació en competències transversals a la universitat. Tesi doctoral. Universitat Rovira i Virgili
Esteve-Mon, F. & Gisbert, M. (2013). Competencia digital en la educación superior: instrumentos de evaluación y nuevos entornos. Enl@ce Revista Venezolana de Información, Tecnología y Conocimiento, 10 (3), P. 2943
European Commission (2014). Monitor Education and Training 2014. Retrieved from: http://ec.europa.eu/education/library/publications/monitor14_en.pdf European Commission (2012). Informe conjunto de 2012 del Consejo y de la Comisión sobre la aplicación del marco estratégico para la cooperación europea en el ámbito de la educación y la formación (ET 2020). Retrieved from: http://eur-lex.europa.eu/legalcontent/ES/TXT/PDF/?
European Commission. (2013). Supporting teacher competence development. Retrieved from http://ec.europa.eu/education/policy/school/doc/teachercomp_en.pdf. Firat, M. (2010). Learning in 3D virtual worlds and current situation in Turkey. Procedia-Social and Behavioral Sciences, 9, P. 249–254.
Firat, M., & Yurdakul, I.K. (2016). Metaphors in Interface Design of E-Learning. In G. Eby, T. Yuzer, & S. Atay (Eds.) Developing Successful Strategies for Global Policies and Cyber Transparency in E-Learning (pp. 190-205). Hershey, PA: Information Science Reference.
Generalitat de Catalunya (2009). Llei d'Educació de Catalunya 12/2009, del 10 de juliol. DOGC núm. 5422, de 16/07/2009
Gisbert, M., & Esteve-Mon, F. (2011). Digital Learners: la competencia digital de los estudiantes universitarios. La Cuestión Universitaria, 7, P. 48-59
Gisbert, M., & Lázaro, J.L. (2015). Professional development in teacher digital competence and improving school quality from the teachers' perspective: a case study. Journal Of New Approaches In Educational Research, 4(2), P. 115-122. Doi:
Koehler, M.J., & Mishra, P. (2008). Introducing tpck. In AACTE Committee on Innovation and Technology (Ed.), The handbook of technological pedagogical content knowledge (tpck) for educators (P. 3-29).
Larraz, V. (2013). La competència digital a la universitat. Tesi doctoral. Universitat d'Andorra. Identificador: TD-017-100006/201210
Lázaro, J.L. & Gisbert, M. (2015). El desarrollo de la competencia digital docente a partir de una experiencia piloto de formación en alternancia en el Grado de Educación. Educar, 51 (2), P. 321-348. Doi:
Martin, A. (2008). Digital literacy and the digital society. En C. Lankshear y M. Knobel (Eds.), Digital literacies: Concepts, policies and practices (P. 151-176). New York: Peter Lang
Martín, A.G., & Tyner, K. (2012). Educación para los medios de alfabetización mediática y competencia digital. Comunicar, P. 19,31–39. From:
OCDE (2011). Transforming spaces for learning in OECD, Designing for Education: Compendium of Exemplary Educational Facilities 2011, OECD Publishing, Paris. From: http://dx.doi.org/10.1787/9789264112308-5-enOECD(2012).Educationat a Glance 2012. OECD indicators. Retrieved from: http://www.oecdilibrary.org/education/education-at-a-glance-2012_eag-2012-en
Perrenoud, P. (2004). Diez nuevas competencias para enseñar. Barcelona: Grao.
Russo, C., Sarobe, M., Esnaola, L. & Alonso, N. (2015). Entornos virtuales 3D, una propuesta educativa innovadora. From: http://dialnet.unirioja.es/servlet/articulo?codigo=5166898 Salt, B., Atkins, C., & Blackall, L. (2008). Engaging with Second Life: Real education in a virtual world. Literature review. New Zealand: NMIT.
Sánchez-Antolín, P., Ramos, F.J., & Sánchez, J. (2014). Formación continua y competencia digital docente: el caso de la Comunidad de Madrid. Revista Iberoamericana de Educación, 65, P. 91–110
Schifter, C.C., Ketelhut, D.J., Nelson, B.C., Hall, R., & Ave, C.B.M. (2012). Presence and Middle School Students' Participation in a Virtual Game Environment to Assess Science Inquiry. Journal of Educational Technology& Society, 15(1), P. 53–63. From: http://www.ifets.info/journals/15_1/6.pdf Tejada, J. (2012). La alternancia de contextos para la adquisición de competencias profesionales en escenarios complementarios de educación superior. Educación XXI (Vol.15, P. 17-40).
Tiana, A. (2013). Los cambios recientes en la formación inicial del profesorado en España. Una reforma incompleta. Revista española de educación comparada, ISSN 1137-8654, Nº 22, 2013, págs. 39-58.
UNESCO (2005). Hacia las sociedades del conocimiento. Paris: UNESCO Publishing. Retrieved from: http://portal.unesco.org/culture/es/ev.phpURL_ID=29619&URL_DO=DO_TOPIC&URL_SECTION=201.html
UNESCO (2008). Estándares de competencia en TIC para docentes. Retrieved from: http://www.eduteka.org/EstandaresDocentesUnesco.php. Unión Europea (2006). Competencias clave para el aprendizaje permanente. Retrieved from: http://www.mecd.gob.es/dctm/ministerio/educacion/mecu/movilidadeuropa/competenciasclave.pdf?
Zabalza, M.A. (2003) Competencias docentes del profesorado universitario. Calidad y desarrollo profesional, Madrid: Narcea.
These references have been extracted automatically and may have some errors. Signed in users can suggest corrections to these mistakes.
Suggest Corrections to References