You are here:
Gamification Increases Scores of Underperforming Students in Cell Biology
PROCEEDINGS
Donald Slish, Department of Biological Sciences, SUNY Plattsburgh, United States ; Micael Nash, Department of Psychology, SUNY Plattsburgh, United States ; Joshua Premo, School of Biological Sciences, Washington State University, United States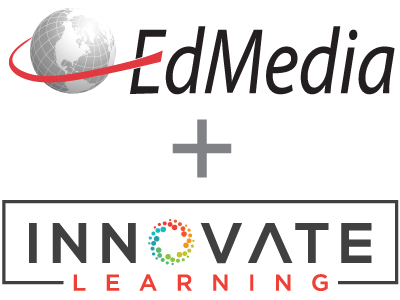 EdMedia + Innovate Learning, in Montreal, Quebec, Canada ISBN 978-1-939797-16-2 Publisher: Association for the Advancement of Computing in Education (AACE), Waynesville, NC
Abstract
In this study students in an undergraduate cell biology class were offered the opportunity to reinforce information learned in lecture and from a textbook through the use of a computer game that tested their knowledge of signal transduction pathways. Their performance on a question based on the game was compared to a similar question based on concepts presented only in class and in the textbook. The class as a whole performed significantly better (27.2%) on the game question; when the scores were divided between higher performing students and lower performing students, the lower performing students showed greater gains (46.5%) than the higher performing students (10.7%). Correlation between the structure of the game and research into practice based learning suggest multiple possibilities for the gains reported. Subjective responses about the game were overwhelmingly positive, showing that the game was both effective and enjoyable.
Citation
Slish, D., Nash, M. & Premo, J. (2015). Gamification Increases Scores of Underperforming Students in Cell Biology. In S. Carliner, C. Fulford & N. Ostashewski (Eds.), Proceedings of EdMedia 2015--World Conference on Educational Media and Technology (pp. 870-876). Montreal, Quebec, Canada: Association for the Advancement of Computing in Education (AACE). Retrieved March 24, 2019 from https://www.learntechlib.org/primary/p/151495/.
Keywords
View References & Citations Map
References
Brom, C., Preuss, M., & Klement, D. (2011). Are educational computer micro-games engaging and effective for knowledge acquisition at high-schools? A quasi-experimental study. Computers and Education, 57, 19711988.
Cepeda, N.J., Pashler, H., Vul, E., Wixted, J.T. & Rohrer, D. (2006). Distributed Practice in Verbal Recall Tasks: A Review and Quantitative Synthesis. Psychological Bulletin, 132 (3), 354-380.Domagk, S., Schwartz, R.N., & Plass, J.L. (2010). Interactivity in multimedia learning: An integrated model. Computers in Human Behavior, 26, 1024-1033.
Grimaldi, P.J., & Karpicke, J.D. (2013). Guided Retrieval Practice of Educational Materials Using Automated Scoring. Journal of Educational Psychology, Advance online publication. Doi: 10.1037/a0033208.
Kang, S.H.K, & Pashler, H. (2012). Learning Painting Styles: Spacing is Advantageous when it Promotes Discriminative Contrast. Applied Cognitive Psychology, 26, 97-103.
Karpicke, J.D., Butler, A.C., & Roediger, H.L. (2009). Metacognitive strategies in student learning: Do students practice retrieval when they learn on their own?. Memory, 17 (4), 471-479.
Karpicke, J.D., & Roediger, H.L. (2008). The Critical Importance of Retrieval for Learning. Science, New Series, 319 (5865), 966-968.
Kirchoff, B.K., Delaney, P.F., Horton, M., & Dellinger-Johnston, M. (2014). Optimizing Learning of Scientific category Knowledge in the Classroom: The Case of Plant Identification. CBE-Life Sciences Education, 13, 425-436.
Limniou, M., Burton, N.A., & Whitehead, J.C. (2012). Computer-assisted teaching on science education: A student and teacher perspective. Journal of Education Research, 6 (1).
McClarty, K.L., Orr, A., Frey, P.M., Dolan, R.P., Vassileva, V., & McVay, A. (2012, June). A literature review of gaming in education. Pearson Education. Retrieved from http://researchnetwork.pearson.com/wp-content/uploads/Lit_Review_of_Gaming_in_Education.pdf.
Morris, B.J., Croker, S., Zimmerman, C., Gill, D., & Romig, C. (2013). Gaming science: the "Gamification" of scientific thinking. (M. Katsikitis, Ed.) Frontiers in Psychology, 4.
Nachimuthu, K., & Vijayakumari, G. (2011). Role of educational games improves meaningful learning. Journal of Educational Technology, 8 (2).
Plass, J.L., Homer, B.D., Kinzer, C., Frye, J.M., & Perlin, K. (2011, September 30). Learning mechanics and assessment mechanics for games for learning. Institute for Games for Learning. New York: NY. Rohrer, D. (2009). The Effects of Spacing and Mixing Practice Problems. Journal for Research in Mathmatics Education, 40 (1), 4-17.
Rohrer, D., & Taylor, K. (2007). The shuffing of mathematics roblems improves learning. Instructional Science, 35, 481-498.
Rutten, N., van Joolingen, W.R., & VanderVeen, J.T. (2012). The learning effects of computer simulations in science education. Computers and Education, 58, 136-153.
Sitzmann, T. (2011). A meta-analytic examination of the instructional effectiveness of simulation games. Personnel Psychology, 64, 489-528.
Smith, S.M., & Rothkopf, E.Z. (1984). Contextual Enrichment and Distribution of Practice in the Classroom. Cognition and Instruction, 1 (3), 341-358.
Wilbert, J., Grosche, M., & Gerdes, H. (2010). Effects of evaluative feedback on rate of learning and task motivation: An analogue experiment. Learning Disabilities: A Contemporary Journal, 8 (2), 43-52.
Wissman, K.T., Rawson, K.A., & Pyc, M.A. (2012) How and when do students use flashcards? Memory, 20 (6), 568-579. Computer-based
These references have been extracted automatically and may have some errors. If you see a mistake in the references above, please contact info@learntechlib.org.