You are here: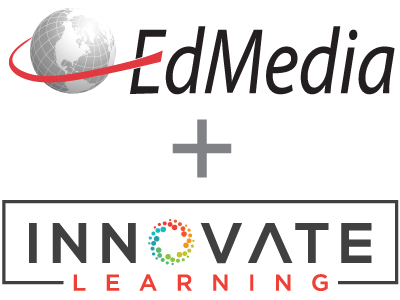 Adaptemy – Building the Next Generation Classroom
PROCEEDINGS
EdMedia + Innovate Learning, in Montreal, Quebec, Canada ISBN 978-1-939797-16-2 Publisher: Association for the Advancement of Computing in Education (AACE), Waynesville, NC
Abstract
This paper introduces Adaptemy, a smart, personalized and adaptive learning environment for classrooms. Adaptemy is constructed on existing research and aims to build the next generation classroom. It provides an adaptive and personalized learning experience, improves the learning outcomes, creates a fun and engaging learning experience, and empowers the teachers. Adaptemy is currently piloted in over 60 schools in Ireland. The goals of this paper are to illustrate the main components of the Adaptemy environment as well as the preliminary results of the pilot study.
Citation
Ghergulescu, I., Flynn, C. & O'Sullivan, C. (2015). Adaptemy – Building the Next Generation Classroom. In S. Carliner, C. Fulford & N. Ostashewski (Eds.), Proceedings of EdMedia 2015--World Conference on Educational Media and Technology (pp. 86-95). Montreal, Quebec, Canada: Association for the Advancement of Computing in Education (AACE). Retrieved March 5, 2021 from https://www.learntechlib.org/primary/p/151335/.
Keywords
References
View References & Citations Map
Ahuja, N.J., & Sille, R. (2013). A Critical Review of Development of Intelligent Tutoring Systems: Retrospect, Present and Prospect. International Journal of Computer Science Issues (IJCSI), 10(4).
Bandura, A. (2006). Guide for constructing self-efficacy scales. Self-Efficacy Beliefs of Adolescents, 5(307-337).
Brusilovsky, P. (2012). Adaptive hypermedia for education and training. Adaptive Technologies for Training and Education, 46.
Brusilovsky, P., & Millán, E. (2007). User models for adaptive hypermedia and adaptive educational systems. In The adaptive web (pp. 3–53). Springer-Verlag.
Chen, C.-L.D., Chang, Y.-H., Chien, Y.-T., Tijus, C., & Chang, C.-Y. (2015). Incorporating a smart classroom 2.0 SpeechDriven PowerPoint System (SDPPT) into university teaching. Smart Learning Environments, 2(1), 7.
Conati, C. (2009). Intelligent Tutoring Systems: New Challenges and directions. In IJCAI (Vol. 9, pp. 2–7). Retrieved from
De Bra, P., Aerts, A., Berden, B., De Lange, B., Rousseau, B., Santic, T., Smits, D., Stash, N. (2003). AHA! The adaptive-94-EdMedia 2015-Montreal, Quebec, Canada, June 22-24, 2015 ACM.
Falmagne, J.-C., Koppen, M., Villano, M., Doignon, J.-P., & Johannesen, L. (1990). Introduction to knowledge spaces: How to build, test, and search them. Psychological Review, 97(2), 201.
Forbes. (2014). Rethinking Higher Ed: A Case for Adaptive Learning-Forbes. Retrieved February 16, 2015, from http://www.forbes.com/sites/ccap/2014/10/22/rethinking-higher-ed-a-case-for-adaptive-learning/ Ghergulescu, I., & Muntean, C.H. (2010). Assessment of motivation in games based e-learning. In Proceeding of IADIS international conference cognition and exploratory learning in digital age (pp. 71–78).
Ghergulescu, I., & Muntean, C.H. (2011). Learner Motivation Assessment with <e-Adventure> Game Platform (Vol. 2011, pp. 1212–1221). Presented at the World Conference on E-Learning inCorporate, Government, Healthcare, and Higher Education.
Ghergulescu, I., & Muntean, C.H. (2012). Measurement and Analysis of Learner's Motivation in Game-Based E-Learning. In Assessment in game-based learning (pp. 355–378). Springer.
Gurung, B., & Rutledge, D. (2014). Digital learners and the overlapping of their personal and educational digital engagement. Computers& Education, 77, 91–100.
Hong, C.-M., Chen, C.-M., & Chang, M.-H. (2005). Personalized Learning Path Generation Approach for Web-Based Learning. In 4th WSEAS Int. Conf. On E-ACTIVITIES, Miami, Florida, USA (pp. 62–68).
Howlin, C. (2013). The RealizeIT System. Retrieved from http://realizeitlearning.com/innovation/ Howlin, C., & Lynch, D. (2014). A framework for the delivery of personalized adaptive content. In Web and Open Access to Learning (ICWOAL), 2014 International Conference on (pp. 1–5). IEEE.
Johnson, L., Adams Becker, S., Estrada, V., & Freeman, A. (2015). NMC HORIZON REPORT: 2015 Higher Education Edition (P. 56). New Media Consortium.
Liu, M., Calvo, R.A., & Rus, V. (2010). Automatic question generation for literature review writing support. In Intelligent Tutoring Systems (pp. 45–54). Springer.
McFarlane, A. (2014). Authentic Learning for the Digital Generation: Realising the Potential of Technology in the Classroom. Routledge.
Mitchell, G., & Howlin, C.P. (2009). Intelligent Learning Systems Where are They Now? In Proceedings of the CIICT Conference. Maynooth, IE: National University of Ireland, Philosophy Faculty.
Nkambou, R., Frasson, M.-C., & Frasson, C. (1996). Generating courses in an intelligent tutoring system. In Proceedings of the 9th international conference on industrial and engineering applications of artificial intelligence and expert systems (pp. 261–267).
Nkambou, R., Mizoguchi, R., & Bourdeau, J. (2010). Advances in intelligent tutoring systems (Vol. 308). Springer Science& Business Media.
Nye, B.D. (2014). Barriers to ITS Adoption: A Systematic Mapping Study. In S. Trausan-Matu, K.E. Boyer, M. Crosby, & K. Panourgia (Eds.), Intelligent Tutoring Systems (pp. 583–590). Springer International Publishing.
Ryan, R.M., & Deci, E.L. (2000). Intrinsic and Extrinsic Motivations: Classic Definitions and New Directions. Contemporary Educational Psychology, 25(1), 54–67.
Seaborn, K., & Fels, D.I. (2015). Gamification in theory and action: A survey. International Journal of Human-Computer Studies, 74, 14–31.
Tyner, K. (2014). Literacy in a digital world: Teaching and learning in the age of information. Routledge. Vander Linden, W.J., Glas, C.A., & Others. (2000). Computerized adaptive testing: Theory and practice. Springer.
Yoo, Y., Lee, H., Jo, I.-H., & Park, Y. (2015). Educational Dashboards for Smart Learning: Review of Case Studies. In G. Chen, V. Kumar, Kinshuk, R. Huang, & S.C. Kong (Eds.), Emerging Issues in Smart Learning (pp. 145–155). Berlin,
These references have been extracted automatically and may have some errors. Signed in users can suggest corrections to these mistakes.
Suggest Corrections to References