You are here: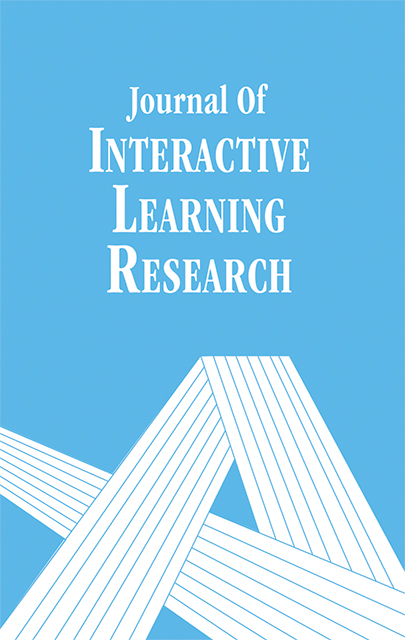 Use of Wikis in Graduate Course Work
Article
Mary Bold, Texas Woman's University, United States
Journal of Interactive Learning Research Volume 17, Number 1, ISSN 1093-023X Publisher: Association for the Advancement of Computing in Education (AACE), Waynesville, NC
Abstract
Graduate education in an online environment frequently means relying on a course management system (CMS) but also calls for additional interactive components. Courses in an online Master's in Family Studies incorporated wikis (Hawaiian word for "quick") to support collaboration among students. Online collaboration can replicate the expected cooperative learning among graduate students in on-campus settings. To accomplish this, wiki technology was utilized for collaborative webpages.
Citation
Bold, M. (2006). Use of Wikis in Graduate Course Work. Journal of Interactive Learning Research, 17(1), 5-14. Chesapeake, VA: Association for the Advancement of Computing in Education (AACE). Retrieved September 25, 2022 from https://www.learntechlib.org/primary/p/6033/.
Keywords
References
View References & Citations Map
Agostinho, S., Lehoe, G., & Hedberg, J. (1997). Online collaboration for learning: A case study of a post graduate university course. Paper presented at the Third Australian World Wide Web Conference, Southern Cross University, Lismore, Australia.
Andrusyszyn, M. A., Cragg, B., & Humbert, J. (2001). Nurse practitioner preferences for distance education methods related to learning style, course content, and achievement. Journal of Nursing Education, 40(4), 163-170.
Card, K. A., & Horton, L. (2000). Providing access to graduate education using computermediated communication. International Journal of Instructional Media, 27(3), 235-245.
Dickey, M. D. (2004). The impact of web-logs (blogs) on student perceptions of isolation and alienation in a web-based distance-learning environment. Open Learning, 19(3), 279-291. Ehrmann, S. C., & Collins, M. (2001). Emerging models of online collaborative learning: Can distance enhance quality? Educational Technology Magazine, 41(5), 34-38.
Ferdig, R. E., & Trammell, K. D. (2004). Content delivery in the "blogosphere." T. H. E. Journal, 31(7), 12-15.
Guzdial, M., Rick, J., & Kehoe, C. (2001). Beyond adoption to invertion: Teacher-created collaborative activities in higher education. The Journal of the Learning Sciences, 10(3), 265-279. Haythornthwaite, C., Kazmer, M. M., Robins, J., & Shoemaker, S. (2000). Community development among distance learners: Temporal and technological dimensions. Journal of Computer-Mediated Communication, 6(1). Retrieved September 9, 2005, from http://www.ascusc.org/jcmc/vol6/issue1/haythornthwaite.html
Howell, S. L., Williams, P. B., & Lindsay, N. K. (2003). Thirty-two trends affecting distance education: An informed foundation for strategic planning. Online Journal of Distance Learning Administration, 6(3). Retrieved September 9, 2005, from http://www.westga.edu/~distance/ojdla/fall63/howell63.html
Lamb, B. (2004, April). Taking a walk on the wiki side. Syllabus. Retrieved September 9, 2005, from http://www.syllabus.com/article.asp?id=9200
Levin, J. A., Levin, S. R., & Waddoups, G. L. (1999). Multiplicity in learning and teaching: A framework for developing innovative online education. Journal of Research on Computing in Education, 32(2), 256-269.
Lowe, J. W. (2003). Other people's data and wiki web sites. Geospatial Solutions, 13(6), 42-45. Moller, L. A., Harvey, D., Downs, M., & Godshalk.,V. (2000). Identifying factors that effect learning community development and performance in asynchronous distance education. The Quarterly Review of Distance Education, 1(4), 293-305.
Nardi, B. A., Schiano, D. J., Gumbrecht, M., & Swartz, L. (2004). Why people blog. Communications of the Asoociation of Computer Machinery, 47(12), 41-46.
Nicol, D., Littlejohn, A., & Grierson, H. (2005). The importance of structuring information and resources within shared workspaces during collaborative design learning. Open Learning, 20(1), 31-50.
Notar, C. E., Ross, K. G., & Wilson, J. D. (2002). Distance learning for the development o higher-level cognitive skills. Education, 122(4), 642-648.
Oravec, J. A. (2003). Blending by blogging: Weblogs in blended learning initiatives. Journal of Educational Media, 28(2/3), 225-233.
Paulson, K. (2002). Reconfiguring faculty roles for virtual settings. Journal of Higher Education, 73(1), 123-140.
Petrides, L. A. (2002). Web-based technologies for distributed (or distance) learning: Creating learning-centered education experiences in the higher education classroom. International Journal of Instructional Media, 29(1), 69-78. Bold
These references have been extracted automatically and may have some errors. Signed in users can suggest corrections to these mistakes.
Suggest Corrections to References