You are here:
The Octograph and E-Learning by Labyrinth-Cases
Article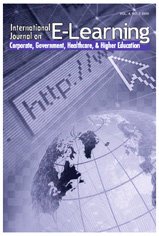 International Journal on E-Learning Volume 4, Number 3, ISSN 1537-2456 Publisher: Association for the Advancement of Computing in Education (AACE), Waynesville, NC USA
Abstract
This article maintains that labyrinth-cases of multiple outlets, although difficult, but pleasant to construct, are probably the way to go to strengthen computer-aided learning. The objective of the article is to show, based on a particular labyrinth-case, how to construct labyrinth-cases and consolidate their contents based on associative knowledge retrieved from a database. A labyrinth-case motivates the student to construct his or her own knowledge to solve the case. Some of this knowledge is in the labyrinth-case itself. Additional knowledge could be obtained underway while solving a labyrinth-case. The particular labyrinth-case discussed here obtains additional knowledge from a database with small texts that suits the labyrinth-case. The database, based on an organisational model called the Octograph, includes concepts, exercises, methods, theories, and cases. These are exploited according to detailed study plans1 administered by the tutor. The introduction of thematic labyrinth-cases2 is among the latest developments in this plan. The article draws on systems theory, constructivism, and theories of thinking and didactics ascribed to Ibn Khaldun (1332-1406), an eminent scholar from the 14th century (al-Araki, 1983).
Citation
Al-Araki, M. (2005). The Octograph and E-Learning by Labyrinth-Cases. International Journal on E-Learning, 4(3), 281-298. Norfolk, VA: Association for the Advancement of Computing in Education (AACE). Retrieved April 19, 2019 from https://www.learntechlib.org/primary/p/4762/.
Keywords
View References & Citations Map
References
Al-Araki, A.M. (1983). Ibn Khaldun: A forerunner for modern sociology: Discourse of the method
Bednar, A.K., Cunningham, D., Duffy, T.M., & Perry, J.D. (1992). Theory into practice: How do we link? In T.M. Duffy & D.H. Jonassen (Eds.), Constructivism and the technology of instruction: A conversation, (pp. 17-34). Hillsdale, NJ: Lawrence Erlbaum.
Beer, M. (1980). A social systems model for organization development. In T.G. Cummings (Ed.),
Coles, C. (2002). Variability of student of accountancy teaching: Evidence from a Scottish business school. The International Journal of Management Education, 2(2), 30-39.
Dreyfus, H. (1992). What computers still can't do: A critique of artificial reason. Retrieved April 13, 2005 from http://ist-socrates.berkeley.edu/~hdreyfus/
Frame, D.J. (1995) Managing projects in organizations: How to make the best use of time, techniques and people. San Francisco: Jossey-Bass.
Jonassen, D.H., Dyer, D., Peters, K., Robinsen, T., Harvey, D., King, M., & Loughner, P. (1996). Cognitive flexibility hypertexts on the Web: Engaging learners in meaning making. In B.H.
Khaldun, I. (1958). The muqaddimah: An introduction to history, (Translated by F. Rosenthal), Bollingen Series XLIII, New York: Pantheon Books.
Kelley, G.A. (1991). The psychology of personal constructs, Vol. 1. A theory of personality. London and New York: Routledge.
Luhmann, N. (1990). Essays on self-reference. New York, Oxford, UK: Columbia University Press. Meredith, S., & Newton, B. (2003). Models of eLearning: Technology promise vs learner needs. Literature Review. The International Journal of Management Education, 3(3), 43-56.
Mintzberg, H. (1979). The five basic parts of the organization. In J.M. Shafritz (Ed.), Classics of organization theory, (pp. 219-232). Chigaco: The Dorsey Press.
Newby, T.J., Stepich, D.A., Lehman, J.D., & Russell, J.D. (1996). Instructional technology for teaching and learning: Designing instruction, integrating computers, and using media. Upper Saddle River, NJ: Prentice Hall.
Schön, D. (1987). Educating the reflective practitioner. Presentation to the 1987 meeting of the American Educational Research Association, Washington, DC. Retrieved April 13, 2005 from http://educ.queensu.ca/~ar/schon87.htm
Stenseth, B. (1999, August). Pedagogikk og informasjonsteknologi. Noen sentrale problemstillinger
These references have been extracted automatically and may have some errors. If you see a mistake in the references above, please contact info@learntechlib.org.