You are here: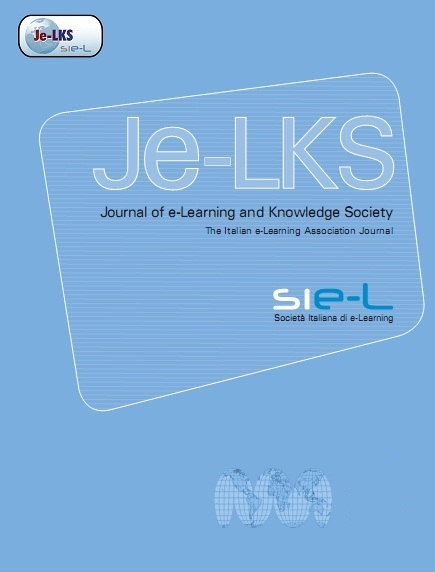 Simulation and learning: the role of mental models
ARTICLE
Franco Landriscina, E-Learning, Allianz, Trieste, Italy
Journal of e-Learning and Knowledge Society Volume 5, Number 2, ISSN 1826-6223 e-ISSN 1826-6223 Publisher: Italian e-Learning Association
Abstract
A successful educational use of simulations at school and in formative courses requires a careful consideration of the cognitive mechanisms of learning. The most interesting educational simulations are not so much those which want to be a copy of reality, but those which favour in the student a process of internalization of the simulated model and a process of externalization and comparison of one's mental models. Education based on models represents a new and promising paradigm in the designing and the didactic use of simulations.
Citation
Landriscina, F. (2009). Simulation and learning: the role of mental models. Journal of e-Learning and Knowledge Society, 5(2), 23-32. Italian e-Learning Association. Retrieved March 26, 2023 from https://www.learntechlib.org/p/43423/.
Keywords
References
View References & Citations Map
Aldrich C. (2003), Simulations and the Future of Learning: An Innovative (and Perhaps Revolutionary) Approach to e-Learning, John Wiley& Son.

Barsalou L.W. (2008), Grounded Cognition, Annual Review of Psychology, 59, 61745.

Calvani A. (2009), Teorie dell'istruzione e carico cognitivo,Trento, Centro Studi Erickson. Calvani A. (a cura di) (2007), Tecnologia, scuola, processi cognitivi. Per una ecologia dell'apprendere, Milano, F. Angeli.

Chanquoy L., Tricot A., Sweller J. (2007), La charge cognitive: Théorie et applications, Armand Colin.

Chi M.T.H., Ohlsson S. (2005), Complex declarative learning. In K.J. Holyoak e R. Morrison (Eds.), Cambridge Handbook of Thinking& Reasoning, Cambridge Univ. Press, pp. 705-726.

Clement J.J. (2007), Student/Teacher Co-constuction of Visualizable models in Large Group Discussion. In: Clement J.J., Rea-Ramirez M.A., Model Based Learning and Instruction in Science, Springer, pp. 11-22.

De Jong T. (2006), Technological Advances in Inquiry Learning, Science, 312, 532533.

Gallese V. (2005), Embodied simulation: From neurons to phenomenal experience, Phenomenology and the Cognitive Sciences, 4, 23–48.

Landriscina F. (2007), Ma si fanno i conti con il carico cognitivo?, Journal of E-Learning and Knowledge Society, vol. 3, (1).

Landriscina F. (2009), La simulazione nell'apprendimento. Trento, Centro Studi Erickson.

Parisi, D. (1997), Sotto le immagini niente, Virtual, Feb 97, pp. 86-89.

Prensky M. (2007), Digital Game-Based Learning, Paragon House Publishers.

Renkl A., Atkinson R.K. (2007), Interactive Learning Environments: Contemporary Issues and Trends. An Introduction to the Special Issue, Educational Psychology Review, 19, 235–238.

Sabbagh L. (2006), The teen brain hard at work, Scientific American Mind, 17(4), 20-25.

Seel, N.M. (1991), Weltwissen und mentale Modelle. Göttingen: Hogrefe.

Seel N.M. (2003), Model-Centered Learning and Instruction, Tech., Inst., Cognition and Learning, Vol. 1, pp. 59-85.

Turkle, S. (1998), La simulazione è seducente ma, se non la capisci, inganna, Telèma, 12.

Vander Meij, J. (2007), Simulation-based inquiry learning with SimQuest. Paper presented at the Bolzano 07 conversation.

Vosniadou, S. (1999), Conceptual change research: State of the art and future directions. In W. Schnotz, S. Vosniadou, M. Carretero (Eds), New Perspectives on Conceptual Change, Elsevier, pp. 3–13.
These references have been extracted automatically and may have some errors. Signed in users can suggest corrections to these mistakes.
Suggest Corrections to References