You are here: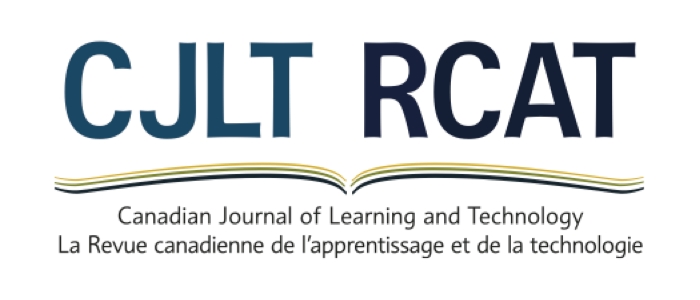 Directions for Research and Development on Electronic Portfolios
ARTICLE
CJLT Volume 31, Number 3, ISSN 1499-6677 e-ISSN 1499-6677 Publisher: Canadian Network for Innovation in Education
Abstract
This lead article for the special issue of the Canadian Journal of Learning and Technology explores directions for research and development on electronic portfolios, which are digital containers capable of storing visual and auditory content; software for which may also be designed to support a variety of pedagogical processes and assessment purposes. The paper is organized around several key questions: What are the types and characteristics of electronic portfolios? What are the outcomes and processes that electronic portfolios support for their creators? What are the contexts in which EPs are most effective and worthwhile? Who are electronic portfolio users/viewers and how do we provide appropriate professional development to encourage correct adoption and widespread and sustained use? What do we know and need to know about technical and administrative issues? What is evidence of electronic portfolio success? How do we move forward with funding and infrastructure?
Citation
Abrami, P., Barrett, H. & Barrett, H. (2005). Directions for Research and Development on Electronic Portfolios. Canadian Journal of Learning and Technology / La revue canadienne de l'apprentissage et de la technologie, 31(3),. Canadian Network for Innovation in Education. Retrieved July 4, 2020 from https://www.learntechlib.org/p/43165/.
References
View References & Citations Map
Arter, J.A., & Spandel, V. (1992). Using portfolios of student work in instruction and assessment. Educational Measurement: Issues& Practice, 11(1), 36–44.

Barrett, H.C. (2001). Electronic portfolios. In A. Kovalchick& K. Dawson (Eds.), Educational technology: An encyclopedia. Santa Barbara, CA: ABC-Clic.

Barrett, H.C. (2004, April). Differentiating electronic portfolios and online assessment management systems. Paper presented at the annual meeting of the American Educational Research Association: San Diego, CA.

Bereiter, C., & Scardamalia, M. (1989). Intentional learning as a goal of instruction. In L.B. Resnick (Ed.), Knowing, learning, and instruction: Essays in honor of Robert Glaser (pp. 361–392). Hillsdale, NJ: Lawrence

Carney, J. (2005). What kind of electronic portfolio research do we need? Paper presented at the annual meeting of the Society for Information Technology and Teacher Education.

Danielson, C., & Abrutyn, L. (1997). An introduction to using portfolios in the classroom. Alexandria, VA: Association for Supervision and Curriculum Development.

Fenwick, T.J., & Parsons, J. (1999). A note on using portfolios to assess learning. Canadian Social Studies, 33(3), 90–92.

Foote, C.J., & Vermette, P.J. (2001). Teaching portfolio 101: Implementing the teaching portfolio in introductory courses. Journal of Instructional Psychology, 28(1), 31–37.

Herman, J.L., & Winters, L. (1994). Portfolio research: A slim collection. Educational Leadership, 52, 48–55.

Hillyer, J., & Lye, T.C. (1996). Portfolios and second graders' self-assessments of their development as writers. Reading Improvement, 133, 148–159.

Lyons, N. (1998). With portfolio in hand: Validating the new teacher professionalism. New York: Teachers College Press.

MacIsaac, D., & Jackson, L. (1994). Assessment processes and outcomes: Portfolio construction. New Directions for Adult and Continuing Education. 62, 63–72.

Miller M.D., & Legg S.M. (1993). Alternative assessment in a high-stakes environment. Educational Measurement: Issues and Practice, 12(2), 9–15.

Mills-Courts K., & Amiran M.R. (1991). Metacognition and the use of portfolios. In P. Belanoff and M. Dickson (Eds.) Portfolios process and product. Portsmouth: Boynton/Cook Publishers Heinemann. Ministère de l'Education du Québec (2000). Québec Education Program: New directions for success together. Québec, QC: MEQ. Retrieved August 21, 2004 from: http://www.meq.gouv.qc.ca/dfgj/program/1cyclepa.htm

Moss, P.A., Schutz, A.M. & Collins, K.M. (1998). An integrative approach to portfolio evaluation for teacher licensure. Journal of Personnel Evaluation in Education, 12(2), 139–161.

Perry, N.E. (1998). Young children's self-regulated learning and contexts that support it. Journal of Educational Psychology, 90, 715–729.

QESN-RECIT. (2004). Portfolio process: On-line resources for teachers. Retrieved August 17, 2004, from http://www.qesn.meq.gouv.qc.ca/portfolio/port_eng.html

Resnick, L.B. (1992). Standards, assessment, and educational quality. Stanford Law and Policy Review, 53–59.

Sweidel, G.B. (1996). Study Strategy Portfolio: a Project to Enhance Study Skills and Time Management. Teaching of Psychology, 23(4), 246.

Wade, A., & Abrami, P.C. (2005). An electronic portfolio for learning. Canadian Journal of Learning and Technology, this issue.

Wade, R.C., & Yarbrough, D.B. (1996). Portfolios: a tool for reflective thinking in teacher education. Teaching and teacher education. 12(1), 63–79.

Zeichner, K. & Wray, S. (2001). The teaching portfolio in US teacher education programs: what we know and what we need to know. Teaching and Teacher Education, 17, 613–621.
These references have been extracted automatically and may have some errors. Signed in users can suggest corrections to these mistakes.
Suggest Corrections to References