You are here: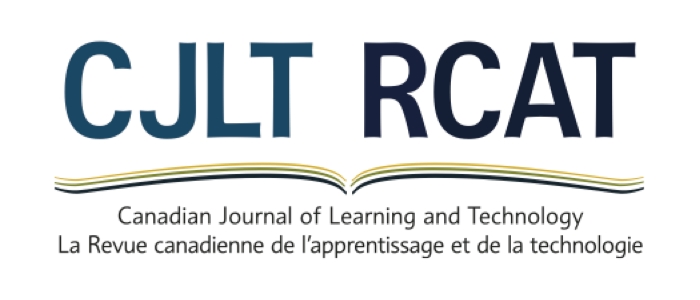 Addressing diverse learner preferences and intelligences with emerging technologies: Matching models to online opportunities
ARTICLE
Ke Zhang, Wayne State University ; Curtis J. Bonk, Indiana University
CJLT Volume 34, Number 2, ISSN 1499-6677 e-ISSN 1499-6677 Publisher: Canadian Network for Innovation in Education
Abstract
This paper critically reviews various learning preferences and human intelligence theories and models with a particular focus on the implications for online learning. It highlights a few key models, Gardner's multiple intelligences, Fleming and Mills' VARK model, Honey and Mumford's Learning Styles, and Kolb's Experiential Learning Model, and attempts to link them to trends and opportunities in online learning with emerging technologies. By intersecting such models with online technologies, it offers instructors and instructional designers across educational sectors and situations new ways to think about addressing diverse learner needs, backgrounds, and expectations. Learning technologies are important for effective teaching, as are theories and models and theories of learning. We argue that more immense power can be derived from connections between the theories, models and learning technologies. Résumé : Cet article passe en revue de manière critique les divers modèles et théories sur les préférences d'apprentissage et l'intelligence humaine, avec un accent particulier sur les implications qui en découlent pour l'apprentissage en ligne. L'article présente quelques-uns des principaux modèles (les intelligences multiples de Gardner, le modèle VAK de Fleming et Mills, les styles d'apprentissage de Honey et Mumford et le modèle d'apprentissage expérientiel de Kolb) et tente de les relier à des tendances et occasions d'apprentissage en ligne qui utilisent les nouvelles technologies. En croisant ces modèles avec les technologies Web, les instructeurs et concepteurs pédagogiques dans les secteurs de l'éducation ou en situation éducationnelle se voient offrir de nouvelles façons de tenir compte des divers besoins, horizons et attentes des apprenants. Les technologies d'apprentissage sont importantes pour un enseignement efficace, tout comme les théories et les modèles d'apprentissage. Nous sommes d'avis qu'en établissant des liens entre les théories, les modèles et les technologies d'apprentissage, il est possible d'obtenir un résultat plus puissant. This article has been translated to Armenian. Click here for the translation.
Citation
Zhang, K. & Bonk, C.J. (2009). Addressing diverse learner preferences and intelligences with emerging technologies: Matching models to online opportunities. Canadian Journal of Learning and Technology / La revue canadienne de l'apprentissage et de la technologie, 34(2),. Canadian Network for Innovation in Education. Retrieved November 18, 2019 from https://www.learntechlib.org/p/42833/.
References
View References & Citations Map
Bonk, C.J. & Zhang, K. (2006). Introducing the R2D2 model: Online learning for the diverse learners of this world. Distance Education, 27(2), 249-264

Bonk, C.J. & Zhang, K. (2008). Empowering online learning: 100+ activities for reading, reflecting, displaying, and doing. San Francisco, CA: Jossey-Bass.

Bonk, C.J., & Dennen, V.P. (1999). Teaching on the Web: With a little help from my pedagogical friends. Journal of Computing in Higher Education, 11(1), 3-28.

Bonk, C.J., & Dennen, V. (2003). Frameworks for research, design, benchmarks, training, and pedagogy in Web-based distance education. In M.G. Moore& B. Anderson (Ed.), Handbook of distance education (pp. 331-348). Mahwah, NJ: Lawrence Erlbaum Associates.

Bonk, C.J., Kim, K.J., & Zeng, T. (2006). Future directions of blended learning in higher education and workplace learning settings. In C.J. Bonk& C.R. Graham (Eds.). Handbook of blended learning: Global Perspectives, local designs (pp. 550-567). San Francisco, CA: Pfeiffer Publishing.

Brophy, J.E. (1998). Motivating students to learn. Boston, MA: McGraw-Hill.

Coffield, F., Moseley, D., Hall, E., & Ecclestone, K. (2004). Learning styles and pedagogy in post-16 learning: A Systematic and critical review. Retrieved August 16, 2006, from: http://www.lsda.org.uk/files/PDF/1543.pdf

Gardner, H. (1983). Frames of mind: The theory of multiple intelligences. New York: Basic.

Gardner, H. (1993). Multiple intelligences: The theory in practice. New York: Basic.

Gardner, H. (1999). Intelligence reframed: Multiple intelligences for the 21st century. New York: Basic.

Honey, P., & Mumford, A. (1986). Using your learning styles. Maidenhead, UK: Peter Honey.

Honey, P., & Mumford, A. (1992). The manual of learning styles. Maidenhead, UK: Peter Honey.

Jonassen, D.J., & Grabowski, B.L (1993). Handbook of individual differences, learning and instruction. Hillsdale, NJ: Lawrence Erlbaum.

Kim, K.J., Bonk, C.J., & Zeng, T. (2005, June). Surveying the future of workplace e-learning: The rise of blending, interactivity, and authentic learning. E-Learn Magazine. Retrieved on November 12, 2007 from http://www.elearnmag.org/subpage.cfm?section=research & Article=5-1

Knowles, M. (1984). Andragogy in action. San Francisco: Jossey-Bass.

Kolb, D.A. (1976). The learning style inventory: Technical manual. Boston, MA: McBer.

Kolb, D.A. (1984). Experiential learning: Experience as the source of learning and development. Englewood Cliffs, New Jersey: Prentice-Hall.

Lamb, A. (2004). Technology and multiple intelligences. Eduscapes: Teacher Tap. Retrieved October 31, 2006, from http://eduscapes.com/tap/topic68.htm

Lamb, A. (2006). Building treehouses for learning: Technology in the classroom (4th Ed). Emporia, KS: Vision to Action.

McCarthy, B. (1987). The 4MAT system: Teaching to learning styles with right/left mode techniques (Revised ed.). Barrington, IL: EXCEL.

Oliver, R., Omari, A., & Herrington, J. (1998). Exploring student interactions in collaborative WorldWide Web computer-based learning environments. Journal of Educational Multimedia and Hypermedia, 7(2/3), 263-287.

Papastergiou, M. (2006). Course management systems as tools for the creation of online learning environments: Evaluation from a social constructivist perspective and implications for their design.

Pask, G. (1976). Styles and strategies of learning, British Journal of Educational Psychology, 46, 128-148.

Riding, R., & Cheema, I. (1991). Cognitive styles: An overview and integration. Educational Psychology, 11, 196-215.

Riding, R., & Raynor, S. (1998). Cognitive styles and learning strategies: understanding style differences in learning and behavior. London: David Fulton Publishers.

Rosenberg, M. (2001). E-Learning: Strategies for delivering knowledge in the digital age. New York: McGraw Hill.

Sadler-Smith, E. (1997). Learning styles: Frameworks and instruments. Educational Psychology, 17, 51-65.

Santo, S. (2006). Relationships between learning styles and online learning: Myth or reality? Performance Improvement Quarterly, 19(3), 73-88.

Serwatka, J.A. (2005). Improving retention in distance learning classes. International Journal of Instructional Technology and Distance Learning, 2(1). Retrieved October 29, 2006, from http://www.itdl.org/Journal/Jan_05/article06.htm

Smith, M.K. (2001). David A. Kolb on experiential learning. The encyclopedia of informal education. Retrieved October 31, 2006, from http://www.infed.org/biblio/b-explrn.htmSmith,M.K.(2002).HowardGardnerandmultipleintelligences.Theencyclopediaofinformaleducation.RetrievedOctober20,2006,fromhttp://www.infed.org/thinkers/gardner.htm. Last updated January 28, 2005.

Sternberg, R.J., & Zhang, L-F. (2001). Preface. In R.J. Sternberg& L-F. Zhang (Eds.), Perspectives on thinking, learning, and cognitive styles (pp. Vii-x). Mahwah, NJ: Erlbaum.

Wedemeyer, C.A. (1981). Learning at the back door: Reflections on non-traditional learning in the lifespan. Madison, WI: University of Wisconsin Press.
These references have been extracted automatically and may have some errors. Signed in users can suggest corrections to these mistakes.
Suggest Corrections to References