You are here: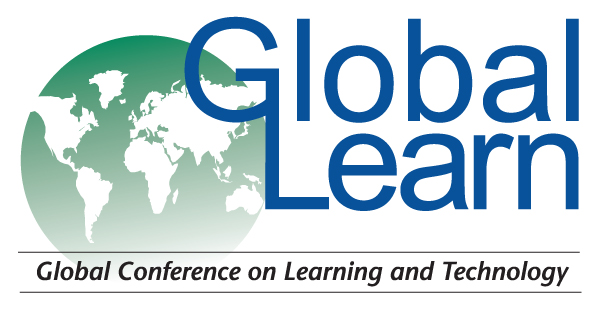 A Model for Creating Effective Instructional Video Podcasts
PROCEEDINGS
Robin Kay, University of Ontario Institute of Technology, Canada
Global Learn, in Online, Publisher: Association for the Advancement of Computing in Education (AACE)
Abstract
The purpose this study was to develop a comprehensive, theory-based model for creating instructional video podcasts designed to present and discuss worked examples. Sixteen design characteristics, organized according to four categories (establishing context, providing effective explanations, minimizing cognitive load, and engaging students), were used to develop 59 pre-calculus videos for 856 first-year university students. The results indicated that, overall, students had positive attitudes toward the use of worked-example video podcasts, noting they were useful and improved their understanding of pre-calculus concepts. In addition, self-assessed knowledge in five pre-calculus concepts increased significantly, based on pre and post evaluations. It is concluded that the model proposed in this study is a reasonable starting point for creating effective worked-example video podcasts.
Citation
Kay, R. (2012). A Model for Creating Effective Instructional Video Podcasts. In Proceedings of Global Learn 2012: Global Conference on Learning and Technology (pp. 48-52). Online,: Association for the Advancement of Computing in Education (AACE). Retrieved January 27, 2023 from https://www.learntechlib.org/primary/p/42039/.
Keywords
References
View References & Citations Map
Alpay, E., & Gulati, S. (2010). Student-led podcasting for engineering education. European Journal of Engineering Education, 35(4), 415-427. Doi:10.1080/03043797.2010.487557
Atkinson, R.K., Derry, S.J., Renkl, A., & Wortham, D. (2000). Learning from examples: Instructional principles from the worked examples research. Review of Educational Research, 70(2), 181-214.
Bransford, J.D., Brown, A.L., & Cocking, R.C. (2000). How People Learn: Brain, Mind, Experience, and School. Washington, DC: National Academy Press.-51 DASHDASH
Bruner, J. (1986). Actual minds, possible worlds. Cambridge, MA: Harvard University Press.
Catrambone, R. (1994). The effects of labels in example on problem solving transfer. In A. Ram, & K. Eiselt (Eds.), Proceedings of the Sixteenth Annual Conference of the Cognitive Science Society, (pp. 159-164). Hillsdale, NJ:
Clark, R.C., & Mayer, R.E. (2008). E-Learning and the Science of Instruction. San Francisco: Pfeiffer.
Crippen, K.J., & Earl, B.L. (2004). Considering the effectiveness of web-based worked-example in introductory chemistry. Journal of Computers in Mathematics and Science Teaching, 23(2), 151-167.
Fill K., & Ottewill R. (2006). Sink or swim: taking: taking advantage of developments in video streaming. Innovations in Education and Teaching International. 43(4), 397-408. Doi:10.1080/14703290600974008
Greer, B. (1997). Modelling reality in mathematics classrooms: The case of word problems. Learning and Instruction, 7(4), 293-307.
Hill, J.L., & Nelson, A. (2011). New technology, new pedagogy? Employing video podcasts in learning and teaching about exotic ecosystems. Environmental Education Research, 17(3), 393-408. Doi:10.1080/13504622.2010.545873
Holbrook, J., & Dupont, C. (2010). Making the decision to provide enhanced podcasts to post-secondary science students. Journal of Science Education and Technology, 20(1), 233-245. Doi:10.1007/s10956-010-9248-1
Kay, R.H. (2012). Exploring the use of video podcasts in education: A comprehensive review of the literature. Computers in Human Behaviour. Kester, L. Lehnen, C., Van Gerven, P.W.M., & Kirschner, P.A. (2006). Just-in-time schematic supportive information presentation during cognitive skill acquisition. Computers in Human Behavior, 22(1), 93-116.
Limer, E. (2012, January). YouTube hits 4 billion pageviews per day, just keeps growing. [Weblog post]. Geekosystem. Retrieved from http://www.geekosystem.com/youtube-4-billion-pageviews/ Loomes, M., Shafarenko, A., & Loomes, M. (2002). Teaching mathematical explanation through audiographic technology. Computers& Education, 38(1-3), 137-149. Doi:10.1016/S0360-1315(01)00083-5
Mayer, R.E. (2005). Principles for managing essential processing in multimedia learning: Segmenting, pretraining, and modality principles. In R.E. Mayer (Ed.), The Cambridge Handbook of Multimedia Learning. (pp. 169182).
Rittle-Johnson, B., & Koedinger, K.R. (2005). Designing knowledge scaffolding to support mathematical problem solving. Cognition and Instruction, 23(3), 313-349. Doi:10.1207/s1532690xci2303_1
Sawyer, R.K. (Ed.) (2006). Cambridge Handbook of the Learning Sciences. New York: Cambridge University Press.
Tapscott, D. (2009). Grown up digital. Toronto, Ontario: McGraw Hill.
Trafton, J.G., & Reiser, B.J. (1993). The contributions of studying examples and solving problems to skill acquisition. In M. Poison (Ed.), Proceedings of the Fifteenth Annual Conference~ the Cognitive Science Society (pp. 1017-1022). Hillsdale, NJ: Erlbaum.
Watters, A. (2011). Khan Academy gets $5 million to expand faculty& Platform& To build a physical school. Hack Education. Retrieved from http://www.hackeducation.com/2011/11/04/khan-academy-gets-5-million-toexpand-faculty-platform-to-build-a-physical-school/
Wieling, M., & Hofman, W. (2010). The impact of online video lecture recordings and automated feedback on student performance. Computers& Education, 54(4), 992-998. Doi:10.1016/J.compedu.2009.10.002
Willingham, D.T. (2009). Why don't students like school? San Francisco: Jossey-Bass.
Zhu, X., & Simon, H.A. (1987). Learning mathematics from examples and by doing. Cognition and Instruction, 4(3), 137-166.
These references have been extracted automatically and may have some errors. Signed in users can suggest corrections to these mistakes.
Suggest Corrections to References