You are here: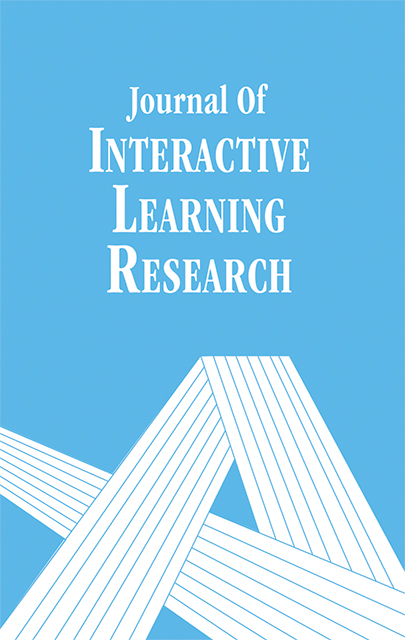 Exploring Synchronous Text Chat in Remotely-Delivered Early Field Experiences
ARTICLE
Tina Heafner, University of North Carolina at Charlotte, United States ; Michelle Plaisance, Greensboro College, United States
Journal of Interactive Learning Research Volume 25, Number 3, ISSN 1093-023X Publisher: Association for the Advancement of Computing in Education (AACE), Waynesville, NC
Abstract
The increasing popularity and accessibility of affordable computer-mediated communication is rapidly advancing alternative forms of message transmission into market sectors, such as education. The focus of this article is an exploratory multi-case study of rich learning experiences of Windows into Teaching and Learning (WiTL) participants enrolled in two online summer content methods courses who engaged in computer-mediated dialog. The researchers examined collective and individual use of synchronous text chat for the purpose of understanding learner and instructor social and cognitive presence as well as attitudes toward online learning. Through a content analysis, researchers found that this mode of communication unilaterally enriched the observation learning experience for all participants. Specifically, researchers identified four meaningful social and cognitive functions of the synchronous text chat: a) enhancing enjoyment, b) engagement and noticing, c) achieving community and providing interactive immediacy, and d) bridging of theory to practice. Researchers coined this use of SMS (synchronous texting) in academic settings EduTexting and argue for its application in future online teacher preparation courses. Based on the findings of this study, the authors conclude there are significant educational benefits to using a form of communication that is congruent with students' lives.
Citation
Heafner, T. & Plaisance, M. (2014). Exploring Synchronous Text Chat in Remotely-Delivered Early Field Experiences. Journal of Interactive Learning Research, 25(3), 327-352. Waynesville, NC: Association for the Advancement of Computing in Education (AACE). Retrieved October 20, 2020 from https://www.learntechlib.org/primary/p/40568/.
References
View References & Citations Map
Cellsigns. (2010). Text Message Statistics. Retrieved from Cellsigns: http://www.cellsigns.com/industry.shtml
Creswell, J.W. (2007). Qualitative inquiry and research design: Choosing among five approaches. Thousand Oaks, Ca: Sage. Cook, M., annetta, L.A., Dickerson, D.L., & Minogue, J. (2011). In-service teachers' perceptions of online learning environments. The Quarterly Review of Distance Education, 12(2), 73-79.
Crotty, M. (1998). The foundations of Social research: Meaning and perspective in the research process. Thousand Oaks, California: SaGe Publications.
DeWitt, P. (2011, november 17). Using social networking to build 21st century skills. Ed Weekly. Garrison, D.R., anderson, T., & Archer, W. (2000). Critical inquiry in a textbased environment: Computer conferencing in higher education. The Internet and Higher Education, 2(2-3), 87-105.
Ginsberg, H. (2009, august 14). Cellphones in the classroom? LOL. Retrieved from Teachers College Columbia University: http://www.tc.columbia.edu/news.htm?articleid=7131
Glesne, C. (2006). Becoming qualitative researchers. Boston, Ma: Pearson education, inc.
Greene, H. (2005). Creating connections: a pilot study on an online community of learners. Journal of Interactive Online Learning, 3(3). Retrieved from: http://www.ncolr.org/jiol/issues/viewarticle.cfm?voliD=3 & Amp
Heafner, T., & Plaisance, M. (2012). Shared viewing as an approach to transforming early field experiences. Contemporary Issues in Technology and Teacher Education, 12(4), 423-437.
Heafner, T.L., & Plaisance, M. (2013). Windows into teaching and learning: Uncovering the potential for meaningful remote field experiences in distance teacher education. In R. Hartshorne, T.L. Heafner, & T.M. Petty (eds), Teacher Education Programs and Online Learning Tools: Innovations in Teacher Preparation, 454-475. Hershey, Pa: iGi Global.
Holley, D., & Dobson, C. (2008). Encouraging student engagement in a blended learning environment: the use of contemporary learning spaces. Learning, Exploring Synchronous Text Chat 351 Jarrell, D., & Freiermuth, M.R. (2005). The motivational power of text chat. Regional Language Centre Journal, 36(1), 59-72.
Jonassen, D., Davidson, M., Collins, M., Campbell, J., & Haag, B.B. (1995). Constructivism and computer-mediated communication in distance education. American Journal of Distance Education, 9(2), 7-26.
Merriam, S.B. (2009). Qualitative research: a guide to design and implementation. San francisco, Ca: Jossey-Bass.
Murphy, K.L., & Collins, M.P. (1997). Development of communication conventions in online instructionall chats. Journal of Distance Education, 12, 177-200.
Patton, M.Q. (1990). Qualitative evaluation and research methods (2nd ed.). Newbury Park, Ca: Sage. Partnership for 21st Century Skills.(2009). Framework for 21st Century Learning. Retrieved from: http://www.p21.org/overview/skills-framework Pew research Center. (2011, December 20). Global digital communication: Texting, social networking popular worldwide. Retrieved from Global attitudes Project: http://www.pewglobal.org/files/2011/12/Pew-Global-attitudesTechnology-report-finaL-December-20-2011.pdf
Stahl, G. (2003). Supporting group cognition in an online math community: a cognitive tool for small-group referencing in text chat. Journal of Educational Computing Research, 35(2), 103-122.
Tellis, W. (1997). Introduction to case study. The Qualitative report, 3(2). Retrieved March 8, 2012 from http: www.nova.edu/ssss/Qr/Qr3-2tellis1.html
These references have been extracted automatically and may have some errors. Signed in users can suggest corrections to these mistakes.
Suggest Corrections to References