You are here: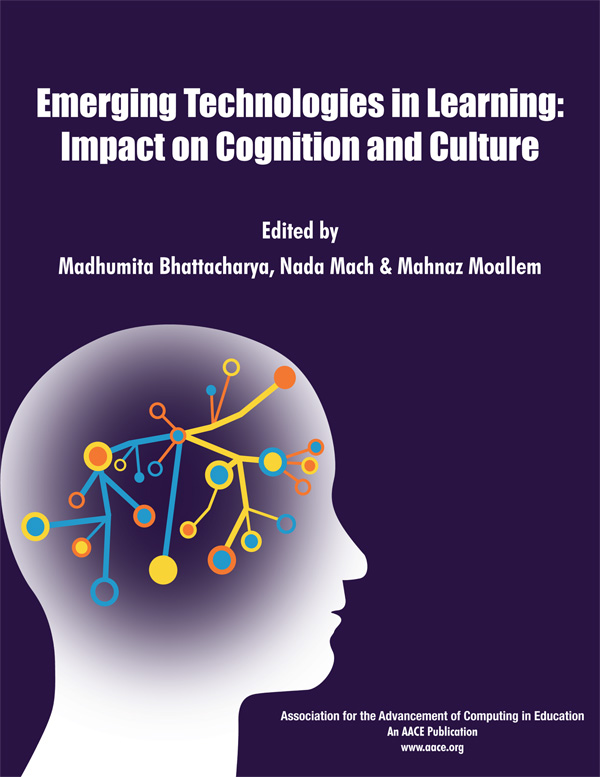 Emerging Technologies in Learning: Impact on Cognition and Culture
eBook
Madhumita Bhattacharya, University of Victoria, Canada ; Nada Mach, California State University, United States ; Mahnaz Moallem, University of North Carolina, United States
Published . Publisher: Association for the Advancement of Computing in Education (AACE).
Abstract
This book encompasses the technological influence on learning and cognition from a cultural prospective. It weaves together different kinds of learning technologies with the thread of cultural diversity to meet local and global educational needs and includes the latest developments in education, particularly emerging technologies. The book offers successful examples of student modeling for multimedia learning environment design, instructional delivery systems, and applications of technology where computer and mobile technologies play an indispensable role. Innovative ideas, as well as issues related to learning, teaching and assessment, work place learning, assistive technology, the roles of current and future technologies in learning are discussed by authors from various countries and educational settings.
Citation
Bhattacharya, M., Mach, N. & Moallem, M. (2011). Emerging Technologies in Learning: Impact on Cognition and Culture. Association for the Advancement of Computing in Education (AACE). Retrieved October 19, 2021 from https://www.learntechlib.org/primary/p/39252/.
Keywords
Foreword 1 7
Foreword 2 9
Preface 11
Acknowledgements 13
About the editors 15
About the contributing authors 17
Section I
Technological augmentation and the changing educational scenario
Introduction 23

Learning in a playful way: A theme based approach towards development of a technology facilitated integrative model for 21st century education 25

Building bridges across the Atlantic: The impact of technology facilitated classroom partnerships on cultural competency and language skills 35

Meeting the needs of all learners:The intertwining of culturally responsive pedagogy and emerging technologies Colleen R. Swain 45

4. Understanding global learners and bridging cultural differences in distance and online Education 57

The current and future use of emerging technologies in higher education in Iran: A case study 73

Creating a decentralized statewide online course network: A case study of the Texas virtual school network 99
Section II
Social learning and emerging technologies
Introduction 111

7. Understanding how learning takes place in social practices 113

8. Learning 2.0, gaming and the digital divide 123

How web 2.0 empowered relationships enhance learning 2.0 133

Interaction in a planetary community: A case study of EFL integrated Web 2.0 technologies at a Japanese university 141
Section III
Practical implications of new technologies for specific populations or purposes
Introduction 151

Assistive technology for students with learning disabilities: An overview of an educational implementation 153

Blindness, computing, cognition and culture: Four case studies of blind programmers 159

13. Using narrative inquiry for online educational assessment 171

Developing a personal learning network for the workplace 183

Online counseling: The emergence of information technology in support of learning and cognition 195
Section IV
Technology enhanced learning and research: New or not so new directions?
Introduction 205

16. Scenes of struggle: Emerging technologies as tools for multicultural engagement 209

17. A sociocultural evaluation of an online learning community: Personal, interpersonal and community planes of development and transformations 225

18. Blending culture into learning: A toolkit developed for academics through learner feedback on culture and trust 241

Guidelines for effective b-learning in teacher education: Experience gathered from the three cycles of higher education 259

e and b-learning in a developing country: A transdisciplinary perspective 269

A personalized learning approach: Reducing adolescent obesity 299

Copyleft and copyright and the culture of sharing: New models for accessing media 317