You are here: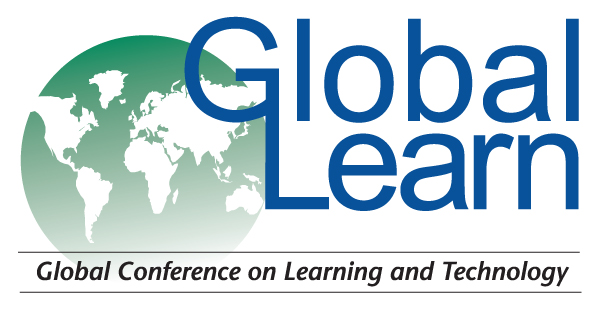 Developing Global Competency and Critical Autonomy in Teacher Education
PROCEEDINGS
Melda N. Yildiz, Kean University, United States
Global Learn, in Melbourne, Australia ISBN 978-1-880094-85-3 Publisher: Association for the Advancement of Computing in Education (AACE)
Abstract
This presentation is for P16 teachers who would like to integrate global education, 21st Century skills and media literacy into their curriculum. It outlines my experiences as a Fulbright Scholar teaching multicultural education, media literacy and educational technology in Turkmenistan; offers creative strategies for producing media with youth; and showcases digital stories. The participants deconstructed and assessed the national and local curriculum; presented their projects such as media projects reflecting not only on their stories but also international perspectives and documented their stories in order to articulate the realities of conditions in schools through their research, analysis, and dialog. Through the media literacy activities, they designed curricula, and programs for improving student outcomes, also they gained alternative point of view on their environment and renew interest and commitment to global understanding.
Citation
Yildiz, M.N. (2011). Developing Global Competency and Critical Autonomy in Teacher Education. In S. Barton, J. Hedberg & K. Suzuki (Eds.), Proceedings of Global Learn Asia Pacific 2011--Global Conference on Learning and Technology (pp. 1839-1850). Melbourne, Australia: Association for the Advancement of Computing in Education (AACE). Retrieved April 1, 2020 from https://www.learntechlib.org/primary/p/37410/.
Keywords
References
View References & Citations Map
Burkhardt, G., Monsour, M., Valdez, G., Gunn, C., Dawson, M., Lemke, C., Coughlin, E., Thadani, V., & Martin, C. (2003). 21st century skills: Literacy in the digital age. Retrieved January 29, 2008, from http://www.ncrel.org/engauge
Franklin, T. & Van Harmelen, M. (2007). Web 2.0 for content for learning and teaching in higher education. Retrieved February 3, 2008, from http://www.jisc.ac.uk/media/documents/programmes/digital_repositories/web2-content-learning-andteaching.pdf
Freire, P. (2002). Pedagogy of the oppressed. New York: Continuum.
Gould, E. (2003). The university in a corporate culture. New Haven: Yale University Press.
Hendron, J.G. (2008). RSS for educators: blogs, newsfeeds, podcasts, and wikis in the classroom.
Jenkins, H., Purushotma, R., Clinton, K., Weigel, M., & Robinson, A. (2006). Confronting the challenges
Lévi-Strauss, C. (1998). The savage mind. London: Weidenfeld & Nicolson.-1848 DASHDASH
New London Group (2000). A pedagogy of multiliteracies: Designing social futures. In B. Cope& M. Kalantzis (Eds.), Multiliteracies: Literacy learning and the design of social futures pp. 9-38). London:
Oblinger, D., & Oblinger, J.L. (2005). Educating the net generation. Boulder, CO: EDUCAUSE.
Oldenburg, R. (1999). The great good place: Cafes, coffee Shops, bookstores, bars, hair salons and other hangouts at the heart of a community. (2nd ed.). New York: Marlowe & Company.
Owen, M., Grant, L., Sayers, S. & Facer, K. (2006). Social software and learning. Futurelab. Accessed on January 14, 2008. Http://www.futurelab.org.uk/research/opening_education.htm
Prensky, M. (2005). Search vs. Research. Or, the fear of The Wikipedia overcome by new understanding for a digital era. Retrieved March 20, 2008, from http://www.marcprensky.com/writing/Prensky-Search_vs_Research-01.pdf
Rheingold, H. (2008, October) Writing, Reading, and Social Media Literacy Writing, Reading, and Social Media Literacy. Harvard Business Publishing: Retrieved December 31, 2008, from http://discussionleader.hbsp.com/now-new-next/2008/10/the-importance-of-social-media.html
Richardson, W. (2006). Blogs, wikis, podcasts and other powerful web tools for classrooms. Thousand Oaks, CA: Corwin Press.
SRI International Center for Technology in Learning. (2007). Learning Ecosystem. Retrieved April 4, 2008, from School 2.0 Website: http://etoolkit.org/etoolkit/
Srinivasan, R. (2006). Where information society and community voice intersect. The Information Society, 22 (5), 355-365.
Soukup, C. (2006). Computer-mediated communication as a virtual third place: Building Oldenburg's great good places on the WorldWide Web. New Media& Society, 8, 421-440. [Online http://nms.sagepub.com/cgi/content/abstract/8/3/421]
Stimson, B. (2007, October), An Educator's Manifesto! Arise! You have nothing to lose but your chains!Classroom 2.0: Retrieved December 31, 2008, from http://www.classroom20.com/forum/topics/649749:Topic:56987
Suter, V, Alexander, B. & Kaplan, P. (2005). Social software and the future of conferences— Right now. EDUCAUSE Review, 40 (1). Tucker, P. (2007, January-February). The over-mediated world. The Futurist, 16. 12-13.
Unsworth, L.(2008). Multiliteracies, e-literature and English teaching, Language and Education: International Journal 22 (1).
VirtualAbility. (2008). Virtual Ability Our People. Retrieved December 31, 2008, from Virtual Ability, Inc. Website: http://virtualability.org/ourpeople.aspx
These references have been extracted automatically and may have some errors. Signed in users can suggest corrections to these mistakes.
Suggest Corrections to References