You are here: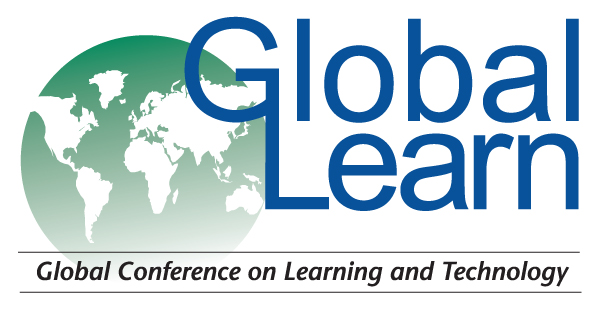 Students' use of eLearning strategies and their perceptions of eLearning usefulness
PROCEEDINGS
Global Learn, in Melbourne, Australia ISBN 978-1-880094-85-3 Publisher: Association for the Advancement of Computing in Education (AACE)
Abstract
Students may well be 'digital natives'; however, there is little evidence that they are natural 'digital learners'. Two questions were examined in this study. Firstly, in Hong Kong, what are undergraduate students' perceptions towards the use of technology for teaching and learning? Secondly, in what way did our students' previous experience in using technology, in particular various eLearning strategies, affect their perceptions of the value of eLearning? We surveyed 1438 students at The Chinese University of Hong Kong. The students were generally positive (though not overly enthusiastic) about various forms of eLearning. Students who were more experienced in using technologies in their everyday lives were in general more positive about eLearning strategies. Most interestingly, the more experience the students had with eLearning strategies, the more positive they were towards eLearning as well. This is evidence that eLearning has provided learning benefits to our students.
Citation
Lam, P., Lee, J., Chan, M. & McNaught, C. (2011). Students' use of eLearning strategies and their perceptions of eLearning usefulness. In S. Barton, J. Hedberg & K. Suzuki (Eds.), Proceedings of Global Learn Asia Pacific 2011--Global Conference on Learning and Technology (pp. 1379-1388). Melbourne, Australia: Association for the Advancement of Computing in Education (AACE). Retrieved October 21, 2019 from https://www.learntechlib.org/primary/p/37346/.
Keywords
References
View References & Citations Map
Bhattacherjee, A. (2001). Understanding information systems continuance: An expectation-confirmation model. MIS Quarterly, 25(3), 351–370.
Conole, G., de Laat, M., Dillon, T., & Darby, J. (2008). 'Disruptive technologies', 'pedagogical innovation': What's new? Findings from an in-depth study of students' use and perception of technology. Computers& Education, 50(2), 511–524.
Cortina, J.M. (1993). What is coefficient alpha? An examination of theory and applications. Journal of Applied Psychology, 78(1), 98–104.
Davis, F.D., Bagozzi, R.P., & Warsaw, P.R. (1989). User acceptance of computer technology: A comparison of two theoretical models. Management Science, 35(8), 983–1003.
Green, H., & Hannon, C. (2007). Their space: Education for a digital generation. London: Demos.
Green, S.B., & Salkind, N.J. (2008). Using SPSS for Windows and Macintosh analyzing and understanding data. (5th ed.) New Jersey: Pearson Prentice Hall.
Healey, J. (2009). Statistics: A tool for social research (8th ed.). Belmont, CA: Wadsworth Cengage Learning.
Keller, C., & Cernerud, L. (2002). Students' perceptions of e-learning in university education. Journal of Educational Media, 27(1, 2), 55–67.
Lam, P., Lam, S-L., Lam, J., & McNaught, C. (2008). Usability and usefulness of eBooks on PPCs: How students' opinions vary over time. Australasian Journal of Educational Technology, 25(1), 30–44.
Limayem, M., Hirt, S.G., & Cheung, C.M.K. (2007). How habit limits the predictive power of intention: The case of information systems continuance. MIS Quarterly, 31(4), 705–737.
McNaught, C., Lam, P. & Ho, A. (2009). The digital divide between university students and teachers in Hong Kong. In R. Atkinson& C. McBeath (Eds.), Same places, different spaces (pp. 654–664). Proceedings of the 26th
Oliver, R.L. (1980). A cognitive model of the antecedents and consequences of satisfaction decisions. Journal of Marketing Research, 17(4). 460–469.
Paechter, M., Maier, B., & Macher, D. (2010). Students' expectations of, and experiences in, e-learning: Their relation to learning achievements and course satisfaction. Computers& Education, 54(1), 222–229.
Prenksy, M. (2001). Digital natives, digital immigrants. On the Horizon, 9(5). Retrieved December 29, 2010, from http://pre2005.flexiblelearning.net.au/projects/resources/Digital_Natives_Digital_Immigrants.pdf Rogers, E.M. (2003). Diffusion of innovations (5th ed.). New York: The Free Press.
Salaway, G., Caruso, J.B., & Nelson, M.R. (2008). The ECAR study of undergraduate students and information technology, 2008 (Research Study, Vol. 8). Boulder, CO: EDUCAUSE. Center for Applied Research. Retrieved December 29, 2010, from http://net.educause.edu/ir/library/pdf/ERS0808/RS/ERS0808w.pdf Venkatesh, V., Morris, M.G., Davis, G.B., & Davis, F.D. (2003). User acceptance of information technology: Toward a unified view. MIS Quarterly, 27(3), 425–478.
These references have been extracted automatically and may have some errors. Signed in users can suggest corrections to these mistakes.
Suggest Corrections to References