You are here: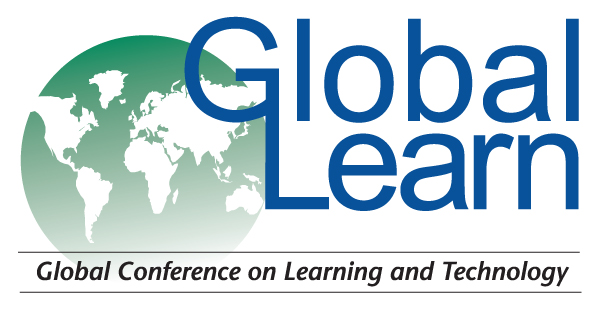 Using a Video Annotation Tool for Authentic Learning: A Case Study
PROCEEDINGS
Meg Colasante, RMIT University, Australia
Global Learn, in Melbourne, Australia ISBN 978-1-880094-85-3 Publisher: Association for the Advancement of Computing in Education (AACE)
Abstract
In e-learning there is increasing need for active learning designs that highlight reflection. Video sharing is one such option. The Media Annotated Tool (MAT), developed at RMIT University, provides the opportunity for students to annotate their own and other students' videos of learning tasks. Teachers provide feedback, coaching and scaffolding using this tool to develop professional skills. This approach provides an authentic learning opportunity, where students engage in 'real world' experiences. This paper uses the results of a pilot study on MAT conducted in 2009 and links the design and learning experiences of students to the nine characteristics of authentic learning as outlined by Herrington et al., (2010).
Citation
Colasante, M. (2011). Using a Video Annotation Tool for Authentic Learning: A Case Study. In S. Barton, J. Hedberg & K. Suzuki (Eds.), Proceedings of Global Learn Asia Pacific 2011--Global Conference on Learning and Technology (pp. 981-988). Melbourne, Australia: Association for the Advancement of Computing in Education (AACE). Retrieved October 17, 2021 from https://www.learntechlib.org/primary/p/37287/.
References
View References & Citations Map
Barrows, H., & Tamblyn, R. (1980). Problem-based learning; An approach to medical education. New York: Springer Publishing Company.
Boud, D., & Associates. (2010). Assessment 2020: Seven propositions for assessment reform in higher education. Retrieved December 16, 2010, from www.assessmentfutures.com
Boud, D., Cohen, R., & Sampson, J. (1999). Peer learning and assessment. Assessment and Evaluation in Higher Education, 24(4), 413-426.
Brown, J.S., Collins, A., & Duguid, P. (1989). Situated Cognition and the Culture of Learning. Educational Researcher, 18(1), 32-42.
Colasante, M. (2010). Future-focused learning via online anchored discussion, connecting learners with digital artefacts, other learners, and teachers. In C.H. Steel, M.J. Keppell, P. Gerbic & S. Housego (Eds.), Curriculum, technology& Transformation for an unknown future. Proceedings ascilite Sydney 2010 (pp.211-221).
Colasante, M., & Fenn, J. (2009). 'mat': A New Media Annotation Tool with an Interactive Learning Cycle for Application in Tertiary Education. Paper presented at the World Conference on Educational Multimedia, Hypermedia and Telecommunications (ED-MEDIA), 2009, Honolulu.
Dalzeil, J. (2010). Practical eTeaching Strategies for predict– observe– explain, problem-based learning, and role plays. NSW: LAMS International.
Douglas K., & Johnson B. (2009). Online Role-plays as Authentic Assessment: Five Models to Teach Professional Interventions in Proceedings of the ATN Assessment Conference, 2009, John Milton, Cathy Hall, Josephine Lang, Garry Allan and Milton (ed.), Learning and Teaching Unit, RMIT University, Melbourne, Australia, pp. 128-136.
Hatton, N., & Smith, D. (1994). Facilitating reflection: Issues and research (Publication. Retrieved August 2008, from Educational Resources Information Center (ERIC) Document Reproduction Service (EDRS)
Herrington, J., & Oliver, R. (2000). An instructional design framework for authentic learning environments. Educational Technology Research and Development, 48(3), 23-48.
Herrington, J., Reeves, T.C., & Oliver, R. (2010). A guide to authentic e-learning (Connecting with e-learning). New York/ Oxon: Routledge.
Herrington, J., Oliver, R., & Reeves, T.C. (2003). Patterns of engagement in authentic online learning environments. Australasian Journal of Educational Technology (AJET), 19(1), 59-71.
Kienle, A. (2006). Integration of knowledge management and collaborative learning by technical supported communication processes. Education and Information Technologies, 11(2), 161-185.
Lin, X., Hmelo, C., Kinzer, C., & Secules, T. (1999). Designing technology to support reflection. Educational Technology, Research and development, 47(3), 43-62.
Muller, D., Eklund, J., & Sharma, M. (2006). The future of multimedia learning: Essential issues for research [Electronic Version]. Retrieved March 2008 and February 2011 from http://www.aare.edu.au/05pap/mul05178.pdf. Panitz, T. (1996). A Definition of Collaborative vs Cooperative Learning [Electronic Version]. Retrieved 10 September 2006; 16 January 2011 from http://www.friendsofchalkbytes.org/uploads/cb1398ec-0683-4f10-89096af19fb84986/A%20Definition%20of%20Collaborative%20vs%20Cooperative%20Learning.doc
These references have been extracted automatically and may have some errors. Signed in users can suggest corrections to these mistakes.
Suggest Corrections to References