You are here: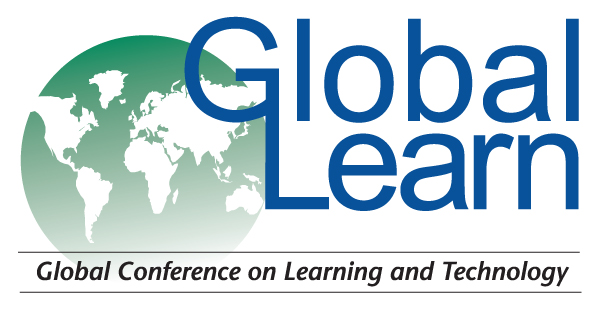 Examining cognitive attributes in student-teacher and student-student online interactions
PROCEEDINGS
Dorit Maor, Murdoch University, Australia
Global Learn, in Penang, Malaysia ISBN 978-1-880094-79-2 Publisher: Association for the Advancement of Computing in Education (AACE)
Abstract
This paper explores whether the source for cognitive attributes is in teacher-student interactions or student-student interactions. Quantitative data analysis suggests that there is no conclusive answer. However, there was a higher-level of cognitive attributes in the teacher-student interactions than student-student interactions, in particular in the cognitive category of Sharing information, but less so in other higher-level cognitive categories. When using qualitative discourse analysis, an interesting finding emerged. It appears that teachers can intentionally raise the level of cognitive discussion by providing certain types of stimulation, especially challenges, to the group of online learners, constantly presenting higher-level cognitive tasks.
Citation
Maor, D. (2010). Examining cognitive attributes in student-teacher and student-student online interactions. In Z. Abas, I. Jung & J. Luca (Eds.), Proceedings of Global Learn Asia Pacific 2010--Global Conference on Learning and Technology (pp. 4247-4252). Penang, Malaysia: Association for the Advancement of Computing in Education (AACE). Retrieved June 18, 2021 from https://www.learntechlib.org/primary/p/34526/.
Keywords
References
View References & Citations Map
Aviv, R. (2000). Educational performance of ALN via content analysis. Journal of Asynchronous Learning Networks, 4(2). Retrieved from: http://www.sloan-C.org/publications/jaln/v4n2/v4n2_aviv.asp Bonk, C.J., Wisher, R.A., & Nigrelli, M.L. (2004). Learning communities, communities of practice: Principles, technologies and examples. In K. Littleton, D. Miell & D. Faulkner (Eds.), Learning to collaborate, collaborating to learn (pp. 199-219). New York: Nova Science.
Harasim, L.M. (1989). Online education: A new domain. In R. Mason& A.R. Kaye (Eds.), Mindweave: communication, computers, and distance education (pp. 50-62). Oxford: Pergamon Press.
Garrison, R. & Anderson, T. (2003). E-learning in the 21st century: A framework for research and practice. London: Routledge Falmer.
Heckman, R. & Annabi, H. (2006). How the teacher's role changes in on-line case study discussions. Journal of Information Systems Education, 17(2), 141-150.
Ikpeze, C. (2007). Small group collaboration in peer-led electronic discourse: An analysis of group dynamics and interactions involving preservice and inservice teachers. Journal of Technology and Teacher Education, 15(3), 383-407.
Knowlton, D. (2005). A Taxonomy of learning through asynchronous discussion. Journal of Interactive Learning Research, 16(2), 115-178.
Maor, D. (2003). The Teacher's Role in Developing Interaction and Reflection in an Online Learning Community. Education Media International. 40(1/2), 127-137.
Maor, D. (2008) Changing relationship: who is the learner and who is the teacher in the online educational landscape? Australasian Journal of Educational Technology, 24 (5), 627-638 http://www.ascilite.org.au/ajet/ajet24/maor.pdfMaor,D.(2007).Thecognitiveandsocialprocessesofhowuniversitystudentsexperienceonlinelearning.InICT:Providingchoicesforlearnersandlearning.ProceedingsofAsciliteSingapore,2007.Http://www.ascilite.org.au/conferences/singapore07/procs/maor.pdf
McKenzie, W. & Murphy, D. (2000). "I hope this goes somewhere": Evaluation of an online discussion group. Australian Journal of Educational Technology, 16(3), 239-257.
Penman, M. & Lai, K-W. (2003) Synchronous Communication and Higher-Order Thinking in a Tertiary Course in Occupational Therapy. Journal of Interactive Learning Research. 14(4), 387-404.
Rogers. E.M. (2003) Diffusion of innovations (5th edition): New York: The Free Press.
Twigg, C. (2001). Innovations in online learning: Moving beyond no significant difference. Troy, NY: Center for Academic Transformation.-4252 DASHDASH
These references have been extracted automatically and may have some errors. Signed in users can suggest corrections to these mistakes.
Suggest Corrections to References