You are here: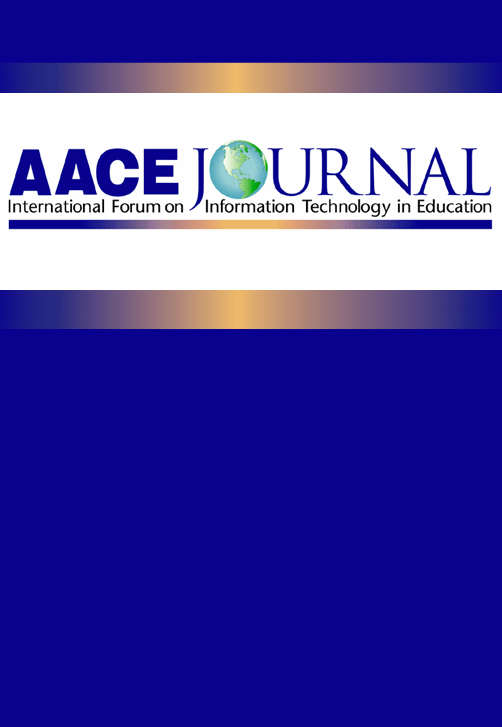 Labeled Postings for Asynchronous Interaction
Article
Lih-Juan ChanLin, Department of Library & Information Science, Fu-Jen Catholic University, Taiwan ; Yong-Ting Chen, Graduate Institute of Library, Information and Archival Studies, National Chengchi University, Taiwan ; Kung-Chi Chan, Department of Food & Nutrition, Providence University, Taiwan
AACE Review (formerly AACE Journal) Volume 17, Number 4, ISSN 1065-6901 Publisher: Association for the Advancement of Computing in Education (AACE), Waynesville, NC USA
Abstract
** Invited as a paper from ED-MEDIA 2008 **
The Internet promotes computer-mediated communications, and so asynchronous learning network systems permit more flexibility in time, space, and interaction than synchronous mode of learning. The key point of asynchronous learning is the materials for web-aided teaching and the flow of knowledge. This research focuses on improving online interaction by using labeled postings embedded in the e-Forum discussion tool developed for this research. Subjects for the study were students who enrolled in the "Drug & Nutrient Interaction" course using PBL (Problem-Based Learning) approach. Students' online discussion data were gathered during the academic years of 2004 and 2006. Data from the study reveal that the design of labels for postings promoted interactive responses among learners, and the frequency of personal discussion increased. Self-improvement and the development of new subjects from discussion forums were also observed among learners.
Citation
ChanLin, L.J., Chen, Y.T. & Chan, K.C. (2009). Labeled Postings for Asynchronous Interaction. AACE Review (formerly AACE Journal), 17(4), 317-332. Waynesville, NC USA: Association for the Advancement of Computing in Education (AACE). Retrieved July 3, 2022 from https://www.learntechlib.org/primary/p/29353/.
Keywords
References
View References & Citations Map
Biesenbach-Lucas, S. (2003). Asynchronous discussion groups in teacher training classes: Perceptions of native and non-native students. Journal of Asynchronous Learning Networks, 7(3), 24-46.
ChanLin, L., & Chan, K. (2004). Assessment of PBL design approach in a dietetic web-based instruction. Journal of Educational Computing Research, 31(4), 435-450.
ChanLin, L., & Chan, K. (2007). Integrating interdisciplinary experts for supporting PBL. Innovations in Education and Teaching International, 44 (2), 211-224.
Dunlap, J. (2005) Problem-based learning and self-efficacy: how a capstone course prepares students for a profession. Educational Technology Research and Development, 53(1), 65-85.
Joung, S. (2004, March). The effects of high-structure cooperative versus lowstructure collaborative design on decision change, critical thinking, and interaction pattern during online debates. Paper presented at the annual Meeting of the Society for information Technology and Teacher education international Conference, Phoenix, aZ.
King, K.P. (2001). Educators revitalize the classroom "bulletin board": a case study of the influence of online dialogue on face-to-face classes from an adult learning perspective. Journal of Research on Computing in Education, 33(4), 337-355
Koschmann, T. (2003). CSCL, argumentation, and Deweyan inquiry: argumentation is learning. In J. Andriessen, M. Baker, & D. Suthers (eds.), Arguing to learn: Confronting cognitions in computer-supported collaborative learning environments (pp. 261-269). Boston: Kluwer academic.
Langille, L., & Pelletier, J. (2003). Collaborative electronic discussion groups: using cognotes to create accountability. Proceedings of the Society for Information Technology and Teacher Education International Conference 2003 (pp. 2463-2466).
Lowes, S., Lin, P., & Wang, Y. (2007). Studying the effectiveness of the discussion forum in online professional development courses. Journal of Interactive Online Learning, 6(3), 181-210.
Peterson-Lewinson, J. (2002, December). Facilitating the process of knowledge construction among preservice teachers through computer mediated communications. Paper presented at the international Conference on Computers in education, auckland, new Zealand. Skylar, A., higgins, K., Boone, R., Jones, P., Pierce, T., & Gelfer, J. (2005). Distance education: an exploration of alternative methods and types of instructional media in teacher education. Journal of Special Education Technology, 20(3), 25-33.
Valadares, K.J. (2007). Active engagement in health services administration survey courses through problem-based learning. The Journal of Health Administration Education, 23(3), 269-280.
Wang, Y. (2007). Internet uses in university courses. International Journal of ELearning, 6(2), 279-292. Wu, D., & Hiltz, S.R. (2004). Predicting learning from asynchronous online discussions. Journal of Asynchronous Learning Networks, 8(2), 139-152.
Zembylas, M., & Vrasidas, C. (2005). Levinas and the ''inter-face'': The ethical challenge of online education. Educational Theory, 55 (1), 61-78.
These references have been extracted automatically and may have some errors. Signed in users can suggest corrections to these mistakes.
Suggest Corrections to References