You are here: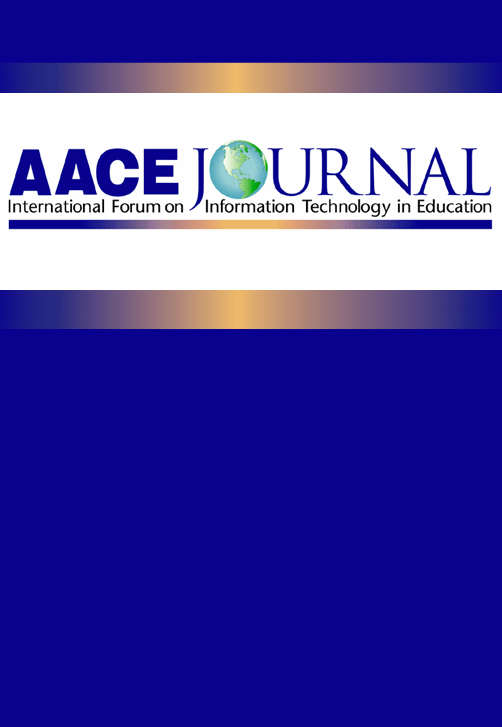 Connecting Children's eCulture to Curriculum: Implications for Educators
Article
DeAnna Laverick, Indiana University of Pennsylvania, United States
AACE Review (formerly AACE Journal) Volume 17, Number 3, ISSN 1065-6901 Publisher: Association for the Advancement of Computing in Education (AACE), Waynesville, NC USA
Abstract
This article discusses the benefits of including "children's eCulture" in school curricula. "Children's eCulture" is the culture of children as it relates to electronics and technology. Integrating children's eCulture into formal learning experiences allows teachers to promote multiple literacies in their students. The article will describe the recreational uses of technology by children; link these applications to school curricula; familiarize educators with children's eCulture as means for promoting multiple literacies across the curriculum; and discuss the need to integrate children's eCulture in teacher education programs.
Citation
Laverick, D. (2009). Connecting Children's eCulture to Curriculum: Implications for Educators. AACE Review (formerly AACE Journal), 17(3), 137-154. Waynesville, NC USA: Association for the Advancement of Computing in Education (AACE). Retrieved July 3, 2022 from https://www.learntechlib.org/primary/p/28351/.
Keywords
References
View References & Citations Map
Alexander, J. (2006). Digital youth: emerging literacies on the worldwide web. In G.E. Hawisher& C. Selfe (Series eds.), New dimensions in computers and composition. Cresskill, nJ: Hampton Press.
Bell, D. (2001). An introduction to cybercultures. New York: routledge.
Bell, D. (2007). Cyberculture theorists: Manuel Castells and Donna Haraway. New York: routledge. Boling, E., castek, J., Zawilinski, L., Barton, K., & Nierlich, T. (2008). Collaborative literacy: Blogs and internet projects. The Reading Teacher, 61(6), 504-505.
Davies, J.P. (2003). DOA: Education in the electronic culture. Lanham, MD: The Scarecrow Press.
Deuze, M. (2006). Participation, remediation, bricolage: considering principal components of a digital culture. The Information Society, 22(2), 63-75.
Ganz. (2007). Webkinz: Come in and play! retrieved June 3, 2008, from http://www.webkinz.com/us_en/ Gros, B. (2007). Digital games in education: The design of games-based learning environments. Journal of Research on Technology in Education, 40(1), 23-38.
Jenkins, H. (2006). Convergence culture: Where old and new media collide. New York: nYU Press.
Jenkins, H. (2007). Reconsidering digital immigrants... Retrieved September 24, 2008, from http://www.henryjenkins.org/2007/12/reconsidering_digital_immigran.html
Jenkins, H. (2008). Children's culture. Retrieved June 2, 2008, from http://web.mit.edu/cms/People/henry3/children.htm
Jones, S. (2007). Land of "my 9": Welsh-english bilingual girls creating spaces to explore identity. Changing English: Studies in Culture& Education, 14(1), 3950.
Labbo, L.D. (2006). Literacy pedagogy and computer technologies: Toward solving the puzzle of current and future classroom practices. Australian Journal of Language and Literacy, 29(3), 199-209.
Lacina, J. (2008). Learning english with iPods. Young Children, 84(4), 247-249.
Lawday, D. (2003). A funny kind of english. New Statesman, 132(4658), 18-19.
Leopoldseder, H. (1999). Foreward. In T. Druckrey (Series ed.), Electronic culture: History, theory, practice. In T. Druckrey (vol. Ed.), with Ars electronica, Ars Electronica: Facing the future, (pp. 2-15). Cambridge, MA: MiT Press.
Marek, S. (2005, May1). The growing tween market. Wireless Week. Retrieved March 29, 2009, from http://www.wirelessweek.com/article.aspx?id=80786 Marsh, J. (2006). Popular culture in the literacy curriculum: A Bourdieuan analysis. Reading Research Quarterly, 41(2), 160-174.
Millman, S. (2007). Online. Chronicle of Higher Education, 53(34), A49. Morse, M. (ed.). (1998). Virtualities: Television, media art, and cyberculture. Bloomington, in: indiana University Press. Murphy, K.L., DePasquale, R., & Mcnamara, E. (2003). Meaningful connections using technology in primary classrooms. Young Children, 58(6), 1218.
Prensky, M. (2007). How to teach with technology: keeping both teachers and students comfortable in an era of exponential change. In Emerging technologies for learning (vol. 2, 40-46). Retrieved September 19, 2008, from the British educational communications and Technology Agency (Becta) website http://partners.becta.org.uk/page_documents/research/Emerging_technologies07_chapter4.pdf
These references have been extracted automatically and may have some errors. Signed in users can suggest corrections to these mistakes.
Suggest Corrections to References