You are here: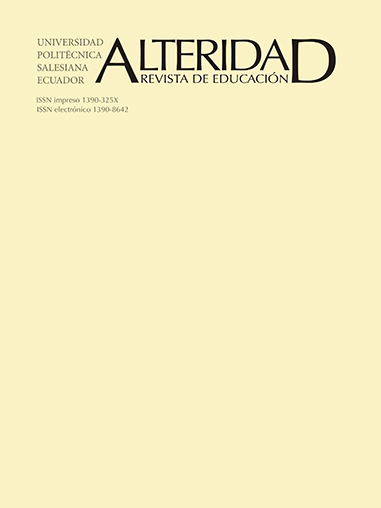 Horizontal pedagogical experiences relating sciences, art and citizenship
Español/Spanish

Experiencias pedagógicas horizontales relacionando ciencias, arte y ciudadanía
Português/Portuguese

Experiências pedagógicas horizontais relacionando ciências, arte e cidadania

Alteridad Volume 12, Number 1, ISSN 1390-8642 Publisher: Universidad Politécnica Salesiana of Ecuador, Quito, Ecuador
Abstract
The objective of this work is to report on the pedagogical experiences conducted by undergraduate students of semipresencial courses; from 2014 to 2016; in the context of projects of teaching iniciation and of universitarian extension in public schools andNova Friburgo distance education center located in the mountain region of the state of Rio de Janeiro; Brazil. These pedagogical experiences - the "Mostra de Artes" event; papier maché workshops and activities on occupied schools - related the teaching of science; art and citizenship in a decision-making process that was decentralized; horizontally organized; in which the speech and wishes of the students and the community were always considered. We argue that educating for citizenship is to guarantee the participation and action of individuals in collective spaces in a critical and autonomous way.The art was placed as a dialogical channel that enabled the expression of thoughts; knowledge and feelings whitch are part of the collective construction of being a citizen. In this point of view; art is fundamental for the re-signification and retaking of the role of each citizen in the collective; having as principle the dialogue and the key notion of knowledge-emancipation. Based on the results obtained; it can be said that it is making decisions in a collective that builds citizenship; and art has shown to be an important catalyst for this process.
Español/Spanish:
El objetivo de este trabajo es relatar las experiencias pedagógicas realizadas en el contexto de proyectos de iniciación a la docencia y de extensión universitaria, por estudiantes de cursos de licenciatura semipresenciales, en escuelas de la red pública de enseñanza y en el polo de educación a distancia de Nova Friburgo, localizados en la región serrana del estado de Río de Janeiro, Brasil, en el período de 2014 a 2016. Estas experiencias pedagógicas –el evento "Muestra de Artes", los talleres de papel maché y las actividades en las escuelas ocupadas– relacionaron la enseñanza de ciencias, arte y ciudadanía en un proceso de toma de decisiones descentralizado y horizontal, en el cual el habla y los deseos de los estudiantes y de la comunidad eran siempre considerados. Defendemos que educar para la ciudadanía es garantizar la participación y la acción de los individuos en los espacios colectivos de forma crítica y autónoma. El arte funcionó como canal de diálogo que posibilitó la expresión de pensamientos, conocimientos y sentimientos que forman parte de la construcción colectiva de ser ciudadano. Desde este punto de vista, el arte es fundamental para la resignificación y para retomar el papel de cada ciudadano en colectivo, teniendo como principio el diálogo y la noción clave del conocimiento y emancipación. Con base en los resultados obtenidos, se puede decir que la ciudadanía se contruye tomando decisiones en colectivo y que el arte ha demostrado ser un importante catalizador de este proceso.
Español/Spanish PDF
Português/Portuguese:
O objetivo deste trabalho é relatar as experiências pedagógicas realizadas no contexto de projetos de iniciação a docência e de extensão universitária por estudantes de cursos de licenciatura semipresenciais, no período de 2014 a 2016, em escolas da rede pública de ensino e no polo de educação a distância de Nova Friburgo localizados na região serrana do estado do Rio de Janeiro, Brasil. Estas experiências pedagógicas – o evento "Mostra de Artes", as oficinas de papel machê e as atividades nas escolas ocupadas –   relacionaram o ensino de ciências, arte e cidadania num processo de tomada de decisões descentralizado, horizontal, no qual a fala e os desejos dos estudantes e da comunidade eram sempre considerados. Defendemos que educar para a cidadania é garantir a participação e a ação dos indivíduos nos espaços coletivos de forma crítica e autônoma. A arte foi colocada como canal de diálogo que possibilitou a expressão de pensamentos, conhecimentos e sentimentos que fazem parte da construção coletiva do ser cidadão. Neste ponto de vista, a arte é fundamental para a ressignificação e para a retomada do papel de cada cidadão no coletivo, tendo como princípio o diálogo e a noção chave do conhecimento-emancipação. Com base nos resultados obtidos, pode-se dizer que é tomando decisões em coletivo que se constrói a cidadania, e a arte tem demonstrado ser uma importante catalisadora deste processo.
Citation
de Souza, M. & Damaceno, F. (2017). Horizontal pedagogical experiences relating sciences, art and citizenship. Alteridad, 12(1), 155-164. Quito, Ecuador: Universidad Politécnica Salesiana of Ecuador. Retrieved May 10, 2021 from https://www.learntechlib.org/p/195295/.