You are here:
Sexuality and youth: experiences and repercussions
Español/Spanish

Sexualidad y juventud: experiencias y repercusiones
Português/Portuguese

Sexualidade e juventude: experiências e repercussões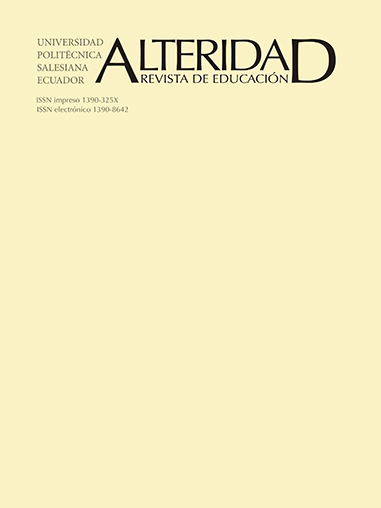 Alteridad Volume 13, Number 1, ISSN 1390-8642 Publisher: Universidad Politécnica Salesiana of Ecuador, Quito, Ecuador
Abstract
The objective of the study is to qualitatively search for the understanding of the perceptions of experiences experienced by young people of both sexes in terms of love and sexual relationships, seeking to evaluate the impacts of these experiences in their lives. The study adopted a qualitative approach, made with 60 participants, aged between 14 and 20 years old, who attended two public high schools in the southern region of the municipality of São Paulo / Brazil. The data were collected using the strategy of the focus group and analyzed through the method of content analysis, type categorical analysis. The results were categorized and their organization made into three themes: incursions in the love field, sexual initiation and the impact on life. At the end of the study, it was concluded that even if it had limitations, it contributed rich and significant content in terms of the love and sexual experiences and consequences in the lives of young people, what will contribute to the discussions on the subject and in new studies.
Español/Spanish:
Este estudio tuvo por objetivo buscar cualitativamente la comprensión de las percepciones de las experiencias vividas por jóvenes de ambos sexos acerca de las relaciones amorosas y sexuales, buscando evaluar los impactos de esas experiencias en la vida de esos jóvenes. El estudio contó con un abordaje cualitativo realizado con sesenta participantes, con edades entre 14 y 20 años, que frecuentaban dos escuelas públicas de educación secundaria de la región sur del municipio de São Paulo. Los datos fueron recogidos por medio de la aplicación de la técnica de grupo focal y analizados por el método de análisis de contenido, del tipo análisis categorial. Los resultados fueron categorizados y  organizados en tres temas: incursiones en el campo amoroso, iniciación sexual e impacto en la vida. Se concluyó que a pesar de tratarse de un estudio limitado, produjo un contenido denso y significativo acerca de las experiencias amorosas y sexuales y consecuencias en la vida de esos jóvenes, que contribuirá para discusiones sobre el tema y nuevos estudios.
Español/Spanish PDF
Português/Portuguese:
Este estudo teve por objetivo buscar qualitativamente a compreensão das percepções das experiencias vividas por jovens de ambos os sexos acerca das relações amorosas e sexuais, buscando avaliar os impactos dessas experiencias na vida destes jovens. O estudo contou com uma abordagem qualitativa realizada com sessenta participantes, com idades entre 14 e 20 anos, que frequentavam duas escolas públicas de educação secundária da região sul do município de São Paulo. Os dados foram recolhidos por meio da aplicação da técnica de grupo focal e analisado segundo o método de análise de conteúdo, do tipo análise categorial. Os resultados foram categorizados e organizados em três temas: incursões no campo amoroso, iniciação sexual e impacto na vida. Concluiu-se que apesar de tratar-se de um estudo limitado, produziu um conteúdo denso e significativo acerca das experiências amorosas e sexuais e suas consequências na vida desses jovens, o que, acreditamos, contribuirá para as discussões sobre o tema e novos estudos
Citation
Brêtas, J., Moraes, S. & Zanatta, L. (2018). Sexuality and youth: experiences and repercussions. Alteridad, 13(1), 192-203. Quito, Ecuador: Universidad Politécnica Salesiana of Ecuador. Retrieved April 22, 2019 from https://www.learntechlib.org/p/195273/.
View References & Citations Map
References
Azevedo, M.A., & Guerra, V.N.A. (2007). Crianças Vitimizadas: a síndrome do pequeno poder. São Paulo: Iglu.

Bardin, L. (2011). Análise de Conteúdo. São Paulo: Edições 70. Ballonoff Suleiman, A.,Lin, J.S.,& Constantine, N.A. (2016). Readability of Educational Materials to Support Parent Sexual Communication With Their Children and Adolescents. 21(5) , 534-43. J Health Commun.

Brêtas, J.R.S., Zanatta, L.F., Moraes, S.P., Freitas, M.J.D., & Goellner, M.B. (2017). Conhecimentos e
These references have been extracted automatically and may have some errors. If you see a mistake in the references above, please contact info@learntechlib.org.