You are here: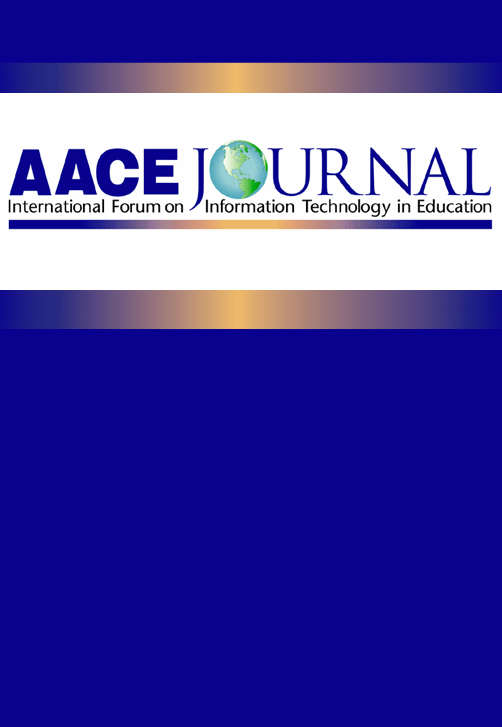 Theory into Practice: A Bridge Too Far?
Article
AACE Journal Volume 14, Number 3, ISSN 1065-6901 Publisher: Association for the Advancement of Computing in Education (AACE), Chesapeake, VA
Abstract
This article proposes a research agenda that addresses the gap between theory and practice in the area of instructional theory. It reflects the beliefs of this writer and attempts to address current issues in the field of instructional technology. Citing the limited literature that currently exists, the purpose of this article is to bring to the forefront the need for research in the area of the application of instructional theories. Although many theories abound, this article mentions a few of the most prominent instructional theories in vogue today. Instructional theory is of crucial importance and should guide both research and practice. To present a thorough research agenda it is important to consider the following: (a) a glimpse of past research initiatives; (b) a systematic methodology that would guide research; and (c) questions that should be pursued to address the apparent gap between theory and practice.
Citation
Defazio, J. (2006). Theory into Practice: A Bridge Too Far?. AACE Journal, 14(3), 221-233. Chesapeake, VA: Association for the Advancement of Computing in Education (AACE). Retrieved August 23, 2019 from https://www.learntechlib.org/primary/p/18923/.
Keywords
References
View References & Citations Map
Alutu, A.N.G. (2006). The guidance role of the instructor in the teaching and learning process. Journal of Instructional Psychology, 33(1), 44-49.
Clark, R.E. (1989). Current progress and future directions for research in instructional technology. Educational Technology Research& Development, 37(1), 57-66.
Driscoll, M.P. (1995). Paradigms for research in instructional systems. In G.J. Anglin (Ed.) Instructional technology: Past, present, and future. Englewood, CO: Libraries Unlimited.
Duchastel, P. (1998). Prolegomena to a theory of instructional design. Online ITFORUM presentation and archived discussion. Retrieved July 26, 2006, from http://itech1.coe.uga.edu/itforum/paper27/paper27.html
Ellis, A.K., & Fouts, J.T. (1993). Research on educational innovations. Princeton Junction, NJ: Eye on Education.
Gery, G. (1991). Electronic performance support systems. Boston: Weingarten Publications.
Grossen, B. (1996). Making research serve the profession. American Educator, 20(3), 1-15.
Hampton, S.E., & Reiser, R.A. (2004). Effects of a theory-based feedback and consultation process on instruction and learning in college classrooms. Research in Higher Education, 45(5), 497-527.
Mclaughlin, P.J. (2003) Educational research in practice. London, UK: Continuum
McMillan, J.H., & Wergin, J.F. (2002). Understanding and evaluating educational research (2nd ed.). Upper Saddle, NJ: Prentice Hall.
Merrill, M.D. (2002). First principles of instruction. Education Technology Research and Development, 50(3), 43-59.
Mitchell, I. (2003). Bridging the gulf between research and practice. In J. Loughran (Ed.), Research teaching: Methodologies and practices for understanding pedagogy. London: Falmer Press.
Perkins, D.N. (1992). Smart schools: Better thinking and learning for every child. New York: The Free Press.
Popper, K.R. (1957). The poverty of historism. Boston: Beacon Press.
Reeves, T.C. (1995). Questioning the questions of instructional technology research. In M.R. Simonson& M. Anderson (Eds.), Proceedings of the 1995 Annual National Conference of the Association for Educational Communications and Technology, Research and Theory Division (pp. 459-470).
Reiser, R.A., & Dempsey, J.V. (2002). Trends and issues in instructional design and technology. Upper Saddle, NJ: Prentice-Hall.
Saettler, P. (1990). The evolution of American educational technology. Englewood, CO: Libraries Unlimited. Association for the Advancement of Computing In Education Journal, 14(3)
Snellbecker, G.E. (1983). Is instructional theory alive and well? In C.M. Reigeluth (Ed.), Instructional design theories and models: An overview of their current status (pp. 437-472). Hillsdale, NJ: Lawrence Erlbaum.
Snow, R.E., & Swanson, J. (1992). Instructional psychology: Aptitude, adaptation, and assessment. Annual Review of Psychology, 43(1), 583.
Weber, A. (1990). Linking itip and the writing process. Educational Leadership, 47(5), 35-39.
These references have been extracted automatically and may have some errors. Signed in users can suggest corrections to these mistakes.
Suggest Corrections to References