You are here: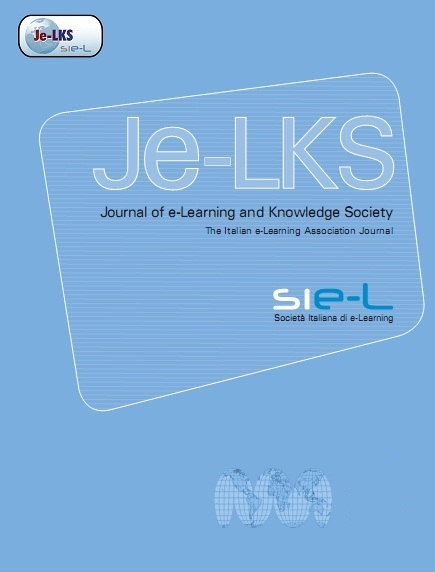 Faculty Perceptions and Use of Experiential Learning In Higher Education
ARTICLE
Journal of e-Learning and Knowledge Society Volume 13, Number 1, ISSN 1826-6223 e-ISSN 1826-6223 Publisher: Italian e-Learning Association
Abstract
Experiential learning is popular with students as it is considered more enjoyable and leads to deeper learning when compared to didactic approaches. Employers prefer hiring students who have learned experientially and yet emerging research indicates that the use of experiential learning in higher education institutions remains limited. This research surveyed faculty on their use of and views regarding experiential learning across US institutions focusing on undergraduate teaching. Findings indicated that dominant obstacles to using experiential approaches were classroom structure, class size is too large, not enough time, dif cult to cover all the curriculum, and faculty resistance. Findings and their implications for practice and future research are discussed.
Citation
Wurdinger, S. & Allison, P. (2017). Faculty Perceptions and Use of Experiential Learning In Higher Education. Journal of e-Learning and Knowledge Society, 13(1),. Italian e-Learning Association. Retrieved December 7, 2019 from https://www.learntechlib.org/p/188130/.
References
View References & Citations Map
Barkley E.F., Major C.H., & Cross K.P. (2014), Collaborative learning techniques: a handbook for college faculty. San Francisco, CA: Jossey Bass.

Coker J.S. & Porter D.J. (2015), Maximizing experiential learning for student success. Change: The Magazine of Higher Education. January/February 66-72.

Dewey J. (1910), How we think. Boston, MA: Houghton Mifflin. PAPERS-ICT AND EXPERIENTIAL LEARNING: MODELS, METHODOLOGIES, TECHNOLOGIES, RESEARCH Je-LKS INVITED Vol. 13, N. 1, January 2017

Dewey J. (1916), Democracy and education. New York, NY: Free Press. Dewey J. (1938a), Experience and education. New York, NY: Free Press. Dewey J. (1938b), Logic: The theory of inquiry. New York: Holt, Rinehart, and Winston, Inc.

Hake R. (1998), Interactive engagement versus traditional methods: a six thousandstudent survey of mechanics test data for introductory physics courses. American Journal of Physics, 66, 64-67

Hesser G. (1995), Faculty assessment of student learning: outcomes attributed to service learning and evidence of changes in faculty attitudes about experiential education. Michigan Journal of Community Service Learning, 2(1), 33-41.

Hou S. & Wilder S. (2015), How ready is higher education faculty for engaged student learning? Applying transtheoretical model to measure service-learning beliefs and adoption. Sage Open. January-March: 1-9.

Kolb D.A. (1984), Experiential Learning: experience as the source of learning and development. Englewood Cliffs, NJ: Prentice Hall.

McIntyre F., Webb D., & Hite R. (2005), Service learning in the marketing curriculum: faculty views and participation. Marketing Education Review, 15(1), 35-45.

Phillips D.C. (Ed.). (2014), Encyclopedia of Educational Theory and Philosophy. (Vol.2. P. 455-458). Thousand Oaks, CA: Sage

Remmen K.B., & Frøyland M. (2014), Implementation of guidelines for effective fieldwork designs: Exploring learning activities, learning processes, and student engagement in the classroom and the field. International Research in Geographical and Environmental Education, 23(2), 103-125.

Rosenstein A., Sweeney C., & Gupta, R. (2012), Cross disciplinary faculty perspectives on experiential learning. Contemporary Issues in Educational Research, 5(3), 139144.

Wurdinger S.D., & Carlson J.A. (2009), Teaching for experiential learning: five approaches that work. Lanham, MD: Rowman and Littlefield Publishers.
These references have been extracted automatically and may have some errors. Signed in users can suggest corrections to these mistakes.
Suggest Corrections to References