You are here: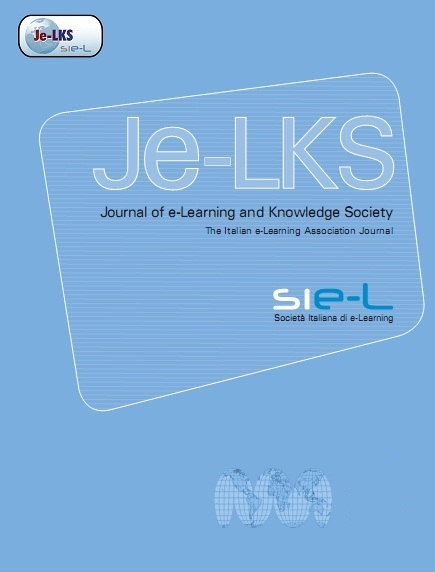 Education Students' Attitude towards the Use of Gamification for Competencies Development
ARTICLE
Journal of e-Learning and Knowledge Society Volume 13, Number 1, ISSN 1826-6223 e-ISSN 1826-6223 Publisher: Italian e-Learning Association
Abstract
Gamification is gaining momentum as an educational innovation to motivate and to engage students in their learning process. Nevertheless students' beliefs towards educational methodologies can affect both their motivation and attitude towards a given educational methodology. This study main goal is to explore key drivers of students' attitude towards the use of gamification as an educational methodology to develop their competencies. Using Keller's ARCS model (1987) a research model is developed and tested via Partial Least Squares (PLS) on a sample of 128 undergraduate students enrolled in a private Higher Education institution in Spain. Main results suggest that perceived attention, perceived relevance, and perceived confidence influence in a direct and positive way students' attitude towards the use of online educational video games to develop their competencies. Both attention and confidence also affects students' perceived relevance of online educational video games as a suitable means to develop their competencies. Managerial implications for managers of Higher Education institutions are addressed.
Citation
Galbis-Córdoba, A., Martí-Parreño, J. & Currás-Pérez, R. (2017). Education Students' Attitude towards the Use of Gamification for Competencies Development. Journal of e-Learning and Knowledge Society, 13(1),. Italian e-Learning Association. Retrieved December 7, 2022 from https://www.learntechlib.org/p/188128/.
References
View References & Citations Map
Adams, D.M., Mayer, R.E., MacNamara, A., Koenig, A., & Wainess, R.(2012),Narrative games for learning: Testing the discovery and narrative hypotheses. Journal of Educational Psychology, 104(1), 235–249.
Astleitner, H., & Wiesner, C. (2004), An integrated model of multimedia learning and motivation. Journal of Educational Multimedia and Hypermedia, 13(1), 3–21.

Bagozzi, R.P. & Yi, Y. (1988). On the evaluation of structural equation models. Journal of the Academy of Marketing Science 16(1), 74–94.

Baños, R.M., Cebolla, A., Oliver, E., Alcañiz, M., & Botella, C. (2013), Efficacy and acceptability of an Internet platform to improve the learning of nutritional knowledge in children: the ETIOBE mates. Health Education Research, 28(2),234–248.

Bonanno, P., & Kommers, P.A.M. (2008), Exploring the influence of gender and gaming competence on attitudes towards using instructional games. British Journal of Educational Technology, 39, 97–109.

Boyle, E.A., Hainey, T., Connolly, T.M., Gray, G., Earp, J., Ott, M., & Pereira, J.(2016), An update to the systematic literature review of empirical evidence of the impacts and outcomes of computer games and serious games. Computers& Education, 94, 178–192.
Bressler, D.M., & Bodzin, A.M. (2013), A mixed methods assessment of students' flow experiences during a mobile augmented reality science game. Journal of Computer Assisted Learning, 29(6), 505–517.
Broadhead, P. (2006), Developing an understanding of young children's learning through play: The place of observation, interaction and reflection. British Educational Research Journal, 32(2), 191–207.
Chang, M., & Lehman, J.D. (2002), Learning foreign language through an interactive multimedia program: An experimental study on the effects of the relevance component of the ARCS model. CALICO Journal, 20, 81–98.

Charland, P., Léger, P.M., Cronan, T.P., & Robert, J. (2015), Developing and Assessing ERP Competencies: Basic and Complex Knowledge. Journal of Computer Information Systems, 56(1), 31–39.

Chin, W.W. & Newsted, P.R. (1999), Structural Equation Modeling analysis with small samples using Partial Least Squares. In Hoyle, R.H. (Ed.), Statistical Strategies for small sample research (pp. 307-341) Thousand Oaks, CA: Sage.

Chin, W.W., Marcolin, B.L., & Newsted, P.R. (2003), A partial least squares latent variable modeling approach for measuring interaction effects: results from a Monte Carlo simulation study and an electronic mail emotion/adoption study. Information Systems Research, 14(2), 189–217.

De Waard, I., Abajian, S., Gallagher, M., Hogue, R., Keskin, N., Koutropoulos, A., & Rodriguez, O.C. (2011), Using mLearning and MOOCs to Understand Chaos,Emergence, and Complexity in Education. International Review of Research in Open& Distance Learning, 12(7), 94–115.

Dempsey, J.V., & Johnson, R.B. (1998), The development of an ARCS gaming scale. Journal of Instructional Psychology, 25, 215–221.

Deterding, S., Dixon, D., Khaled, R., & Nacke, L. (2011), From game design elements to gamefulness: defining gamification. In Proceedings of the 15th International Academic MindTrek Conference: Envisioning Future Media Environments (pp.9–15).

Dneprovskaya, N., Shevtsova, I., Bayaskalanova, T., & Lutoev, I. (2016), Knowledge Management Methods in Online Course Development. In J. Novotná, & A. Jancarik(Eds.), Proceedings of the 15th European Conference on e-Learning-ECEL 2016(pp. 159–165). Prague, Czech Republic: Academic Conferences and Publishing

Fitó-Bertran, À., Hernández-Lara, A.B., & Serradell-López, E. (2014), Comparing student competences in a face-to-face and online business game. Computers in Human Behavior, 30, 452–459.

Fornell, C. & Larcker, D.F. (1981), Structural equation models with unobservable variables and measurement error: Algebra and statistics. Journal of Marketing Research¸18(3), 328–388.

Girard, C., Ecalle, J., & Magnan, A. (2013), Serious games as new educational tools: How effective are they? A meta-analysis of recent studies. Journal of Computer Assisted Learning, 29(3), 207–219.
Hanus, M.D., & Fox, J. (2015), Assessing the effects of gamification in the classroom: A longitudinal study on intrinsic motivation, social comparison, satisfaction, effort,and academic performance. Computers& Education, 80, 152–161.
Huang, W., Huang, W., Diefes-Dux, H., & Imbrie, P.K. (2006), A preliminary validation of attention, relevance, confidence, and satisfaction model-based Instructional Materia Motivational Survey in a computer-based tutorial setting. British Journal of Educational Technology, 37, 243–259.
Huang, W.-H., Huang, W.-Y., & Tschopp, J. (2010), Sustaining iterative game playing processes in DGBL: The relationship between motivational processing and outcome processing. Computers& Education, 55(2), 789–797. Doi: J.compedu.2010.03.011

Kapp, K.M. (2012), The gamification of learning and instruction: Game-based methods and strategies for training and education. San Francisco, CA: Pfieffer.

Karoulis, A., & Demetriadis, S. (2005), The motivational factor in educational games. Interaction between learner's internal and external representations in multimedia environments, Research report, Kaleidoscope NoE JEIRP, D21-02-01-F, 296312. Retrieved from: http://athanasis.karoulis.gr/Data/Science/Kaleidoscope/2MotivFactorEduGames.pdf

Keller, J.M. (1987), Development and Use of the ARCS Model of Motivational Design. Journal of Instructional Development, 10 (3), 2–10.

Klein, J.D. (1992), Effect of instructional gaming and reentry status on performance and motivation. Contemporary Educational Psychology, 17, 364–370.

Klopfer, E., & Yoon, S. (2005), Developing games and simulations for today and tomorrow's tech Savvy Youth. Techtrends. Linking Research& Practice to Improve Learning, 49(3), 33–41.

Lewin, K. (1935), A dynamic theory of personality. New York, NY: McGraw-Hill.

Lin, H-W., and Lin, Y-L. (2014), Digital educational game value hierarchy from a learners' perspective. Computers in Human Behavior, 30, 1–12.

Liu, S., Yuen, M. & Rao, N. (2015), Outcomes for young children's social status from playing group games: Experiences from a primary school in Hong Kong. Journal of Psychologists and Counsellors in Schools. DOI10.1017/jgc.2015.4

Noskov, M.V. (2007), The mathematics education of an engineer. Russian Education& Society, 49(11), 70–84.

Nunnally, J. & Bernstein. I. (1994), Psychometric theory. New York, NY: McGraw-Hill.

Oblinger, D.G. (2004). The Next Generation of Educational Engagement. Journal of Interactive Media in Education, 8(1), 1–18.

Peterson, M. (2010), Computerized games and simulations in computer-assisted language learning: A meta-analysis of research. Simulation& Gaming, 41(1),72–93.

Peterson, M. (2011), Digital gaming and second language development: Japanese learners interactions in a MMORPG. Digital Culture& Education, 3(1), 56–73.

Reinders, H. & Wattana, S. (2014), Can I say something? The effects of digital gameplay on willingness to communicate. Language Learning& Technology, 18(2),101–123.

Ringle, C.M., Wende, S., & Becker, J.M. (2014), Smartpls 3.0. Hamburg: SmartPLS. REVIEWED PAPERS Je-LKS PEER Vol. 13, N. 1, January 2017

Robbins, S. (2005), Organizational behavior. Upper Saddle River, NJ: Pearson Education.

Romero, M., Usart, M., & Ott, M. (2015), Can serious games contribute to developing and sustaining 21st century skills? Games and Culture, 10(2), 148–177.

San Cristóbal, J.R. (2015), The use of Game Theory to solve conflicts in the project management and construction industry. International Journal of Information Systems and Project Management, 3(2), 43–58.

Sánchez, J. & Olivares, R. (2011), Problem solving and collaboration using mobile serious games. Computers& Education, 57, 1943–1952

Savard, A. (2015), Making Decisions about Gambling: The Influence of Risk on Children's Arguments. The Mathematics Enthusiast, 12(1), 226–246.

Shah, M., & Foster, A. (2014), Undertaking an Ecological Approach to Advance GameBased Learning: A Case Study. Journal of Educational Technology and Society,17(1), 29–41.

Sitzmann, T. (2011), A meta‐analytic examination of the instructional effectiveness of computer‐based simulation games. Personnel Psychology, 64(2), 489–528.

Song, S.H., & Keller, J.M. (2001), Effectiveness of motivationally adaptive computer assisted instruction on the dynamic aspects of motivation. Educational Technology Research and Development, 49, 5–22. Doi:10.1007/BF02504925

Strata-Etan Expert Group (2002), Higher Education and Research for the ERA: Current Trends and Challenges for the Near Future. European Commission, DG Recherche,Brussels, Belgium.

Su, C-H. & Cheng, C-H. (2015), A mobile gamification learning system for improving the learning motivation and achievements. Journal of Computer Assisted Learning,31(3), 268–286. Doi:10.1111/jcal.12088

Sung, H.Y., Hwang, G.J., & Yen, Y.F. (2015), Development of a contextual decisionmaking game for improving students' learning performance in a health education course. Computers& Education, 82, 179–190.

Tolman, E.C. (1932), Purposive behaviour in animals and men. New York, NY: Appleton-Century-Crofts.

Van Eck, R. (2006), Digital game-based learning: It's not just the digital natives who are restless. EDUCAUSE, 41(2), 16–30.

Wang, A.I. (2015), The wear out effect of a game-based student response system. Computers& Education, 82, 217–227. Doi: J.compedu.2014.11.004

Wongwiwatthananukit, S., & Popovick, N.G. (2000), Applying the ARCS model of motivational design to pharmaceutical education. American Journal of Pharmaceutical Education, 64(2), 188–196. Doi: aj640214.pdf

Yang, J.C., Chien, K.H., & Liu, T.C. (2012), A digital game-based learning system for energy education: An energy conservation pet. The Turkish Online Journal of Educational Technology, 11(2), 27–37.

Yang, Y.C., & Chang, C. (2013), Empowering students through digital game authorship: Enhancing concentration, critical thinking, and academic achievement. Computers& Education, 68, 334–344.
These references have been extracted automatically and may have some errors. Signed in users can suggest corrections to these mistakes.
Suggest Corrections to References