You are here: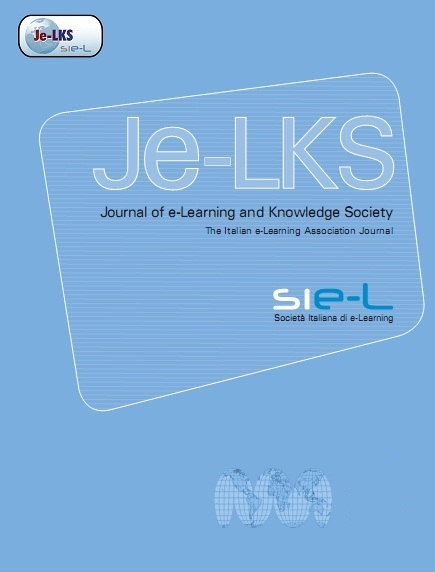 Experiential Learning and Knowledge Building in Higher Education: an Application of the Progressive Design Method
ARTICLE
Journal of e-Learning and Knowledge Society Volume 13, Number 1, ISSN 1826-6223 e-ISSN 1826-6223 Publisher: Italian e-Learning Association
Abstract
Progressive Design Method (DPM) attempts to connect the Experiential Learning perspective with Knowledge Building model. The aim of the present study was to analyze the implementation of PDM in terms of patterns of online participation and interaction, and the relationship between online participation and interaction with participation in F2F meetings. The implementation was introduced in a Guided Practical Experience at the University of Valle d'Aosta, involving 17 students in their 2nd year of a Psychological Sciences and Techniques degree course. Following PDM, the students worked in teams to create a project about the use of digital technology in school or other formative contexts. An online environment, Knowledge Forum (KF), supported the activity with specific areas (views) where students could present themselves, analyse the KB model and share their project. The project was developed in different steps and after each step each team received a feedback from all the members of the community via KF. The results for participation show a positive correlation between notes written and read in each view, as well as a correlation between notes read between different views. We also found a correlation between Weighted Indregree and Outdegree in each view. Finally, F2F participation correlated with the total number of notes written and read and with the total number of Weighted Indegree and Weighted Outdegree. Implications of these results for DPM implementations are discussed.
Citation
Cacciamani, S. (2017). Experiential Learning and Knowledge Building in Higher Education: an Application of the Progressive Design Method. Journal of e-Learning and Knowledge Society, 13(1),. Italian e-Learning Association. Retrieved December 6, 2019 from https://www.learntechlib.org/p/188122/.
References
View References & Citations Map
Borzak, L. (1981), Field Study. A Source Book For Experiential Learning, Beverly Hills, Sage Publications.

Cesareni, D., Cacciamani, S. & Fujita, N. (2016), Role taking and knowledge building in a blended university course, International Journal of Computer-Supported Collaborative Learning, 11(1), 9-39.
Chavan, M. (2011), Higher education students' attitudes towards experiential learning in international business. Journal of Teaching in International Business, 22(2),126-143.

Chen, B. & Scardamalia, M. (2015), The Development of Productive Vocabulary in_Knowledge Building A Longitudinal Study, Conference paper, URL: https://www.researchgate.net/publication/279449019_The_Development_of_Productive_ Vocabulary_in_Knowledge_Building_A_Longitudinal_Study

Gunawardena, C.N., & Zittle, F.J. (1997), Social presence as a predictor of satisfaction within a computer mediated conferencing environment, American Journal of Distance Education, 11(3), 8-26.
Lan, Y.F., Lin, P.C. & Hung, C.L. (2012), An Approach to encouraging and evaluating learner's knowledge contribution in web-based collaborative learning, Journal of Educational Computing Research, 47 (2), 107-135.
Mazzoni, E., & Bertolasi, S. (2012), La Social Network Analysis (SNA) applicata alle comunità virtuali per l'apprendimento: analisi strutturale delle interazioni all'interno dei Web forum, Journal of e-Learning and Knowledge Society, 1(2),243-257.

Scardamalia, M. (2004), CSILE/Knowledge forum®, Education and technology: An encyclopedia, 183-192.

Scardamalia, M., & Bereiter C. (2006), Knowledge Building: Theory, Pedagogy and Technology, in: Sawyer K. (Ed.), Cambridge handbook of the Learning Sciences. 97-115, Cambridge, Cambridge University Press.

Scardamalia, M. & Bereiter, C. (2010), A brief history of Knowledge Building, Canadian Journal of Learning an Technology, 36, 2-16, URL: https://www.cjlt.ca/index.php/ cjlt/article/view/26367

Short, J., Williams, E., & Christie, B. (1976), The social psychology of telecommunications, London, John Wiley& Sons.

So, H.J., & Brush, T.A. (2008), Student perceptions of collaborative learning, social presence and satisfaction in a blended learning environment: Relationships and critical factors, Computers& Education, 51(1), 318-336.

Strijbos, J.W. & Weinberger, A. (2010), Emerging and scripted roles in computersupported collaborative learning, Computers in Human Behavior, 26, 491-494.

Tu, C.H., & McIsaac, M. (2002), The relationship of social presence and interaction in online classes, The American Journal of Distance Education, 16(3), 131-150.

Weimann, G. (1994), The Influential: People who influence people, Albany, NY: State University of New York Press.
These references have been extracted automatically and may have some errors. Signed in users can suggest corrections to these mistakes.
Suggest Corrections to References