You are here: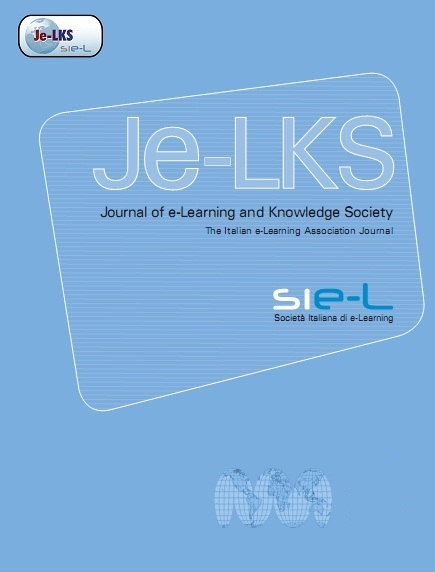 Online TESOL Teacher Education: outcome of a Pilot Project
ARTICLE
Journal of e-Learning and Knowledge Society Volume 14, Number 2, ISSN 1826-6223 e-ISSN 1826-6223 Publisher: Italian e-Learning Association
Abstract
The increasing use of English throughout the world has seen the growth of career opportunities for teachers of English as a second language (ESL). In fact, there is a widespread demand for teachers with up-to-date qualifications in TESOL (Teaching English to Speakers of Other Languages). In addition, as teacher training is increasingly migrating from on-ground to online classrooms, there is a need to reach out to as many TESL teachers worldwide as possible. In fact, online education is expanding access to students internationally and domestically to students who would otherwise be unable to attend college (Christensen et al., 2011; Simpson, 2013). In this perspective, then, the online TESOL certificate program at Lesley University, Cambridge, MA aims at creating international partnerships with overseas teachers and promote the course. This article reports on the outcome of a pilot project that involved opening the online course to an Italian partner.
Citation
Filice, S. & Bardetti, D. (2018). Online TESOL Teacher Education: outcome of a Pilot Project. Journal of e-Learning and Knowledge Society, 14(2),. Italian e-Learning Association. Retrieved April 1, 2020 from https://www.learntechlib.org/p/184468/.
Keywords
References
View References & Citations Map
Kang I. (1996), The use of computer-mediated communication: Electronic collaboration and Interactivity, in: Liao T. (ed), Advanced Educational Technology: Research Issues and Future Potential, Berlin, Springer Verlag. Kanuka H., Anderson T. (1996), Online social interchange, discord and knowledge Construction, Journal of Distance Education, 13(1), 57-74.

Kamhi-Stein L.D. (2000), Integrating computer-mediated communication tools into the practicum, in: Johnson K.E. (ed), Teacher Education: Case studies in TESOL Practice Series, 119-134, Alexandia, VA, TESOL. Koschmann T., et al (1996), Computer-supported problem based learning: A principled approach to the use of computers in collaborative learning, in: Koschmann T. (ed), CSCL: Theory and Practice of an Emerging Paradigm, 83-124, Mahwah, NJ, Lawrence Erlbaum.

Kuma r i D.S. (2001) , Connecting graduates tuden ts to virtual gues ts through asynchronous discussions. Analysis of an experience, JALN, 5(2), 53-63.

Liou H. (2001), Reflective practice in a preservice teacher education process for high school English teachers in Taiwan, System, 29(2), 197-208. Lomicka L., Lord G. (2004), Going virtual: Inviting guests into the classroom, in: Lomicka L., Cooke-Plagwitz J. (eds), Teaching with Technology, Vol. 1, 50-55, Boston, Thomson Heinle. McKenzie W., Murphy D. (2000), I hope this goes somewhere: Evaluation of an online discussion group, Australian Journal of Educational Technology, 16(3), 239-257.

Meyer K.A. (2003), Face-to-face versus threaded discussions: The role of time and higher-order thinking, JALN, 7(3), 55-65. Mitchell J. (2003), Online writing: A link to learning in a teacher education program, Teaching and Teacher Education, 19(1), 127-143. Newman D.R., et al (1995), A content analysis method to measure critical thinking in face-to-face and computer supported group learning, Interpersonal Computing and Technology: An Electronic Journal for the 21st Century, 3(2), 56-77.

Nguyen V.L. (2008), Computer Mediated Communication and Foreign Language Education: Pedagogical Features, International Journal of Instructional Technology& Distance Learning, 5(12), 23–44. Pawan F., e t a l(2003), Online learning: Patterns of engagement and interaction among inservice teachers, Language Learning& Technology, 7(3), 119-140. Pena-Shaff J.B., Nicholls C. (2004), Analyzing student interactions and meaning construction in computer bulletin board discussions, Computers& Education, 42(3), 243-265.

Sengupta S. (2001), Exchanging ideas with peers in network-based classrooms: An aid or a pain? Language Learning& Technology, 5(1), 103-134.

Simpson O. (2013), Supporting students in online, open& Distance learning, New York Routledge. Warschauer M. (2000), Online learning in second language classrooms: an ethnographic study, in: Warschauer M., Kern R. (eds), Network-based Language Teaching: Concepts and Practice, 41-58, New York, Cambridge University Press.

Warschauer M. (1997), Computer-mediated collaborative learning: Theory and practice. Modern Language Journal, 81(4), 470-481.
These references have been extracted automatically and may have some errors. Signed in users can suggest corrections to these mistakes.
Suggest Corrections to References