You are here: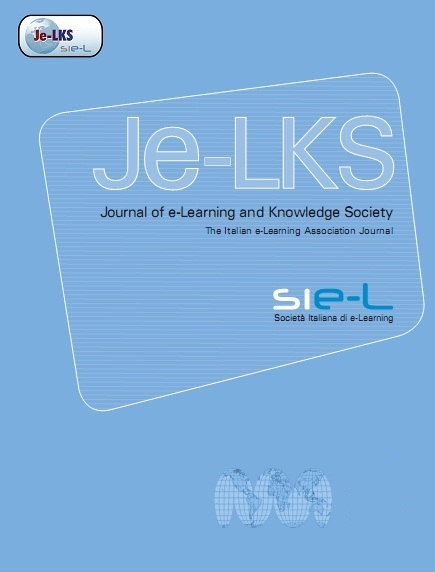 Mobile Applications in University Education: the case of Kenya
ARTICLE
Journal of e-Learning and Knowledge Society Volume 14, Number 1, ISSN 1826-6223 e-ISSN 1826-6223 Publisher: Italian e-Learning Association
Abstract
The widespread adoption of mobile phones has brought an increasing interest in the development of mobile applications for higher education. In this paper we examine the use of mobile applications in university education, focusing on Kenya, a leading country in mobile services. The main goal is to investigate if university students are using or would like to use mobile phones and apps, in particular educational apps. Information gathered from the study gives an insight on which apps to adopt or implement in university education.
Citation
Ojino, R. & Mich, L. (2018). Mobile Applications in University Education: the case of Kenya. Journal of e-Learning and Knowledge Society, 14(1),. Italian e-Learning Association. Retrieved September 29, 2023 from https://www.learntechlib.org/p/182307/.
Keywords
References
View References & Citations Map
Adegbija M.V. & Bola O.O. (2015), Perception of undergraduates on the adoption of mobile technologies for learning in selected universities in Kwara state, Nigeria. Procedia-social and behavioral sciences, 176, 352-356.

Alioon, Y., & Delialioglu, O. (2015), A Frame for the literature on m-learning, Procedia-social and behavioral sciences, 182, 127-135.

Aljohani N.R. & Davis H. (2012), Significance of learning analytics in enhancing the mobile and pervasive learning environments, Proc. NGMAST, pp. 70-74. IEEE.

Aljohani N.R. & Davis H.C. (2013), Learning analytics and formative assessment to provide immediate detailed feedback using a student centered mobile dashboard, Proc. NGMAST, pp. 262-267. IEEE.

Ally M. (2009), Mobile learning: transforming the delivery of education and training, Edmonton, Alberta, Canada: Athabasca University Press.

Alrasheedi M. & Capretz L.F. (2015), An empirical study of critical success factors of mobile learning platform from the perspective of instructors, Procedia-social and behavioral sciences, 176, 211-219.

Andersson A. (2007), Beyond student and technology: Seven pieces to complete the e-learning Jigsaw puzzle in developing countries, Proc. IRIS30.

App Annie (2016), Retrospective. Mobile's continued momentum. Http://go.appannie.com/app-annie-2016-retrospective-thank-you.html?aliId=181259012

Brigham T.J. (2015), An introduction to gamification: adding game elements for engagement, Medical reference services quarterly.

Chianese A. & Piccialli F. (2014), Designing a smart museum: When cultural heritage joins IoT, Proc. NGMAST, pp. 300-306. IEEE.

Felker K. (2013), Library quest: Developing a mobile game app for a library, ACRL TechConnect Blog, http://acrl.ala.org/techconnect/?p=3783. FitzGerald E., Ferguson R., Adams A., Gaved M., Mor Y. & Thomas R. (2013), Augmented reality and mobile learning: the state of the art, Int. Jour. Of mobile and blended learning, 5(4) 43-58.

Google Barometer (2016), Consumer barometer, www.consumerbarometer.com/en/ tr ending/?countryCode=KE & Category=TRN-NOFILTER-ALL.

GSMA (2014), The mobile economy-Sub Saharan Africa 2014. Intelligence report.

Hellström J. (2008), Mobile phones for good governance–challenges and way forward, Upgraid, www.w3.org/2008/10/MW4D_WS/papers/hellstrom_ gov.pdf.

Horizon (2012), NMC Horizon report, Higher education edition, www.nmc.org/ pdf/2012-horizon-report-HE.pdf.

Kato M.K. & Ricci V. (2006), Mobile learning in Japan: Why the future has already arrived in Asia, The e-learning guild's learning solutions, pp. 1-11.

Keller J. (2011), Smartphone game turns college tours, Wired campus, http://chronicle.com/blogs/wiredcampus/mobile-game-turns-college-tours-and-orientations-intoscavenger-hunts/33114

Kesim M. & Ozarslan Y. (2012), Augmented reality in education: current technologies and the potential for education, Procedia-social and behavioral sciences, 47, 297302.

Kukulska-Hulme A. (2005), Introduction. In A. Kukulska-Hulme, & J. Traxler, Mobile learning: a handbook for educators and trainers (pp. 1-6). New York: Roultedge.

Laurillard D. (2002), Rethinking university teaching, A conversational framework for the effective use of learning technologies. London: Routledge.

Magdaleno A. (2014), How a high school teacher is 'gamifying' world news, Mashable, http://mashable.com/2014/02/02/high-school-fantasy-geopolitics.MurrayS.(2015),Africa:HugeglobalinvestmentploughedintoAfrica'stelecomsindustry,http://allafrica.com/stories/201506222526.html.

Notari M.P., Hielscher M. & King M. (2016), Educational apps ontology, Mobile learning design (pp. 83-96). Springer Singapore.

Nie X. (2013). Constructing smart campus based on the cloud computing platform and the internet of things, Proc. ICCSEE 2013.

Park Y. (2011). A pedagogical framework for mobile learning: Categorizing educational applications of mobile technologies into four types, The international review of research in open and distributed learning, 12(2) 78-102.
Patten B., Sánchez I.A. & Tangney B. (2006), Designing collaborative, constructionist and contextual applications for handheld devices, Computers& Education, 46(3) 294-308.

Pearson (2015), Student mobile device survey: college students, www.pearsoned.com/ wp-content/uploads/2015-Pearson-Student-Mobile-Device-Survey-College.pdf.

Pollara P. (2011), Mobile learning in higher education: A glimpse and a comparison of student and faculty readiness, attitudes and perceptions. Baton Rouge: Louisiana Univ.

Prensky M. (2007), Digital game-based learning. St. Paul, MN: Paragon house.

Rapetti E., Picco-Schwendener A. & Vannini S. (2011), Is mobile learning a resource in higher education? Data evidence from an empirical research in Ticino (Switzerland). Journal of e-learning and knowledge society, 7(2), 47-57.

Ring G. (2001), Case study: Combining Web and WAP to deliver e-learning. Learning circuits. Shrum W.E t a l. (2011) , Mobile phones and core network growth in Kenya: Strengthening weak ties, Social science research 40(2), 614-625.

Smartinsights (2016), Mobile marketing analytics, www.smartinsights.com/mobilemarketing/mobile-marketing-analytics/mobile-marketing-statistics/attachment/ percent-time-spent-on-mobile-apps-2016.

Soykan E. & Uzunboylu H. (2015), The review of published articles on mobile learning area in EBSCO database, Procedia-social and behavioral sciences, 182, 710-717.

Statista (2014), Usage of mobile banking apps worldwide in 2014, www.statista.com/ statistics/468943/usage-of-mobile-banking-apps-worldwide-by-country.

Traxler J. & Leach J. (2006), Innovative and sustainable mobile learning in Africa, Proc. WMTE. IEEE

Valk J.H., Rashid A.T. & Elder L. (2010), Using mobile phones to improve educational outcomes: An analysis of evidence from Asia. The Int. Review of research in open and distributed learning, 11(1), 117-140.

Want R., Schilit B.N. & Jenson S. (2015), Enabling the Internet of Things. IEEE Computer, 48(1), 28-35.

Weraresocial (2017). Digital in 2017: Global overview, https://wearesocial.com/ blog/2017/01/digital-in-2017-global-overview.
These references have been extracted automatically and may have some errors. Signed in users can suggest corrections to these mistakes.
Suggest Corrections to References