You are here: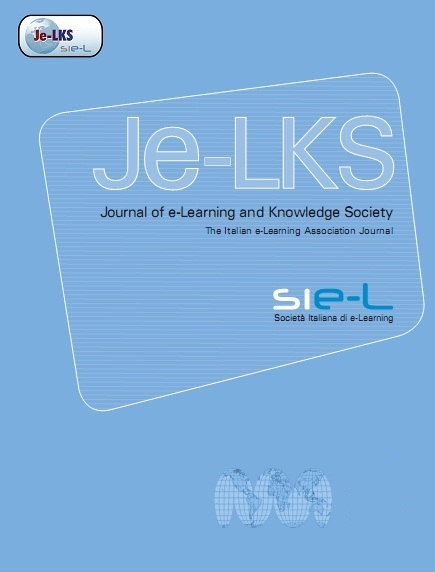 Developing Critical Thinking in online search
ARTICLE
Journal of e-Learning and Knowledge Society Volume 13, Number 3, ISSN 1826-6223 e-ISSN 1826-6223 Publisher: Italian e-Learning Association
Abstract
Digital skills especially those related to Information Literacy, are today considered fundamental to the education of students, both at school and at university. Searching and evaluating information found on the Internet is surely an important competency. An effective way to develop this competency is to educate students about the development of critical thinking. The article presents a qualitative-quantitative survey conducted during a course in Educational Technologies within a five year Degree program. The outcomes of the survey reveal some interesting behaviors and perceptions of students when they are faced with the Web search process and the characteristics of their critical thinking processes: some aspects of critical thinking are generally well-supported, but others are acquired only after specific training. Experience shows that if properly motivated by metacognitive reflections and a clear method, students can actually critically evaluate the information presented online, the sources, and the sustainability of the arguments found. positive results also occurred when the evaluation process was done in a collaborative modality.
Citation
Petrucco, C. & Ferranti, C. (2017). Developing Critical Thinking in online search. Journal of e-Learning and Knowledge Society, 13(3),. Italian e-Learning Association. Retrieved November 30, 2021 from https://www.learntechlib.org/p/180979/.
Keywords
References
View References & Citations Map
Aesaert, K., Van Nijlen, D., Vanderlinde, R., & Van Braak, J. (2014), Direct Measures Of Digital Information Processing And Communication Skills In Primary Education: Using Item Response Theory For The Development And Validation Of An Ict Competence Scale. Computers& Education, 76, 168-181.

Bawden, D., & Robinson, L. (2009), The Dark Side Of Information: Overload, Anxiety And Other Paradoxes And Pathologies. Journal Of Information Science, 35(2), 180-191.

Blessing, S.B., & Ross, B.H. (1996), Content Effects In Problem Categorization And Problem Solving. Journal Of Experimental Psychology. Learning, Memory& Cognition, 22(3)

Chi, M.T.H. (2006), Laboratory Methods For Assessing Experts' And Novices' Knowledge. In K.A. Ericsson (Ed.), The Cambridge Handbook Of Expertise And Expert Performance (Pp. 167-184). New York: Cambridge University Press.

Boyd, D. (2014), It's Complicated. London: Yale University Press.

Calvani, A., Fini, A., & Ranieri, M. (2014), La Competenza Digitale Nella Scuola. Modelli, Strumenti, Ricerche. Italian Journal Of Educational Research, (5), 9-21.

Catalano, A. (2013), Patterns Of Graduate Students' Information Seeking Behavior: A Metasynthesis Of The Literature. Journal Of Documentation,69(2), 243-274.

Cottrell, S. (2011), Critical Thinking Skills: Developing Effective Analysis And Argument. Palgrave Macmillan.

Eisenberg, M., Johnson, D., & Berkowitz, B. (2010), Information, Communications, And Technology (Ict) Skills Curriculum Based On The Big6 Skills Approach To Information Problem Solving. Library Media Connection, 28(6), 24-27.

Eisenberg, M. (2014), Lessons Learned From A Lifetime Of Work In Information Literacy. In Information Literacy. Lifelong Learning And Digital Citizenship In The 21st Century (Pp. 1-12). Springer International Publishing.

Ferrari, A., Punie, Y., & Brecko, B. (2013), Digcomp A Framework For Developing And Understanding Digital Competence In Europe. Joint Research Centre& Institute For Prospective Technological Studies. Ga rvo i l le , A. , & Buckner, G. (2009 , June) , Writing Wikipedia Pages In The Constructivist Classroom. In World Conference On Educational Multimedia, Hypermedia And Telecommunications (Vol. 2009, No. 1, Pp. 1600-1605).

Greene, J.A., Azevedo, R. (2010), The Measurement Of Learners' Self-regulated Cognitive And Metacognitive Processes While Using Computer-based Learning Environments. Educational Psychologist, 45 (4) (2010), Pp. 203–209

Hoffman, K., Antwinsiah, F., Feng, V., & Stanley, M. (2008), Library Research Skills: A Needs Assessment For Graduate Student Workshops. Issues In Science& Technology Librarianship, 53, 1-13.

Istat (2014), Annuario Statistico Italiano 2014, Http://www.istat.it/it/archivio/134686

Julien, H., & Williamson, K. (2010), Discourse And Practice In Information Literacy And Information Seeking: Gaps And Opportunities. Information Research: An International Electronic Journal, 15(1), N1.

Jonas, E., Schulz-Hardt, S., Frey, D., & Thelen, N. (2001), Confirmation bias in sequential information search after preliminary decisions: an expansion of dissonance theoretical research on selective exposure to information. Journal of personality and social psychology, 80(4), 557.

Kong, S.C. (2014), Developing Information Literacy And Critical Thinking Skills Through Domain Knowledge Learning In Digital Classrooms: An Experience Of Practicing Flipped Classroom Strategy. Computers& Education, 78, 160-173.

Lau, A.Y., & Coiera, E.W. (2009), Can Cognitive Biases During Consumer Health Information Searches Be Reduced To Improve Decision Making?. Journal Of The American Medical Informatics Association, 16(1), 54-65.

Maccario, D. (1999), Educare Al Senso Critico: Strategie Per La Didattica. Utet Libreria.

Mason, L., & Boldrin, A. (2008), Epistemic Metacognition In The ContextO f Information Searching On The Web. In Knowing, Knowledge And Beliefs (Pp. 377-404). Springer Netherlands.

Mcnicol, S, & Shields, E. (2014), Developing A New Approach To Information Literacy Learning Design. Journal Of Information Literacy, 8(2), 23-35.

Oecd (2013), Pisa 2015 Collaborative Problem Solving Framework.

Panadero, E., & Järvelä, S. (2015), Socially Shared Regulation Of Learning: A Review. European Psychologist.

Petrucco, C. (2002), Costruire Mappe Per Cercare In Rete: Il Metodo Sewcom. Tdtecnologie Didattiche, 25(1).

Popper, K.R., Conjectures And Refutations (1963), Rouledge And Keagan Paul, London 1963; Trad. It. Congetture E Confutazioni, Il Mulino, Bologna 1972.

Raes, A., Schellens, T., De Wever, B., & Benoit, D.F. (2016), Promoting Metacognitive Regulation Through Collaborative Problem Solving On The Web: When Scripting Does Not Work. Computers In Human Behavior, 58, 325-342.

Reichenbach, B.R. (2001), Introduction To Critical Thinking, Mcgraw Hill Higher Education. Tsai, Mj., & Tsai, Cc. (2003), Information Searching Strategies In Web-based Science Learning: The Role Of Internet Self-efficacy. Innovations In Education And Teaching International, 40(1), 43-50.
Tseng, S.C., Liang, J.C., & Tsai, C.C. (2014), Students' Self-regulated Learning, Online Information Evaluative Standards And Online Academic Searching Strategies. Australasian Journal Of Educational Technology,30(1), 106-121.

Vauras, M., Iiskala, T., Kajamies, A., Kinnunen, R., & Lehtinen, E. (2003), Sharedregulation And Motivation Of Collaborating Peers: A Case Analysis. Psychologia, 46(1), 19-37.

Wu, Y.T., & Tsai, C.C. (2007), Developing An Information Commitment Survey For Assessing Students' Web Information Searching Strategies And Evaluative Standards For Web Materials. Educational Technology& Society, 10(2), 120-132.
These references have been extracted automatically and may have some errors. Signed in users can suggest corrections to these mistakes.
Suggest Corrections to References