You are here:
Metacognition in the e-learning environment: a successful proposition for Inclusive Education
ARTICLE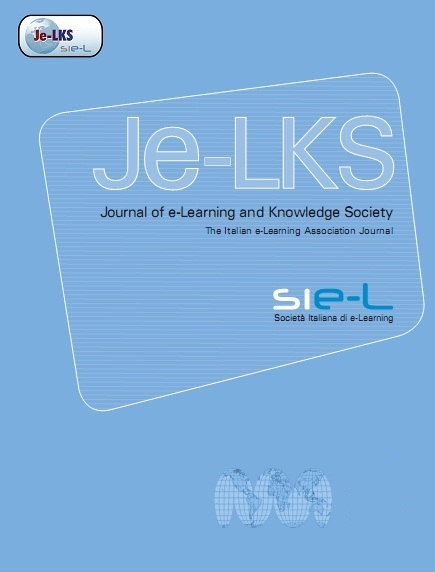 Journal of e-Learning and Knowledge Society Volume 13, Number 3, ISSN 1826-6223 e-ISSN 1826-6223 Publisher: Italian e-Learning Association
Abstract
Locus of Control is a specific mode in which each individual identifies the causes that determine an event and therefore their own successes and failures. The internal attribution style is based on the subject's ability, commitment, and intelligence. It strengthens self-esteem and sense of personal self-efficacy and is crucial to fostering school success. This research shows that an attributive-metacognitive training that offers students the opportunity to reflect on their skills and strategies by expanding motivation through information and communication technologies (ICTs) can improve the attributional style of students with SEN (Special Educational Needs). The study, prospective and longitudinal, measured the attribution style of attendees (30 subjects attending the first grade of secondary school in northeast Italy) before and after a metacognitive and attributive program. The training, carried out on-line and in attendance, lasted about 8 months (from April 2015 to November 2015). The article presents the positive outcomes of the training, supported by the comparison of the data emerging from the Attribution Questionnaire and regularized and standardized values ​​(De Beni e Moè, 1995). The presented study extends knowledge on approaches and programs aimed at improving the attributional style in children with Special Educational Needs. A progress of the internal attributional style is conducive to improving academic success in these subjects.
Citation
Berizzi, G., Di Barbora, E. & Vulcani, M. (2017). Metacognition in the e-learning environment: a successful proposition for Inclusive Education. Journal of e-Learning and Knowledge Society, 13(3),. Italian e-Learning Association. Retrieved February 17, 2019 from https://www.learntechlib.org/p/180976/.
Keywords
View References & Citations Map
References
Berizzi, G. (2016), Auto-attribuzione di successo/insuccesso nei ragazzi con malattia oncologica: efficacia di un training sullo stile attributivo. Tesi di Dottorato in Scienze della Riproduzione e dello Sviluppo, Indirizzo Epidemiologico, Università degli Studi di Trieste.
Borkowski, J.G., Muthukrishna, N. (2011), Didattica metacognitiva. Come insegnare strategie efficaci di apprendimento, Trento: Erickson.
Borkowski, J.G., Muthukrishna, N. (1994), Lo sviluppo della metacognizione nel bambino: Un modello utile per introdurre l'insegnamento metacognitivo in classe. Insegnare all'Handicappato, 8 (3), 229-2251.
Borkowski, J.G., Weyhing, R.S., Turner, L.A. (1986), Attributional retraining and the teaching of strategies. Exceptional Children, 53(2), 130-137.
Cacciamani, S., Giannandrea, L. (2004), La classe come comunità di apprendimento. Roma: Carocci.
Cornoldi, C., De Beni, R., Zamplerlin, C., Meneghetti, C. (2005), AMOS 8-15. Abilità e motivazione allo studio: prove di valutazione per ragazzi dagli 8 ai 15 anni. Trento: Erickson.
Cornoldi, C. (2013), L'intervento metacognitivo con i bambini con DSA, Atti Congresso Nazionale su Metacognizione e intervento clinico, Rimini. 19-20 settembre 2013.
De Beni, R., Moè, A. (1995), Questionario di attribuzione. Attribuzione delle cause di successo/fallimento in compiti cognitivi. Firenze: O.S. Organizzazioni Speciali.
De Beni, R., Moè, A. (1996), Stile attributivo e abitudini di studio: Confronto fra soggetti normali e con difficoltà d'apprendimento. Orientamenti Pedagogici, 43 (3), 599-617.
De Marco, B., Albanese, O. (2009), 11. Le competenze autoregolative dell'attività di studio in comunità virtuali. Open and Interdisciplinary Journal of Technology, Culture and Education, 4(2), 123-139.
Ianes, D., Cramerotti S. (2005), Il Piano educativo individualizzato – Progetto di vita (Guida 2005-2007), Trento: Erickson, 15-17.
Lynch, R., Dembo, M. (2004), The relationship between self-regulation and online learning in a blended learning context. The International Review of Research in Open and Distance Learning, 5 (2).
Scardamalia, M., Bereiter, C. (2004), Computer support for knowledge-building communities. The Journal of the Learning Sciences, 3, 265-283.
Stahl, G., Koschmann, T., Suthers, D. (2006), Computer-supported Collaborative Learning: An Historical Perspective. In Sawyer, R.K. (ed., 2006), The Cambridge Handbook of the Learning Sciences, 409-426. Cambridge, UK : Cambridge University Press.
Trentin, G. (2001), Dalla formazione a distanza all'apprendimento in rete, Milano: Franco Angeli.
Varisco, B.M. (2008), Psychological, Pedagogical and Sociological Models for Learning and Assessment, in Virtual Communities of Practice, Milano: Polimetrica.
Veronico, M. (2014), ICT e Bes a scuola: una riflessione necessaria. In Rossi, A. (a cura di), Verso una cultura sociale dei Bes. Il Sistema per l'inclusione. Bari: La Meridiana.
These references have been extracted automatically and may have some errors. If you see a mistake in the references above, please contact info@learntechlib.org.