You are here: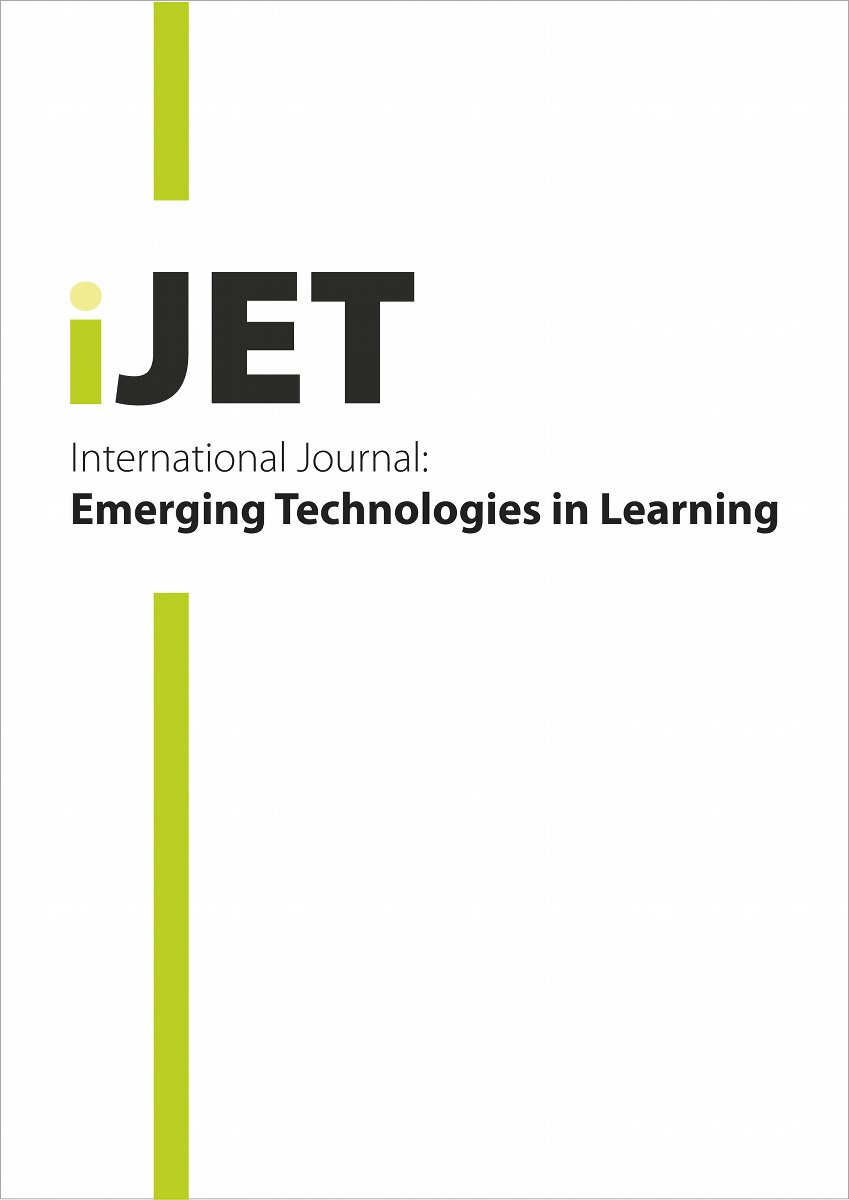 Undergraduate Students' Perspectives of the Extent of Practicing Netiquettes in a Jordanian Southern University
ARTICLE
Yousef Arouri, Assistant Professor (Curriculum and Instruction ) at Tafial Technical University (TTU): Tafila, Tafila, Jordan ; Diala Hamaidi
iJET Volume 12, Number 3, ISSN 1863-0383 Publisher: International Journal of Emerging Technology in Learning, Kassel, Germany
Abstract
The study aimed at investigating the extent of implementing Netiquette practices among University students at Tafila Technical University (TTU). The study included the students of Faculty of Educational Sciences at TTU- Jordan, who enrolled in fall semester of the academic year 2015/2016. To achieve the aim of the research study, researchers used the descriptive research method. A quantitative questionnaire, consisted of (42) items was developed and administered on (245) male and female students of special education and classroom teacher majors. The findings of the study revealed that the university students have a consensus regarding the general rules of Netiquette. However, they pointed out limited awareness of specific Netiquette rules and aspects. As a result, their practices reflected varied levels of implementation. In addition, the results revealed that the students' perspectives of the implemented Netiquette practices were not affected by gender, specialization, or university study level. Furthermore, the implemented practices revealed that the students' perspectives show limited extent of Netiquette practices related to critical thinking skills. Further implications and future recommendations were discussed.
Citation
Arouri, Y. & Hamaidi, D. (2017). Undergraduate Students' Perspectives of the Extent of Practicing Netiquettes in a Jordanian Southern University. International Journal of Emerging Technologies in Learning (iJET), 12(3), 84-97. Kassel, Germany: International Journal of Emerging Technology in Learning. Retrieved June 25, 2022 from https://www.learntechlib.org/p/180169/.
Keywords
References
View References & Citations Map
[1] Aggarwal, A.K. (2014). Netiquette in e-learning. Proceedings for the Northeast Region Decision Sciences Institute (NEDSI), 181-182.

[2] Agnew, D.S., & Hill, K. (2009). Email etiquette recommendation for today's business student. Allied Academies International Conference: Proceedings of The Academy of Organizational Culture, Communications& Conflict (AOCCC), 14(2), 1-5.

[3] Aranda, J.F. (2007). Netiquette and online communication. Journal of Instruction Delivery Systems, 21(4), 11-14.

[4] Biesenbach-Lucas, S. (2007). Students writing emails to faculty: An examination of epoliteness among native and non-native speakers of English. Language Learning and Technology, 11(2), 59-81.

[5] Boicu, R. (2011). Discursive norms in blogging. Romanian Journal of Journalism& Communication/ Revista Romana De Jurnalism Si Comunicare-RRJC, 6(1), 54-62.

[7] Brusco, J.M. (2011). Know your netiquette. AORN Journal, 94(3), 279-286 8p.
[8] Buelens, H., Totté, N., Deketelaere, A., & Dierickx, K. (2007). Electronic discussion forums in medical ethics education: the impact of didactic guidelines and Netiquette. Medical Education, 41(7), 711-717.
[9] Canada, M. (2000). Students as seekers in online courses. In R.E. Weiss, D.S. Knowlton, & B.W. Speck (Eds.), Principles of effective teaching in the online classroom, 75(84), 3540. Francisco: Jossey-Bass

[10] De Cindio, F., Gentile, O., Grew, P., & Redolfi, D. (2003). Community networks: Rules of behavior and social structure special issue. ICTs and community networking, 19(5), 395406.

[11] Deepa, S., & Ghatak, S. (2013). Netiquette: Exploratory study of actual usage and agreed upon norms in India. Scholars world-irmjcr, 1(3), 129-136.

[12] Farshad Nia, S., & Marandi, S. (2014). Digital literacy and Netiquette: Awareness and perception in EFL learning context. In S. Jager, L. Bradley, E.J. Meima, & S. Thouësny (Eds), CALL Design: Principles and Practice; Proceedings of the 2014 EUROCALL Conference, Groningen, The Netherlands (pp. 77-82). Dublin: Research-publishing.net.

[14] Glass, G.V., & Hopkins, K.D. (1984). Statistical Methods in Education and Psychology (2nd ed.). Englewood Cliffs, N.J.: Prentice-Hall.

[15] Hardy, J. (2012). Netiquette: It's a job skill. Business in Calgary, 22(9), 26-31.

[16] Hawkes, M. (2006). Linguistic discourse variables as indicators of reflective online interaction. American Journal of Distance Education, 20(4), 231-244.

[18] Hodges, J.G. (2010). Social networking rules of etiquette. Journal of Practical Estate Planning, 12(3), 9-58.

[19] Johnson, D. (1999). Handout for teaching students right from wrong in the digital age. Retrieved on May 7, 2016 from: http://www.janinelim.com/bc/4thur/ethics.pdf [20] Jong, T.M. De, vander Voordt, D.J.M. (2002). Ways to study architectural, urban and technical design. Delft: DUP Science, 53-60.

[21] Kozík, T., & Slivová, J. (2014). Netiquette in electronic communication. International Journal of Engineering Pedagogy, 4(3), 67-70.

[22] Kryder, C. (2013). Online etiquette in the digital age. American Medical Writers Association Journal, (3), 130.

[23] Liu, X., Magjuka, R.J., Bonk, C.J., & Lee, S. (2007). Does sense of community matter? An examination of participants' perceptions of building learning communities in online courses. Quarterly Review of Distance Education, 8(1), 9-24.

[24] Loguercio, M. (2012). Social etiquette. Insurance Advocate, (5), 8. Paper—Undergraduate Students' Perspectives of the Extent of Practicing Netiquettes in a Jordanian Sou…

[25] Mahar, S.M., & Mahar, J. (2009). Chapter 6: Netiquette and codes of conduct. In Unofficial Guide to Building Your Business in the Second Life Virtual World (pp. 102-113).

[28] Merriam-Webster's Learning Dictionary (2016). Internet. Retrieved on May 7, 2016 from: http://www.learnersdictionary.com/definition/Internet%20

[29] Neurauter-Kessels, M. (2011). Im/polite reader responses on British online news sites. Journal of Politeness Research: Language, Behavior, Culture, 7(2), 187-214.

[31] Preece, J. (2004). Etiquette online: From nice to necessary. Communications of the ACM, 47(4), 56-61.
[32] Scheuermann, L. & Taylor, G. (1997). "Netiquette". Internet Research: Electronic Networking Applications and Policy, 7(4), 269-273.

49710187268[33] Shea, V. (1997). Netiquette. Retrieved on May 7, 2016 from: http://www.albion.com/Netiquette/book/index.html

[34] Stewart, G. (2014). Reviewing and ethics in the online academy. Educational Philosophy and Theory, 1-6.
[35] Watkins, C. (2005). Classrooms as learning communities: A review of research. London Review of Education, 3(1), 47-64.
[36] West, R. (2010). A student's guide to strengthening an online community. TechTrends: Linking Research& Practice to Improve Learning, 54(5), 69-75. Https://doi.org/10.1007/s11528-010-0439-7

[37] Yarmohammadian, M.H., Iravani, H., & Abzari, M. (2012). Information and communications technology, culture, and medical universities; organizational culture and Netiquette among academic staff. Journal of Education and Health Promotion, 1, 1-6.
These references have been extracted automatically and may have some errors. Signed in users can suggest corrections to these mistakes.
Suggest Corrections to References