You are here: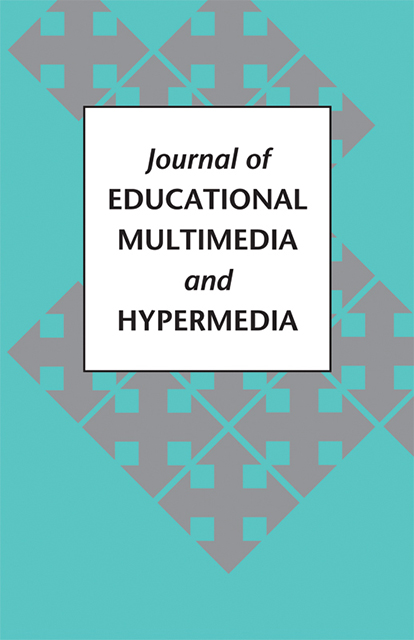 Achieving Complex Learning Outcomes Through Adoption of a Pedagogical Perspective: A Model for Computer Technology Delivered Instruction
article
Breshanica Bellard, University of North Texas, United States
Journal of Educational Multimedia and Hypermedia Volume 27, Number 1, ISSN 1055-8896 Publisher: Association for the Advancement of Computing in Education (AACE), Waynesville, NC USA
Abstract
Professionals responsible for the delivery of education and training using technology systems and platforms can facilitate complex learning through application of relevant strategies, principles and theories that support how learners learn and that support how curriculum should be designed in a technology based learning environment. Technological advances, such as mobile delivery of instruction and social media as a learning tool, require pedagogical knowledge by professionals creating training and education using technology systems. Replacing a technology based perspective, as prominent reason for use of technology to deliver education and training, with that of a pedagogical perspective, can result in increased usage of underutilized technology systems and applications, reduced learning costs associated with formal (instructor-led) training and delivery of education and training providing deep and meaningful learning.
Citation
Bellard, B. (2018). Achieving Complex Learning Outcomes Through Adoption of a Pedagogical Perspective: A Model for Computer Technology Delivered Instruction. Journal of Educational Multimedia and Hypermedia, 27(1), 5-23. Waynesville, NC USA: Association for the Advancement of Computing in Education (AACE). Retrieved November 27, 2021 from https://www.learntechlib.org/primary/p/178518/.
References
View References & Citations Map
Anderson, T., Rourke, L., Garrison, D.R., & Archer, W. (2001). Assessing teaching presence in a computer conferencing environment. Journal of Asynchronous Learning Networks, 5(2). Bernard, et al. (2004). How does distance education compare with classroom instruction? A meta-analysis of the empirical literature. Review of Educational Research, Vol. 74, pp. 379-439.
Collins, T., Mulholland, P., and Gaved, M. (2011). Scripting personal inquiry. In K. Littleton, E. Scanlon and M. Sharples (eds.), Orchestrating Inquiry Learning. Abingdon: Routledge, pp. 87–104.
ComScore (2013). Mobile future in focus.
Dalsgaard, C. (2005). Pedagogical quality in elearning– Designing elearning from a learning theoretical approach. Elearning and education (eleed) Journal, 1st issue.
Dalsgaard, C. (2005). Social software: Elearning beyond learning management systems. Bellard mann, J., & The SCY Team (2010). Learning by creating and exchanging objects: The SCY experience. British Journal of Educational Technology, 41, 909-921.
DeSchryver, M., Mishra, P., Koehleer, M., & Francis, A. (2009). Moodle vs. Facebook: Does using Facebook for discussions in an online course enhance perceived social presence and student interaction? In I. Gibson et al. (Eds.), Proceedings of Society for Information Technology& Teacher Education International Conference (pp. 329–336). Chesapeake, VA: AACE.
Dewey, J. (1938). Experience and education. New York: Macmillan.
Falloon, G. (2011). Exploring the Virtual Classroom: What Students Need to Know (and Teachers Should Consider). Journal of Online Learning and Teaching, 7(4), 439-451.
Gagne, R.M. (1977). The conditions of learning. New York: Holt, Rinehart and Winston, P. 339. Florida State University, Tallahassee, FL.
Garratt-Reed, D., Roberts, L.D., & Heritage, B. (2016). Grades, Student Satisfaction and Retention in Online and Face-to-Face Introductory Psychology Units: A Test of Equivalency Theory. Frontiers in Psychology, 7, 673.
Gray, C. (2006) Blended learning: why everything old is new again—but better. Hoffman, Kimberly, et al. (2006). "Problem-Based Learning Outcomes: Ten Years of Experience at the University of Missouri—Columbia School of Medicine". Innovative Curricula. Academic Medicine, Vol. 81, No. 7, pp. 617-625.
Khadijah, A., Rahman, S., & MohdNasir, I. (2011). The Effectiveness of Learning Management System (LMS) Case Study at Open University Malaysia (OUM), Kota Bharu Campus. Journal of Emerging Trends in Computing and Information Sciences, 2(2), 73-79.
Kuh, G.D. (1996). Guiding principles for creating seamless learning environments for undergraduates. Journal of College Student Development, 37(2), 135-48.
Larson, P. (2002), "Interactivity in an electronically delivered marketing course", Journal of Education for Business, Vol. 77 No. 5, pp. 265-9.
Learning Forward. (2011). Standards for Professional Learning: Learning Designs. Achieving Complex Learning Outcomes tional Technology Research& Development, 39(2), 53-69.
Mayer, R.E. (2009). Multimedia learning (2nd ed). New York: Cambridge University Press. McIntosh, Don. (2016). 'LMS and eLearning Vendors'. April 2016 Introduction.
Merrill, M.D. (1983). Component display theory. In C.M. Reigeluth (Ed.), Instructional Design Theories and Models. Hillsdale, N.J.: Lawrence Erlbaum.
Merrill, M.D., Li, Z. & Jones, M. (1991). Instructional transaction theory: An introduction. Educational Technology, 31(6), 7-12.
Mishra, P., & Koehler, M.J. (2006). Technological pedagogical content knowledge: A framework for integrating technology in teacher knowledge. Teachers College Record, 108(6), 1017-1054.
Nussbaum, M., Alvarez, C., McFarlane, A., Gomez, F., Claro, S., & Radovic, D. (2009). Technology as small group face-to-face Collaborative Scaffolding. Computers& Education, 52(1), 147-153.
Nussbaum-Beach, S. & Ritter Hall, L. (2012). The connected educator: Learning and leading in a digital age. Bloomington, IN: Solution Tree Press.
Office for National Statistics (2013). Internet Access-Households and Individuals, 2012 part 2.
Pea, R., Milrad, M., Maldonado, H., Vogel, B., Kurti, A., & Spikol, D. (2012). Learning and technological designs for mobile science inquiry collaboratories. In K. Littleton, E. Scanlon& M. Sharples (Eds.), Orchestrating inquiry learning (pp. 105-127).
Peltier, J.W., Schibrowsky, J.A., & Drago, W. (2007). The interdependence of the factors influencing the perceived quality of the online learning experience: A causal model. Journal of Marketing Education, 29(2), 140-147,149153.
Pick, T. (2013). 103 compelling social media and marketing statistics for 2013 (and 2014). Ractham, Pete. (2013). Promoting the Use of Online Social Technology as a Case-based Learning Tool. Journal of Information Systems Education, Vol. 24(4). Roschelle, J., Patton, C., Schank, P., Penuel, W., Looi, C-K, Chen, W., Chan, A.,
Prieto, P, Villagra, S., & Dimitriadis, Y. (2011). CSCL and innovation: In classrooms, with teachers, among school leaders, in schools of education. In Proceedings of Computer-Supported Collaborative Learning Conference, Volume III-Community Events, pp. 1073-1080. International Society of
Shachar, M., & Neumann, Y. (2003). Differences Between Traditional and Distance Education Academic Performances: A Meta-Analytic Approach. The International Review Of Research In Open And Distributed Learning, 4(2). Bellard bridge Handbook of the Learning Sciences: Second Edition. New York, NY: Cambridge University Press, pp. 501-521.
Shulman, L. (1986). Those who understand: Knowledge growth in teaching. Educational Researcher, 15(2), 4-14.
Shulman, L.S. (1987). Knowledge and teaching: Foundations of the new reform. Harvard Educational Review, 57(1), 1-22.
Sitzmann, T., Kraiger, K., Steeart, D., & Wisher, R. (2006). The comparative effectiveness of Web-based and classroom instruction: A meta-analysis. Personal Psychology, 59(3), 623-664.
Sweeney, T., Pemberton, R. & Sharples, M. (2011) Toponimo: A Geosocial Pervasive Game for English Second Language Learning. Proceedings of the 10th World Conference on Mobile and Contextual Learning (mLearn 2011), 18-21 October, 2011, Beijing, China, pp. 436-440.
Tobin, D.R. (1998). Building your own personal learning network. Port Chester, NY: Corporate Learning Strategies. Available at www.tobincls.com/learningnetwork.htm.
Wheeler, S. (2010). Anatomy of a PLE [Weblog post]. Available at http://stevewheeler.blogspot.com/2010/07/anatomy-of-ple.html.
Vygotsky, L. (1978). Mind in society: The development of higher psychological processes (14th ed.). Cambridge, MA: Harvard University Press.
Wong, L.-H. (2012). A learner-centric view of mobile seamless learning. British Journal of Educational Technology, 43(1), E19-E23.
Woods, W. And Scanlon, E. (2012). ISpot Mobile-A Natural History Participatory Science Application. In: Proceedings of Mlearn 2012, Helsinki, Finland, Oct 15-16.
These references have been extracted automatically and may have some errors. Signed in users can suggest corrections to these mistakes.
Suggest Corrections to References