You are here: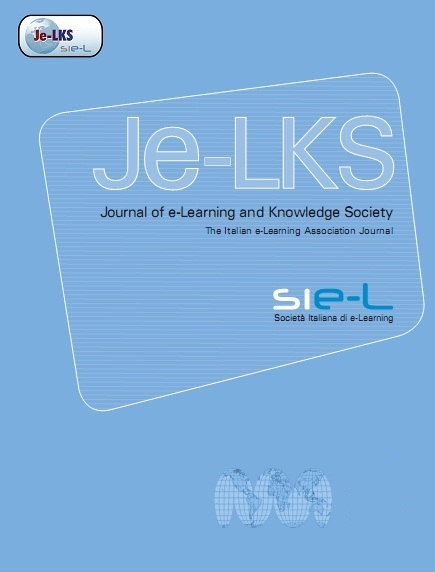 Situated Learning based on Virtual Environment for improving Disaster Risk Reduction
ARTICLE
Journal of e-Learning and Knowledge Society Volume 12, Number 4, ISSN 1826-6223 e-ISSN 1826-6223 Publisher: Italian e-Learning Association
Abstract
Emergency management systems require skills from decision makers to mitigate the impact of disasters, reducing fatalities and economic losses. Virtual learning environments have the potential to support the development of those capabilities. In particular, situated learning grounded on serious video games may promote the legitimate peripheral participation of learners to develop resilience capacities and become part of the community of practice. In this paper, a game-based virtual environment is proposed and validated to apply situated learning in a real-world learning community. As a result, the video game virtual environment seems to reinforce the learner engagement in the educational content. In addition, video game technology has a potential to be applied in other learning processes for extending learning experiences, and to transfer knowledge to new situations of disasters and emergency situations, including the participation of facilitators in prevention education efforts for disaster risk reduction.
Citation
Caroca, J., Bruno, M. & Aldunate, R. (2016). Situated Learning based on Virtual Environment for improving Disaster Risk Reduction. Journal of e-Learning and Knowledge Society, 12(4),. Italian e-Learning Association. Retrieved January 19, 2022 from https://www.learntechlib.org/p/173677/.
Keywords
References
View References & Citations Map
Bellotti, F., Berta, R., De Gloria, A. & Primavera, L. (2009), Adaptive Experience Engine for Serious Games, IEEE Transactions on Computational Intelligence and AI in Games, 1(4), 264-280.

Capuano, N. & King, R. (2015), Knowledge-based assessment in serious games: an experience on emergency training, Journal of e-Learning and Knowledge Society, 11(3).

Carvalho, M.B., Bellotti, F., Berta, R., Gloria, A.D., Sedano, C.I., Hauge, J.B., Hu, J. & Rauterberg, M. (2015), An activity theory-based model for serious games analysis and conceptual design, Computers& Education, 87, 166-181.

Clark, D.B., Tanner-Smith, E.E. & Killingsworth, S.S. (2015), Digital Games, Design, and Learning: A Systematic Review and Meta-Analysis, Review of Educational Research, 0034654315582065. Connolly, T. Boyle, E. Boyle, J. & Macarthur, E. (2012), A systematic literature review of empirical evidence on computer games and serious games, Computers& Education, 59(2), 661-686.
De Freitas, S. & Oliver, M. (2006), How can exploratory learning with games and simulations within the curriculum be most effectively evaluated?, Computers& Education, 46(3), 249-264.

Gee, J.P. (2003), What videogames have to teach us about learning and literacy, Computers in Entertainment, 1(1).

Gunter, G.A., Kenny, R.F. & Vick, E.H. (2008), Taking seriously educational games: using the model to design endogenous RETAIN fantasy into standalone educational games, Educational Technology Research and Development, 56 (5-6), 511-537.

Haferkamp, N., Kraemer, N.C., Linehan, C. & Schembri, M. (2011), Training disaster communication by means of serious games in virtual environments, Entertainment Computing, 2(2), 81-88.

Herrington, J. & Oliver, R. (2000), An instructional design framework for authentic learning environments, Educational Technology Research and Development, 48(3), 23-48.

Hwang, G.J., Chiu, L.Y. & Chen, C.H. (2015), A contextual game-based learning approach to improving students' inquiry-based learning performance in social studies courses, Computers& Education, 81, 13-25.

Jong, M.S.Y., Shang, J., Lee, F.-I. & Lee, J.H.M. (2010), An Evaluative Study on VISOLE—Virtual Interactive Student-Oriented Learning Environment, IEEE Transactions on Learning Technologies 3(4), 307-318.

Lave, J. & Wenger, E. (1991), Situated Learning. Legitimate Peripheral Participation, Cambridge University Press.

Shaffer, D.W. (2004), Epistemic frames and islands of expertise: Learning from infusion experiences, 6th Int. Conf. On Learning sciences, 473-480.

Thompson, M., & Calkins, D. (2011), Uncertainty and risk in wildland fire management: A review, Journal of Environmental Management, 92(8), 1895-1909.

Tsai, F.-H., Yu, K.-C. & Hsiao, H.-S. (2012), Exploring the Factors Influencing Learning Effectiveness in Digital Game-based Learning, Journal of Educational Technology& Society, 15 (3), 240–250.

Zyda, M. (2005), From Visual Simulation to Virtual Reality to Games, Computer, 38(9), 25-32.
These references have been extracted automatically and may have some errors. Signed in users can suggest corrections to these mistakes.
Suggest Corrections to References