You are here: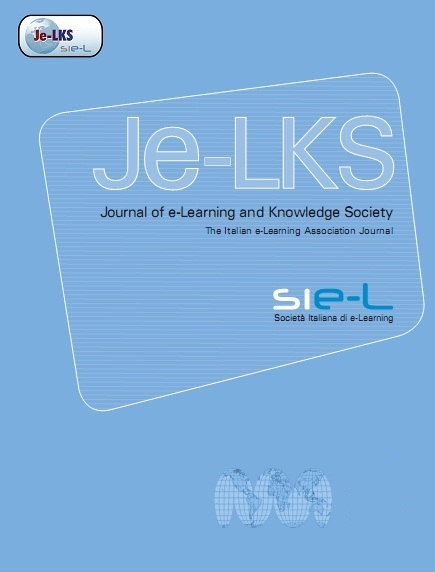 Teaching Cultural Heritage using Mobile Augmented Reality
ARTICLE
Journal of e-Learning and Knowledge Society Volume 12, Number 3, ISSN 1826-6223 e-ISSN 1826-6223 Publisher: Italian e-Learning Association
Abstract
The relationship between augmented reality, mobile learning, gamification and non-formal education methods provide a great potential. The AR-CIMUVE Augmented Reality for the Walled Cities of the Veneto is an original project in collaboration with Italia Nostra and other associations which deal with transmitting our cultural heritage and which teach primary and middle school children the cultural and historical importance of the Veneto's and the surrounding territories' walled cities. In this learning experience students will explore how our environment has developed across the ages using the mobile devices with the technical back-up of the AR App. This will allow them to see maps, examine data, 3D models and will enable them to judge and improve their skills. From a pedagogical and educational point of view the emphasis is on a constructivist social-cultural approach which helps students to become active citizens more aware of their historical identity.
Citation
Petrucco, C. & Agostini, D. (2016). Teaching Cultural Heritage using Mobile Augmented Reality. Journal of e-Learning and Knowledge Society, 12(3),. Italian e-Learning Association. Retrieved August 13, 2020 from https://www.learntechlib.org/p/173477/.
Keywords
References
View References & Citations Map
Auld, G., & Johnson, N.F. (2015), Teaching the "Other": Curriculum "Outcomes" and Digital Technology in the Out-of-School Lives of Young People. In Bulfin, S., Johnson, N., & Bigum, C. (Eds.). Critical Perspectives on Technology and Education. New York: Palgrave Macmillan. Calvani, A., (2014), Come fare una lezione efficace. Roma: Carocci.

Chang, Y.-L., Hou, H.-T., Pan, C.-Y., Sung, Y.-T., Chang, K.-E. (2015), Apply an Augmented Reality in a Mobile Guidance to Increase Sense of Place for Heritage Places. Educational Technology& Society, 18(2), (pp. 166–178).

Chen, R., & Wang, X. (2008), An empirical study on tangible augmented reality learning space for design skill transfer. Tsinghua Science& Technology, 13(1), 13–18.

Kennedy, S., Fawcett, R., Miller, A., Dow, L., Sweetman, R., Field, A., & Allison, C. (2013), Exploring canons & Cathedrals with Open Virtual Worlds: The recreation of St Andrews Cathedral, St Andrews day, 1318. In Digital Heritage International Congress (DigitalHeritage), Vol. 2, (pp. 273-280). IEEE.

Kirschner, P.A., Sweller, J. And Clark, R.E. (2006), Why minimal guidance during instruction does not work: An analysis of the failure of constructivist, discovery, problem-based, experiential, and inquiry-based teaching. Educational Psychologist., 41: 75–86.

De Bideran, J. & Fraysse, P. (2015), Guide numérique et mise en scène du territoire, entre médiation patrimoniale et stratégie de communication touristique. Études de communication 45 (pp. 77-96).

Dede, C. (2008), Theoretical perspectives influencing the use of information technology in teaching and learning. In Voogt, J., & Knezek, G. (Eds.). International handbook of information technology in primary and secondary education (pp. 43-62). New

Greeno, J.G., Collins, A.M. & Resnick, L.B. (1996), Cognition and learning. In D.C. Berliner & R.C. Calfee (Eds.), Handbook of Educational Psychology. New York, NY: Prentice Hall. Hattie, J., (2009), Visible Learning; a synthesis of over 800 meta-analyses relating to achievement. London; Routledge.

Jonassen, D., Howland, J., Marra, R.M., & Crismond, D. (2008), Meaningful Learning With Technology. Columbus, Ohio: Pearson.

Miglino, O., Di Ferdinando, A., Di Fuccio, R., Rega, A., & Ricci, C. (2014), Bridging digital and physical educational games using RFID/NFC technologies. Journal of e-Learning and Knowledge Society,10(3).

Milgram, P., & Kishino, F. (1994), A taxonomy of mixed reality visual displays. IEICE TRANSACTIONS on Information and Systems, 77(12) (pp. 1321-1329).

Noh, Z., Sunar, M.S., & Pan, Z. (2009), A review on augmented reality for virtual heritage system. In Chang, M., Kuo, R., Kinshuk, Chen, G., & Hirose, M. (Eds.). Learning by Playing. Game-based Education System Design and Development (pp. 50-61). Berlin, Heidelberg: Springer Berlin Heidelberg.

Pachler, N., Bachmair, B., & Cook, J. (2013), A sociocultural ecological frame for mobile learning. Handbook of mobile learning, 35-46.

Perez-Sanagustin, M., Hernandez-Leo, D., Santos, P., Delgado Kloos, C., & Blat, J. (2014), Augmenting reality and formality of informal and non-formal settings to enhance blended learning. Learning Technologies, IEEE Transactions, 7(2), 118131.

Pribeanu, C., Balog, A., & Iordache, D.D. (2016), Measuring the perceived quality of an AR-based learning application: a multidimensional model. Interactive Learning Environments, 1-14.

Ranieri, M. & Pieri, M. (2014), Mobile learning. Unicopli, 2014.

Rushby, N. And Seabrook, J. (2008), Understanding the past—illuminating the future. British Journal of Educational Technology, 39: 198–233.

Sharples, M. (2013), Mobile learning: research, practice and challenges. Distance Education in China, 3(5) (pp. 5–11).

Strobel, J., & Van Barneveld, A. (2009), When is PBL more effective? A meta-synthesis of meta-analyses comparing PBL to conventional classrooms. Interdisciplinary Journal of Problem-based Learning, 3(1), 4. Available at:

Sweller, J., van Merrienboer, J.J.G., Paas, F.G.W.C. (1998), Cognitive Architecture and Instructional Design. Educational Psychology Review. Volume 10, Issue 3, pp 251-296

Tamim, R.M., Bernard, R.M., Borokhovski, E., Abrami, P.C., & Schmid, R.F. (2011), What forty years of research says about the impact of technology on learning a second-order meta-analysis and validation study. Review of Educational research, 81(1), 4-28.

Thomas, J.W. (2000), A review of research on project-based learning. San Rafael: Autodesk Foundation. Http://www.bobpearlman.org/BestPractices/PBL_Research. Pdf

Walker, A., & Leary, H. (2009), A Problem Based Learning Meta Analysis: Differences Across Problem Types, Implementation Types, Disciplines, and Assessment Levels. Interdisciplinary Journal of Problem-Based Learning, 3(1), 6.

Wenger, E., & Lave, J. (1991), Situated Learning: Legitimate Peripheral Participation. Cambridge, UK: Cambridge University Press.

Zimmerman, H.T. (2013), 13 Mobile Technologies as Mindtools for Augmenting Observations and Reflections in Everyday Informal Environments. Learning, Problem Solving, and Mindtools: Essays in Honor of David H. Jonassen, 214.
These references have been extracted automatically and may have some errors. Signed in users can suggest corrections to these mistakes.
Suggest Corrections to References