You are here: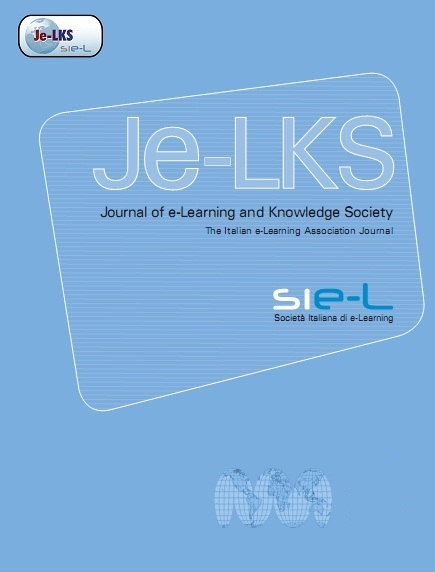 Evaluating a Mixed-Reality 3D Virtual Campus With Big Data and Learning Analytics: A transversal study
ARTICLE
Journal of e-Learning and Knowledge Society Volume 12, Number 2, ISSN 1826-6223 e-ISSN 1826-6223 Publisher: Italian e-Learning Association
Abstract
There is a growing body of literature that recognizes the importance of the 3D multi-user virtual environments (3DMUVEs) with high relevance for prospective developments and improvements in both distant and in-class education. However, to be accepted on a larger scale by education practitioners more analytical studies are required to evaluate these environments against usability and pedagogical effectiveness criteria. The present paper proposes an automatic in-world monitoring system consisting in scripted tracking objects and Learning Analytics (LA) tools for an experimental 3D virtual campus. The research was conducted within a transversal study using focus groups from two universities, an engineering and a vocational one. The results highlighted the validity of the automated system and LA tools, which can constitute the ground for more efficient teaching and learning in complex activity-based 3D educational settings.
Citation
Stefan, L., Moldoveanu, F. & Gheorghiu, D. (2016). Evaluating a Mixed-Reality 3D Virtual Campus With Big Data and Learning Analytics: A transversal study. Journal of e-Learning and Knowledge Society, 12(2),. Italian e-Learning Association. Retrieved March 29, 2020 from https://www.learntechlib.org/p/173466/.
Keywords
References
View References & Citations Map
Bessière, K., Ellis, J.B., Kellogg, W.A. (2009), Acquiring a professional "second life": Problems and prospects for the use of virtual worlds in business, CHI EA 09, pp. 2883-2898.

Blume, B.D., Ford, J.K., Baldwin, T.T., Huang, J.L. (2010), Transfer of training: A meta-analytic review, Journal of Management, 36, pp. 1065-1105.

Brown, K.G. (2005), An examination of the structure and nomological network of trainee reactions: A closer look at smile sheets, Journal of Applied Psychology, 90, 2005, 991-1001.

Camilleri,V., de Freitas, S., Montebello, M., McDonagh-Smith, P. (2013), A case study inside virtual worlds: Use of learning analytics for immersive spaces, Proceedings of the 3rd International Conference on Learning Analytics and Knowledge (230– 234). New York: ACM Press, 2013.

Chatti, M.A., Dyckhoff, A.L., Schroeder, U., Thüs, H. (2012), A reference model for learning analytics, International Journal of Technology Enhanced Learning, 5, 318-331.

Cheal, C. (2015), Student perceptions of a course taught in Second Life. Innovate, URL: http://www.innovateonline.info/pdf/vol5_issue5/Student_Perceptions_of_a_ Course_Taught_in_Second_Life.pdf (accessed on 16th August 2015).

Coban, M., Karakus, T., Karaman, A., Gunay, F., Goktas, Y. (2015), Technical Problems Experienced in the Transformation of Virtual Worlds into an Education Environment and Coping Strategies, Educational Technology& Society, 18 (1), 37–49.

Johnson, L., Adam Becker, S., Estrada, V., Freeman, A. (2014), NMC Horizon Report: 2014 Higher Education Edition, Austin, Texas: The New Media Consortium.

Kickmeier-Rust, M.D., Bull, S., Meissl-Egghart, G. (2014), Collaborative Language Learning In Immersive Virtual Worlds: Competence-Based Formative Feedback and Open Learner Modeling, International Journal of Serious Games, Volume I, Issue II, pp. 67-74.

Liu, W., Cheok, A.D., Mei-Ling, C.L., Theng, Y.L. (2012), Mixed Reality Classroom-Learning from Entertainment, http://dl.acm.org/citation.cfm?id=1306833. Mamo, M., D., Namuth-Covert, G., Nugent, L., Phillips, L., Sandall, T., Kettler, D.,

McCallister. (2011), Avatars go to class: A virtual environment soil science activity, Journal of Natural Resources and Life Science Education, 40, 114-121.

Milgram, P., Takemura, H., Utsumi, A., Kishino, F. (1994), Augmented Reality: A class of displays on the reality-virtuality continuum, In Proceedings of Telemanipulator and Telepresence Technologies. Pp. 2351–34.

Steiner, C.M., Kickmeier-Rust, M.D., Albert, D. (2014), Learning Analytics and Educational Data Mining: An Overview of Recent Techniques, Learning Analytics for and in Serious Games, 6.

Stefan, L. (2016), Virtual worlds in Online Education and Training– An Evaluation Report, 12th International Scientific Conference eLearning and software for Education (eLSE), Bucharest, 21-22 April, "Carol I" National Defence University Publishing House, vol. II. Virtual University of Edinburgh Grid (VUED) (updated 20162/03/07), URL: http://vue.ed.ac.uk/openvue/ (accessed on 5th February 2015).

Wenger, E. (1998), Communities of Practice: Learning, Meaning, and Identity, Cambridge University Press. ISBN 978-0-521-66363-2.

Yousef, A.M.F., Chatti, M.A., Ahmad, I., Schroeder, U., Wosnitza, M. (2015), An Evaluation of Learning Analytics in a Blended MOOC Environment, Proceedings of the Third European MOOCs Stakeholders Summit EMOOCs 2015, pp. 122-130.
These references have been extracted automatically and may have some errors. Signed in users can suggest corrections to these mistakes.
Suggest Corrections to References