You are here:
Serious games design: A mapping of the problems novice game designers experience in designing games
ARTICLE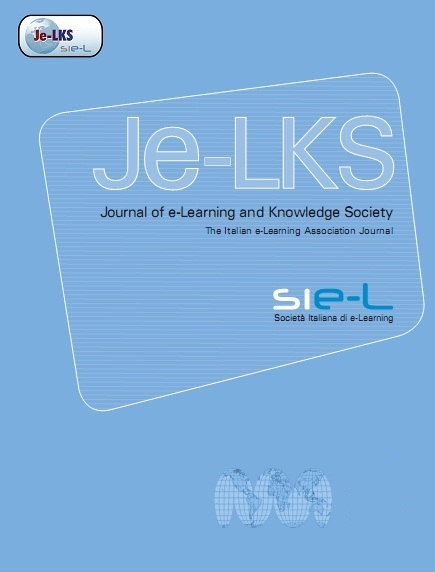 Journal of e-Learning and Knowledge Society Volume 11, Number 3, ISSN 1826-6223 e-ISSN 1826-6223 Publisher: Italian e-Learning Association
Abstract
One of the main problems the field of Serious Game Design is facing concerns the gap between game design and educational design. It has become evident that to optimize the learning from serious games, pedagogical experts should be actively involved. There have been few documented systematic efforts to engage teachers in the design process. To address this limitation, the present study examined the designs of 75 student teachers who attended an undergraduate course on game design. The aim of the study was to map out the difficulties teachers experience when tasked with the design of a serious game. The quality of the designs was determined by examining the presence of game elements and their interrelations. The findings suggest that while some of the designs were satisfactory, overall, the introduction of teachers to game design is challenging as pedagogical expertise does not appear to be directly transferable to game design. This study details the types of problems the teachers as novice designers faced and discusses the implications for future work.
Citation
Theodosiou, S. & Karasavvidis, I. (2015). Serious games design: A mapping of the problems novice game designers experience in designing games. Journal of e-Learning and Knowledge Society, 11(3),. Italian e-Learning Association. Retrieved December 13, 2018 from https://www.learntechlib.org/p/151929/.
Keywords
View References & Citations Map
References
Arnab, S., Lim, T., Carvalho, M.B., Bellotti, F., de Freitas, S., Louchart, S., Suttie, N., Berta, R. & De Gloria, A. (2014), Mapping learning and game mechanics for serious games analysis. British Journal of Educational Technology. Doi:10.1111/bjet.12113.
Bethke, E. (2003), Game development and production. Texas: Wordware Publishing.
Charsky, D. (2010), From edutainment to serious games: A change in the use of game characteristics. Games and Culture. 5(2), 177-198.
Coller, B.D., & Scott, M.J. (2009), Effectiveness of using a videogame to teach a course in mechanical engineering. Computers& Education, 53(3), 900-912.
Dickey, M.D. (2006), Game design narrative for learning: Appropriating adventure game design narrative devices and techniques for the design of interactive learning environments. Educational Technology Research& Development, 54, 245–263.
Dondlinger, M.J. (2007), Educational videogame design: A review of the literature. Journal of Applied Educational Technology, 4(1), 21-31.
Eagle, M., & Barnes, T. (2009), Experimental evaluation of an educational game for improved learning in introductory computing. ACM SIGCSE Bulletin, 41(1), 321-325.
El Mawas, N. (2014), Designing learning scenarios for serious games with ARGILE. Knowledge Management& E-Learning: An International Journal (KM & EL), 6(3), 227-249.
Gee, J.P. (2003), What videogames have to teach us about learning and literacy. NY: Palgrave Macmillan. Karasavvidis, I., Petrodaskalaki, E., & Theodosiou, S. (submitted), IGENAC: A model for SERIOUS Game design.
Kirriemuir, J. & McFarlane, A. (2004), Literature review in games and learning. Futurelab. [ www.futurelab.org.uk/research/lit_reviews.htm ].
Klabbers, J.H.G. (2006), The Magic Circle: Principles of Gaming& Simulation. Sense Publishers, 2006.
Malone, T.W. (1981), Toward a theory of intrinsically motivating instruction. Cognitive Science, 4, 333–369.
Marne, B., Wisdom, J., Huynh-Kim-Bang, B., & Labat, J.M. (2012), The six facets of serious game design: a methodology enhanced by our design pattern library. In 21st Century Learning for 21st Century Skills (pp. 208-221). Springer Berlin Heidelberg.
Marchiori, E.J., Torrente, J., del Blanco, Á., Moreno-Ger, P., Sancho, P., & FernándezManjón, B. (2012), A narrative metaphor to facilitate educational game authoring. Computers& Education, 58(1), 590-599.
Moreno-Ger, P., Martínez-Ortiz, I., Sierra, J.L., & Fernández-Manjón, B. (2008), A content-centric development process model. Computer, 41(3), 24-30.
Nash, P., & Shaffer, D.W. (2013), Epistemic trajectories: mentoring in a game design practicum. Instructional Science, 41(4), 745-771.
Prensky, M. (2001), Digital game-based learning. New York: McGraw-Hill.
Salen, K. (2007), Gaming literacies: A game design study in action. Journal of Educational Multimedia and Hypermedia, 16(3), 301-322.
Salen, K., & Zimmerman, E. (2004), Rules of play: Game design fundamentals. MIT press.
Schäfer, A., Holz, J., Leonhardt, T., Schroeder, U., Brauner, P., & Ziefle, M. (2013), From boring to scoring–a collaborative serious game for learning and practicing mathematical logic for computer science education. Computer Science Education, 23(2), 87-111.
Squire, K. & Jenkins, H. (2003), Harnessing the power of games in education. Insight, 3(1), 5-33. Steinkuehler, C. & Squire, K. (in press), Videogames and Learning. In K. Sawyer (Ed.). Cambridge Handbook of the Learning Sciences, Second Edition. New York, NY: Cambridge University Press. Th ill aina than, N. , & L e im e iste r, J.M. (2014) , Serious Game Development for Educators-A Serious Game Logic and Structure Modeling Language. EDULEARN14 Proceedings, 1196-1206.
Van Rosmalen, P., Wilson, A., & Hummel, H. (2013), Games for and by teachers and learners. To appear in T.M., Connolly, E. Boyle, T. Hainey, G. Baxter& P. MorenoGer, (Eds) Psychology, Pedagogy and Assessment in Serious Games.
Van Staalduinen, J.P., & De Freitas, S. (2011), A Game-Based Learning Framework: Linking Game Design and Learning. Learning to play: exploring the future of education with videogames, 53, 29.
Wouters, P., Oostendorp, H.V., Boonekamp, R., & Spek, E.V.D. (2011), The role of Game Discourse Analysis and curiosity in creating engaging and effective serious games by implementing a back story and foreshadowing. Interacting with Computers, 23(4), 329-336.
Zyda, M. (2005), From visual simulation to virtual reality to games. Computer, 38(9), 25-32.
These references have been extracted automatically and may have some errors. If you see a mistake in the references above, please contact info@learntechlib.org.