You are here: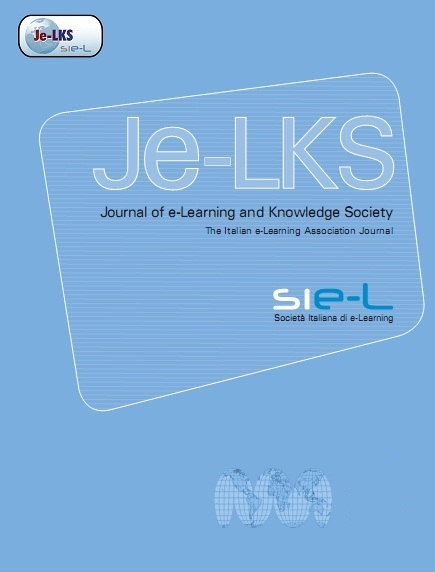 ACT - A new game-based methodology for Anti-Corruption Training
ARTICLE
Journal of e-Learning and Knowledge Society Volume 11, Number 3, ISSN 1826-6223 e-ISSN 1826-6223 Publisher: Italian e-Learning Association
Abstract
Corruption is a powerful impediment to economic and social evolution, and training is one of the most important tools for helping organisations stem and combat the spread of this phenomenon. Current training available in the anticorruption field focuses on conveying information relating to current legislation. However, scientific evidence makes it clear that corruption is a psychological and social phenomenon as well and shows that individuals unconsciously adopt tactics to "rationalize" and hence to accept and justify corrupt behaviour. Explaining these mechanisms can contribute effectively to promoting a new awareness among citizens that can transform their perception of corruption and help them recognise and change their own attitudes and behaviours. When, as in this case, it is necessary to make a deep but non-coercive impact on people's attitudes and beliefs and generate change in individual actions and performance, the most powerful tool we have is certainly games. For these reasons, the Gamification app can make a valuable contribution as a potent catalyst for change. This article will describe ACT (Anti-Corruption Training): a new game-based methodology for anticorruption training.
Citation
Petruzzi, V. & Amicucci, M. (2015). ACT - A new game-based methodology for Anti-Corruption Training. Journal of e-Learning and Knowledge Society, 11(3),. Italian e-Learning Association. Retrieved October 16, 2019 from https://www.learntechlib.org/p/151928/.
Keywords
References
View References & Citations Map
Ackerman D. (1999), Deep Play, New York, Random House.

Anand V., Ashforth B.E., Joshi M. (2005), Business as usual: The acceptance and perpetuation of corruption in organizations, Academy of Management Executive, 19 (4)

Ashforth, B.E. & Anand, V. (2003), The normalization of corruption in organizations, in Kramer R.M., Staw B.M. (eds.), Research in organizational behaviour. 25, Amsterdam, Elsevier. Burke B. (updated 2012 /11 /05) , Gamification 2020 : What I s the Future of Gamification?, URL: https://www.gartner.com/doc/2226015/gamification--futuregamification (accessed on 13th July 2015).

Chou Y.K. (2014), Actionable Gamification: Beyond Points, Badges, and Leaderboards, Octalysis Media.

Csìkszentmihàlyi M. (1975), Beyond Boredom and Anxiety: Experiencing Flow in Work and Play, San Francisco, Jossey-Bass.

Darley J.M. (2005), The Cognitive and Social Psychology of Contagious Organizational Corruption, Brooklyn Law Review, 70 (4).

Diener E., Dineen J., Endresen K., Beaman A.L., Fraser S.C. (1975), Effects of altered responsability, cognitive set and modeling on physical aggression and deindividuation, Journal of Personality and Social Psychology, 31 (2).

Fox J., Bailenson J.N. (2009), Media Psychology, 12 (1)

Huizinga J. (2002), Homo ludens, Torino, Einaudi.

Knowles M., Holton E.F. III, Swanson R.A. (2008), Quando l'adulto impara. Andragogia e sviluppo della persona, Franco Angeli, Milano.

Landriscina F. (2007), Ma si fanno i conti con il carico cognitivo?, Journal of e-Learning and Knowledge Society, 3 (1).

McGonigal J. (2011), La realtà in gioco, Milano, Apogeo.

Petruzzi V. (2015), Il potere della Gamification: usare il gioco per creare cambiamenti nei comportamenti e nelle performance individuali, Milano, Franco Angeli.

Prensky M. (2007), Digital Game-Based Learning, St. Paul, Paragon House.

Strano M. (2003), Manuale di criminologia clinica, Firenze, SEE.

Sweller J. (1988), Cognitive load during problemsolving: Effects on learning, Cognitive Science, 12 (2).

Thaler R.H., Sunstein C.R. (2008), Nudge: Improving Decisions about Health, Wealth, and Happiness, New Haven and London, Yale University Press.
These references have been extracted automatically and may have some errors. Signed in users can suggest corrections to these mistakes.
Suggest Corrections to References