You are here:
The design and implementation of a gamified assessment
ARTICLE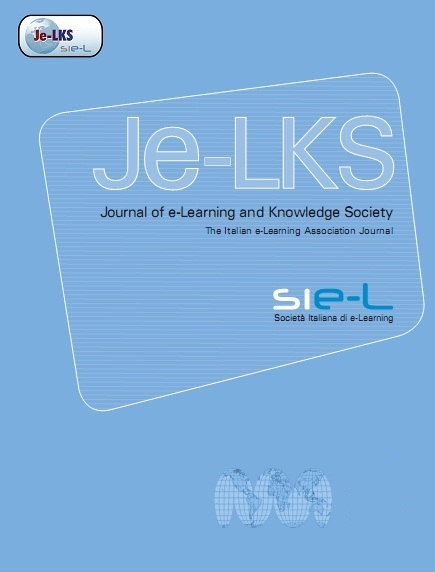 Journal of e-Learning and Knowledge Society Volume 11, Number 3, ISSN 1826-6223 e-ISSN 1826-6223 Publisher: Italian e-Learning Association
Abstract
In this research, a gamified assessment was designed considering the theoretical basis and implemented. The dynamics, mechanics and components that Werbach & Hunter (2012) defined for gamification, used in the design process. Eleven undergraduate students participated in the implementation. Learners' opinions about implementation were collected by questionnaire and focus-group interview. It was found that the design elicited enjoyment, motivation, flow, and learning. Besides it did not cause exam anxiety. Apart from these positive opinions, some learners complained about the visibility of the leader board during assessment and the presence of locked levels. It is believed that this study will serve as a model since it involves a detailed gamified assessment design that is in line with the theoretical foundations and contains various gamification components as avatars, levels, content unlocking, the leader board, achievements, virtual goods, points, teams, and badges.
Citation
Arkn Kocadere, S. & Çağlar, Ş. (2015). The design and implementation of a gamified assessment. Journal of e-Learning and Knowledge Society, 11(3),. Italian e-Learning Association. Retrieved December 13, 2018 from https://www.learntechlib.org/p/151921/.
Keywords
View References & Citations Map
References
Abramovich, S., Schunn, C., & Higashi, R.M. (2013), Are badges useful in education?: it depends upon the type of badge and expertise of learner. Educational Technology Research and Development, 61, 217-232.
Amrein, A.L., & Berliner, D.C. (2002), High-stakes testing& Student learning. Education policy analysis archives, 10, 18.
Antin, J., & Churchill, E.F. (2011), Badges in social media: A social psychological perspective. Paper presented at the CHI 2011 Gamification Workshop Proceedings (Vancouver, BC, Canada, 2011).
Boticki, I., Baksa, J., Seow, P., & Looi, C.-K. (2015), Usage of a mobile social learning platform with virtual badges in a primary school. Computers& Education, 86, 120-136.
Bressler, D., & Bodzin, A. (2013), A mixed methods assessment of students' flow experiences during a mobile augmented reality science game. Journal of Computer Assisted Learning, 29(6), 505-517.
Cheong, C., Cheong, F., & Filippou, J. (2013), Quick Quiz: A Gamified Approach for Enhancing Learning. Paper presented at the PACIS.
Csikszentmihalyi, M. (2014), Flow. In Flow and the Foundations of Positive Psychology (pp.227-238). Claremont, CA: Springer.
De-Marcos, L., Domínguez, A., Saenz-de-Navarrete, J., & Pagés, C. (2014), An empirical study comparing gamification and social networking on e-learning. Computers& Education, 75, 82-91.
Deterding, S., Dixon, D., Khaled, R., & Nacke, L. (2011), From game design elements to gamefulness: defining gamification. Paper presented at the Proceedings of the 15th International Academic MindTrek Conference: Envisioning Future Media Environments.
Di Bitonto, P., Corriero, N., Pesare, E., Rossano, V., & Roselli, T. (2014), Training and Learning in e-Health Using the Gamification Approach: The Trainer Interaction Universal Access in Human-Computer Interaction. Aging and Assistive Environments (pp. 228-237): Springer.
Gardner, J.N., & Gardner, J. (2012), Assessment and learning: Sage.
Gee, J.P. (2014), What videogames have to teach us about learning and literacy: Macmillan.
Hanus, M.D., & Fox, J. (2015), Assessing the effects of gamification in the classroom: A longitudinal study on intrinsic motivation, social comparison, satisfaction, effort, and academic performance. Computers& Education, 80, 152-161.
Hattie, J., & Timperley, H. (2007), The power of feedback. Review of educational research, 77(1), 81-112.
Ibanez, M.-B., Di-Serio, A., & Delgado-Kloos, C. (2014), Gamification for Engaging Computer ScienceS tuden ts in Learning Activities: A CaseS tudy. Learning Technologies, IEEE Transactions on, 7(3), 291-301.
Kapp, K.M. (2012), The gamification of learning and instruction: game-based methods and strategies for training and education: John Wiley& Sons.
Liao, C.C., Chen, Z.H., Cheng, H.N., Chen, F.C., & Chan, T.W. (2011). My-MiniPet: a handheld pet-nurturing game to engage students in arithmetic practices. Journal of Computer Assisted Learning, 27(1), 76-89.
Moccozet, L., Tardy, C., Opprecht, W., & Léonard, M. (2013), Gamification-based assessment of groupwork. Paper presented at the Interactive Collaborative Learning (ICL), 2013 International Conference on.
O'Donovan, S. (2012), Gamification of the games course. Acesso em, 17, 1-8.
Prensky, M. (2003), Digital game-based learning. Computers in Entertainment (CIE), 1(1), 21-21.
Prensky, M. (2004), Use their tools! Speak their language. Retrieved August, 2, 2008.
Sánchez, J., & Olivares, R. (2011), Problem solving and collaboration using mobile serious games. Computers& Education, 57(3), 1943-1952.
Schwabe, G., & Göth, C. (2005), Mobile learning with a mobile game: design and motivational effects. Journal of Computer Assisted Learning, 21(3), 204-216.
Sillaots, M. (2014), Achieving Flow Through Gamification: A Study on Re-Designing Research Methods Courses. Paper presented at the European Conference on Games Based Learning.
Stiggins, R.J., & Chappuis, J. (2012), An introduction to student-involved assessment for learning: Pearson Boston.
Su, C.H., & Cheng, C.H. (2015), A mobile gamification learning system for improving the learning motivation and achievements. Journal of Computer Assisted Learning, 31(3), 268-286.
Wang, A.I. (2015), The wear out effect of a game-based student response system. Computers& Education, 82, 217-227.
Werbach, K., & Hunter, D. (2012), For the win: How game thinking can revolutionize your business: Wharton Digital Press.
Wong, L.-H., Hsu, C.-K., Sun, J., & Boticki, I. (2013), How flexible grouping affects the collaborative patterns in a mobile-assisted Chinese character learning game? Journal of Educational Technology& Society, 16(2), 174-187.
Wood, L.C., Teräs, H., & Reiners, T. (2013), The role of gamification and game-based learning in authentic assessment within virtual environments. Paper presented at the Procedings of HERDSA 2013. Auckland, New Zealand: HERDSA.
Zichermann, G., & Cunningham, C. (2011), Gamification by design: Implementing game mechanics in web and mobile apps: " O'Reilly Media, Inc."
These references have been extracted automatically and may have some errors. If you see a mistake in the references above, please contact info@learntechlib.org.