You are here: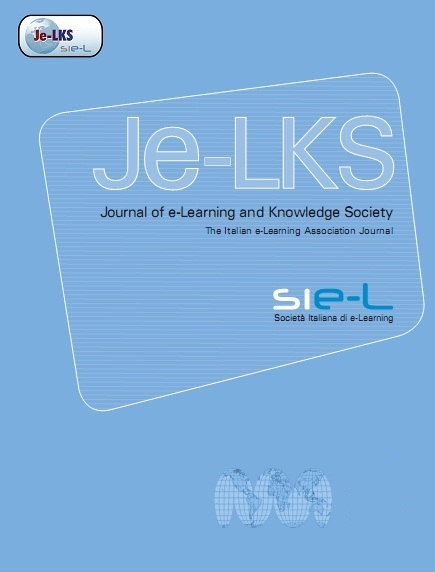 Personalized Learning in Mathematics
ARTICLE
Journal of e-Learning and Knowledge Society Volume 11, Number 1, ISSN 1826-6223 e-ISSN 1826-6223 Publisher: Italian e-Learning Association
Abstract
This work shows an innovative solution in order to enable the predisposition to the mathematics, by using auto-regulation of learning objectives, personalization for obtaining, in such a way, a learning path more compliant to the learner's needs. In this paper, we focus on an e-learning module, aimed to foster theoretical thinking in facing linear algebra problems. It has been developed assuming an integrated approach that combines structural and operational view of a concept. It consists in interactive and dynamic learning activities, based on the duality process-object, suitably formalised in an appropriate representation of mathematical operational knowledge. The module is available into the e-learning platform IWT where new interactive Learning Activities show the potentiality of the symbolic calculus of the integrated Wolfram Mathematica environment. Due to the given knowledge representation and intelligent features of IWT, these learning activities can be delivered within a personalised learning work, according to the individual pen-ended tasks have been used both to complete and to validate the module.
Citation
Albano, G., Miranda, S. & Pierri, A. (2015). Personalized Learning in Mathematics. Journal of e-Learning and Knowledge Society, 11(1),. Italian e-Learning Association. Retrieved November 18, 2019 from https://www.learntechlib.org/p/150724/.
Keywords
References
View References & Citations Map
Albano, G. (2013), Structural and operational mathematics: an integrated approach in e-learning. In Lindmeier, A.M. & Heinze, A. (Eds.). Proc. Of the 37th Conference of the International Group for the Psychology of Mathematics Education (PME-37), Vol. 5, P. 6. Kiel, Germany: PME.

Albano, G. (2011), Mathematics education: teaching and learning opportunities in blended learning. In A. Juan, A. Huertas, S. Trenholm and C. Steegmann (eds): Teaching Mathematics Online: Emergent Technologies and Methodologies– pp. 60-89.

Albano, G., Ferrari, P.L. (2008), Integrating technology and research in mathematics education: the case of e-learning. In Garcia Peñalvo (ed.): Advances in E-Learning: Experiences and Methodologies, pp. 132-148.

Agostinelli S. (2007), L'approccio orientate agli artefatti, nuovo modo di gestione delle conoscenze per l'e-learning. Je-LKS — Methodologies and scenarios-Vol. 3, N. 3.

Bardelle, C., Di Martino, P. (2012), E-learning in secondary–tertiary transition in mathematics: for what purpose? ZDM, Volume 44, issue 6 (October 2012), P. 787

Capuano, N., Gaeta, M., Marengo, A., Miranda, S., Orciuoli, F., Ritrovato, P. (2009), LIA: an Intelligent Advisor for e-Learning. Intearctive Learning Environments, Vol. 17, Issue 3, pp. 221-239

Crowley, L. & Tall, D. (1999), The roles of cognitive units, connections and procedures in achieving goals in college algebra. Proc. Of the 23rd Conference of PME, 2, 225-232.

D'Amore, B. (2000), La complessità dell'educazione e della costruzione dei saperi. Riforma e didattica. 4, 35—40 (2000).

Descamps, S.X., Bass, H., Bolanos Evia, G., Seiler, R., Seppala, M. (2006), E-learning mathematics. Panel promoted by the Spanish Conference of Mathematics'Deans. In Proceedings of International Conference of Mathematicians, Madrid, Spain, 2006. Retrieved February 18, 2010, from http://webalt.math.helsinki.fi/content/e16/e301/E787/eLearningMathematics_eng.pdf

Dubinsky, E.(1991), Reflective abstraction in advanced mathematical thinking. In D. Tall (Ed.). Advanced mathemathical thinking (pp. 95-123). Dordrecht (NL): Kluwer.

Gaeta, M., Orciuoli, F., Ritrovato, P. (2009), Advanced Ontology Management System for Personalised e-Learning. Knowledge-Based Systems– Special Issue on AI and Blended Learning, 22, 292–301.

Gray, E.M., & Tall, D. (1994), Duality, ambiguity and flexibility: a proceptual view of simple arithmetic. The Journal for Research in Mathematics Education, 26 (2), 115-141.

Harel, G., Selden, A., & Selden, J. (2006), Advanced Mathematical Thinking. In A. Gutiérrez, & P. Boero (Eds.), Handbook of Research on the Psychology of Mathematics Education. Past, Present, Future (pp. 147-172). Sense Publishers.

Lin, X. (2001). Designing metacognitive activities. ETR & D 49(2):23–40

Mayer, R.H. (1999), Designing instruction for constructivist learning. In C.M. Reigeluth, (Eds.), In C.M. Reigeluth, (Ed), Instructional-design theories and models: A new paradigm of instructional theory, Volume II. Pp,141-160. Mahwah, NJ: Lawrence Erlbaum Associates.

Mangione G.R., Pierri A. (2009), A model for generating personalized learning– Int. J. Knowledge and Learning 4(3).

Maracci, M. (2008). Combining different theoretical perspectives for analyzing students' difficulties in vector spaces theory. ZDM Mathematics Education, 40: 265-276.

McCombs, B.L. (2001), Self-regulated learning and academic achievement: A phenomenological view. In B.J. Zimmerman& D.H. Schunk (Eds.), Self-regulated learning and academic achievement: Theory, research, and practice (2nd ed.) (pp. 67-123). Mahwah, NJ:Erlbaum.

Miranda, S., Mangione, G.R., Orciuoli, F., Gaeta, M., Loia, V. (2013), Automatic generation of assessment objects and Remedial Works for MOOCs. 12th International Conference on Information Technology Based Higher Education and Training, ITHET 2013, art. No. 6671018.

Nussbaumer, A., Steiner, C., & Albert, D. (2008), Visualisation tools for supporting self-regulated learning through exploiting competence structures. Paper accepted for presentation at the Special Track on Intelligent Assistance for Self-Directed and Organizational Learninga t the International Conference on Knowledge Management, 3-5 September, Graz. OECD : Learning for tomorrow's world. First results from PISA 2003. (2004). Retrieved January 28, 2011, from the WorldWide Web: http://www.oecd.org/Dataoecd/1/60/34002216.pdf

Sfard, A. (1991), On the dual nature of mathematical conceptions: reflections on processes and objects as different sides of the same coin. Educational Studies in Mathematics 22, 1-36.

Zan, R. (2000), A metacognitive intervention in Mathematics at University level. International Journal Math. Educ. Sci. Technol., 31,1.

Zimmerman, B.J. (2000), Attaining self-regulation. A social cognitive perspective. 13–40.
These references have been extracted automatically and may have some errors. Signed in users can suggest corrections to these mistakes.
Suggest Corrections to References