You are here:
An Interactive Multimedia Development Life Cycle Model Based on a Cognitive Theory of Multimedia Learning
PROCEEDINGS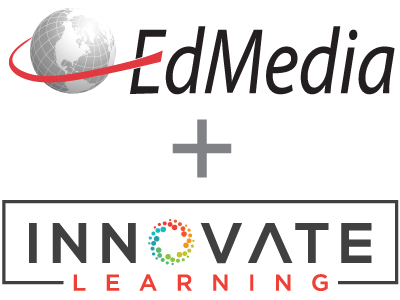 EdMedia + Innovate Learning, in Tampere, Finland ISBN 978-1-939797-08-7 Publisher: Association for the Advancement of Computing in Education (AACE), Waynesville, NC
Abstract
While multimedia software has the potential to provide successful teaching and learning experiences for both teachers and learners, the development of these applications for effective use in an educational context is a complex task. This paper presents an educational multimedia software development model based on a cognitive theory of multimedia learning. The model describes the technical process of the software development and its value in a teaching and learning environment, understood through a comprehensive set of educational principles relating to different phases of the model itself as well as guidelines from an instructional system design and an educational framework. Different components of the model are discussed followed by demonstration through the development of a specific multimedia project, My Maths Story, for teaching and learning mathematics in the lower primary years.
Citation
Moradmand, N., Datta, A. & Oakley, G. (2014). An Interactive Multimedia Development Life Cycle Model Based on a Cognitive Theory of Multimedia Learning. In J. Viteli & M. Leikomaa (Eds.), Proceedings of EdMedia 2014--World Conference on Educational Media and Technology (pp. 746-761). Tampere, Finland: Association for the Advancement of Computing in Education (AACE). Retrieved August 17, 2018 from https://www.learntechlib.org/primary/p/147578/.
View References & Citations Map
References
AITSL. (2012). Australian National Standards for Teachers-Information and Communication Technologies (ICT), from http://www.teacherstandards.aitsl.edu.au/hottopics Alan, D., Janet, F., Gregory, A., & Russell, B. (2004). Human-computer interaction: Prentice Hall Englewood Cliffs.
Angeli, C., & Valanides, N. (2009). Epistemological and methodological issues for the conceptualization, development, and assessment of ICT-TPCK: Advances in technological pedagogical content knowledge (TPCK). Computers& Education, 52(1), 154-168.
Atweh, B., & Goos, M. (2011). The Australian mathematics curriculum: A move forward or back to the future? Australian Journal of Education, 55(3), 214228.
Balanskat, A., Blamire, R., & Kefala, S. (2006). The ICT impact report. European Schoolnet.
Barry, C., & Lang, M. (2001). A survey of multimedia and web development techniques and methodology usage. MultiMedia, IEEE, 8(2), 52-60.
Bassil, Y. (2012). A Simulation Model for the Waterfall Software Development LifeCycle. ArXiv preprint arXiv:1205.6904.
Briggs, L.J. (1991). Instructional design: Principles and applications: Educational Technology.
Briggs, L.J. (1997). Instructional design: Principles and applications. Englewood Cliffs, NJ: Educational Technology Publications.
Cairncross, S., & Mannion, M. (2001). Interactive multimedia and learning: Realizing the benefits. Innovations in education and teaching international, 38(2), 156164.
Carter, J. (2002). A framework for the development of multimedia systems for use in engineering education. Computers& Education, 39(2), 111-128.
Clark, R.C., & Mayer, R.E. (2011). E-learning and the science of instruction: Proven guidelines for consumers and designers of multimedia learning: Pfeiffer.
Clements, D. (1987). Longitudinal study of the effects of Logo programming on cognitive abilities and achievement. Journal of Educational Computing Research, 3(1), 73-94.
Clements, D. (1993). Young Children and Computers: Crossroads and Directions from Research. Research in Review. Young children, 48(2), 56-64.
Clements, D. (2002). Computers in early childhood mathematics. Contemporary issues in early childhood, 3(2), 160-181.
CMS. (2008). Selecting a development approach. Centers for Medicare & Medicaid Services (CMS) Office of Information Service,United States Department of Health and Human Services (HHS), from http://www.cms.gov/ResearchStatistics-Data-and-Systems/CMS-Information DASHDASH
Dede, C. (1998). Learning with Technology. 1998 ASCD Yearbook: ERIC. DEEWR. (2008-2011). Achieving a national vision for ICT in schools. Australia. From http://foi.deewr.gov.au/system/files/doc/other/success_through_partnership_acHieving_a_national_vision_for_ict_in_schools.pdf
Dick, W., & Carey, L. (1996). The systematic design of instruction. New York: Harper Collins College Publishers.
Doolittle, P.E., McNeill, A.L., Terry, K.P., & Scheer, S.B. (2005). Multimedia, cognitive load and pedagogy. Interactive multimedia in education and training, 184-212.
Engels, G., Sauer, S., & Neu, B. (2003). Integrating software engineering and usercentred design for multimedia software developments. Paper presented at the Human Centric Computing Languages and Environments, 2003. Proceedings. 2003 IEEE Symposium on.
Evely, M., Nichol, B., & Laughlin, M. (1985). The teaching of handwriting: Ministry of Education.
Frey, B.A., & Sutton, J.M. (2010). A model for developing multimedia learning projects. Merlot journal of online learning and teaching, 6(2).
Galitz, W.O. (2007). The essential guide to user interface design: an introduction to GUI design principles and techniques: Wiley.
Garzotto, F., Paolini, P., & Schwabe, D. (1993). HDM—a model-based approach to hypertext application design. ACM Transactions on Information Systems (TOIS), 11(1), 1-26.
Goodwin, K. (2008). The impact of interactive multimedia on kindergarten students' representations of fractions. Issues in Educational Research, 18(2), 103-117.
Heid, M.K. (2005). Technology in mathematics education: Tapping into visions of the future. Technology-supported mathematics learning environments, 67, 345.
Hoogeveen, M. (1997). Toward a theory of the effectiveness of multimedia systems. International Journal of Human-Computer Interaction, 9(2), 151-168.
Isakowitz, T., Stohr, E.A., & Balasubramanian, P. (1995). RMM: a methodology for structured hypermedia design. Communications of the ACM, 38(8), 34-44.
Kim, M.C., & Hannafin, M.J. (2011). Scaffolding problem solving in technology-enhanced learning environments (TELEs): Bridging research and theory with practice. Computers& Education, 56(2), 403-417.
Kozma, R.B. (2003). Technology and classroom practices: An international study. Journal of Research on Technology in Education, 36(1), 1-14.
Lange, D.B. (1996). An object‐oriented design approach for developing hypermedia information systems. Journal of Organizational Computing and Electronic Commerce, 6(3), 269-293.
Liu, S.-H. (2011). Factors related to pedagogical beliefs of teachers and technology integration. Computers& Education, 56(4), 1012-1022.
Manches, A., O'Malley, C., & Benford, S. (2010). The role of physical representations in solving number problems: A comparison of young children's use of physical and virtual materials. Computers& Education, 54(3), 622-640.
Masalski, W.J. (2005). Technology-Supported Mathematics Learning Environments (Sixty-Seventh Yearbook)[2005 NCTM Yearbook (67th)] : ERIC.
Mayer, R.E. (2003). The promise of multimedia learning: using the same instructional design methods across different media. Learning and instruction, 13(2), 125-139.
McArdle, G. (1991). Developing instructional design: A Step By Step Guide to Successful. Menlo Park, California: Crisp Publications.
Merrill, M. (1994). Research support for component display theory. Instructional design theory. Englewood Cliffs, NJ: Educational Technology Publications.
Mishra, S., & Sharma, R.C. (2005). Interactive multimedia in education and training: Igi Global.
Mišić, V. (2002). Multimedia Application Development Lifecycle Retrieved 16th December, 2013, from http://teaching.ust.hk/~ismt337/slides/mm10lifecycle.ppt Moradmand, N., Datta, A., & Oakley, G. (2013a). A computer-assisted framework based on a cognitivist learning theory for teaching mathematics in the early primary years. Australian Educational Computing 27(2), 39-45.
Morehead, P., & LaBeau, B. (2005). The continuing challenges of technology integration for teachers. Essays in Education, 15, 120-127.
Mumtaz, S. (2000). Factors affecting teachers' use of information and communications technology: a review of the literature. Journal of information technology for teacher education, 9(3), 319-342.
Norman, D.A. (2002). The design of everyday things: Basic books.
Phelps, R., Graham, A., & Watts, T. (2011). Acknowledging the complexity and diversity of historical and cultural ICT professional learning practices in schools. Asia-Pacific Journal of Teacher Education, 39(1), 47-63.
Pleuß, A., & Hußmann, H. (2007). Integrating authoring tools into model-driven development of interactive multimedia applications Human-Computer Interaction. Interaction Design and Usability (pp. 1168-1177): Springer.
Redmond, M., & Sweeney, N. (1997). Multimedia production: nonlinear storytelling using digital technologies. Contextual Media: Multimedia and Interpretation, 87.
Reigeluth, C.M. (1983). Instructional-design theories and models: A new paradigm of instructional theory (Vol. 2): Routledge.
Roblyer, M.D., Edwards, J., & Havriluk, M.A. (2006). Integrating educational technology into teaching: Pearson/Merrill Prentice Hall.
Royce, W.W. (1970). Managing the development of large software systems. Paper presented at the proceedings of IEEE WESCON.
Saracho, O.N., & Spodek, B. (2009). Educating the young mathematician: The twentieth century and beyond. Early Childhood Education Journal, 36(4), 305-312.
Schacter, J. (1999). The impact of education technology on student achievement. What the Most current Research Has to Say. San Francisco: Milken Exchange.
Schwabe, D., & Rossi, G. (1995). The object-oriented hypermedia design model. Communications of the ACM, 38(8), 45-46.
Seels, B., & Glasgow, Z. (1998). Making instructional design decisions: Merrill.
Sharp, H., Rogers, Y., & Preece, J. (2007). Interaction design: beyond humancomputer interaction. Chichester: John Whiley & Sons Ltd.
Sommerville, I. (2011). Software processes (Ninth Edition ed.).
Steinmetz, R., & Nahrstedt, K. (2004). Multimedia applications: Springer.
Woodland, D.E., & Szul, L.F. (1999). Visualization Ability, Proofreading, and Color Configurations of a Computer Screen-Interactions and Implications. Information Technology Learning And Performance Journal, 17, 15-22.
These references have been extracted automatically and may have some errors. If you see a mistake in the references above, please contact info@learntechlib.org.