You are here: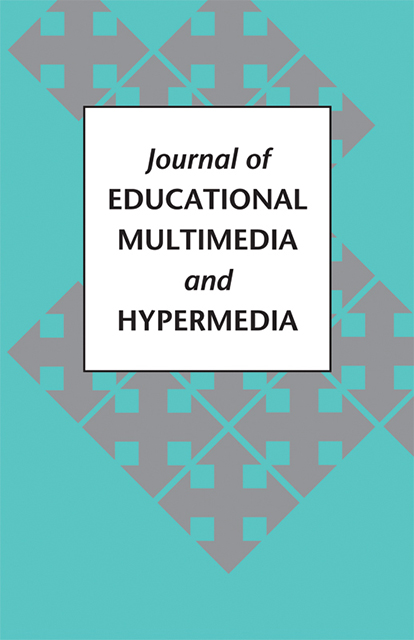 Designing digital resources to effectively scaffold teachers' learning
ARTICLE
Cory Callahan, University of Alabama, United States
Journal of Educational Multimedia and Hypermedia Volume 23, Number 4, ISSN 1055-8896 Publisher: Association for the Advancement of Computing in Education (AACE), Waynesville, NC USA
Abstract
This article synthesizes findings from an on-going line of inquiry investigating the potential of educatively scaffolded digital resources to help teachers understand and implement a complex model of history instruction, problem-based historical inquiry. The digital resources developed for this inquiry provided teachers with wise-practice curricula that were also scaffolded with opportunities to develop their craft. Spanning two design-based research investigations, I followed six social studies teachers as they planned and implemented lessons designed from encounters with those scaffolded online materials. Here, I specifically concentrate on interface design principles that informed the construction of those digital resources and address two research questions: Do teachers interact with educatively scaffolded digital resources in substantially different ways from traditional materials?, and Can digital resources be educatively scaffolded to help social studies teachers better understand and implement problem-based historical inquiry?
Citation
Callahan, C. (2014). Designing digital resources to effectively scaffold teachers' learning. Journal of Educational Multimedia and Hypermedia, 23(4), 309-334. Waynesville, NC USA: Association for the Advancement of Computing in Education (AACE). Retrieved September 25, 2022 from https://www.learntechlib.org/primary/p/147299/.
References
View References & Citations Map
Beyer, C., & Davis, E. (2009). Using educative curriculum materials to support pre-service elementary teachers' curricular planning: a comparison between two different forms of support. Curriculum Inquiry, 39(5), 679-703.
Burns, M. (2006). A Thousand Words: Promoting teachers' visual literacy skills Multimedia and Internet@Schools, 13(1), 16-20.
Callahan, C. (2012, november). Purposeful learning with modern technologies. Education Matters, 4. Callahan, C. (2013a). Analyzing historical photographs to promote civic competence. Social Studies Research and Practice, 8(1). Callahan, C. (2013b). Thinking historically about the Depression Era. Social Designing Digital Resources 331
Callahan, C., Saye, J., & Brush, T. (2010). Educative curriculum materials to develop social studies teachers' professional teaching knowledge. International Journal of Social Education, 24(2), 5-33.
Callahan, C., Saye, J., & Brush, T. (2013). Designing more effective educative curriculum materials for the social studies. Contemporary Issues in Technology and Teacher Education, 13(2), 126-155.
Callahan, C., Saye, J., & Brush, T. (2014). Social studies teachers' interactions with second generation web-based educative curricula. Journal of Social Studies Research, 38(3), 129-141.
Creswell, J. (2013). Research design: Qualitative, quantitative, and mixed methods approaches: Sage Publications, Incorporated.
Demetriadis, S., Papadopoulos, P., Stamelos, I., & Fischer, F. (2008). The effect of scaffolding students' context-generating cognitive activity in technologyenhanced case-based learning. Computers& Education, 51(2), 939-954.
Ding, M., & Carlson, M. (2013). Elementary teachers' learning to construct high-quality mathematics lesson plans: a use of the IES recommendations. The Elementary School Journal, 113(3), 359-385.
Estes, T., Mintz, S., & Gunter, M. (2011). Instruction: A models approach (6th ed.). Boston: Pearson. Furberg, A. (2009). Socio‐cultural aspects of prompting student reflection in web‐based inquiry learning environments. Journal of Computer Assisted Learning, 25(4), 397-409.
Goldstein, E. (2008). Cognitive psychology: Connecting mind, research, and everyday experience (2nd ed.): Cengage learning.
Grossman, P., & Thompson, C. (2008). Learning from curriculum materials: Scaffolds for new teachers? Teaching and teacher education, 24, 20142026.
Krug, S. (2006). Don't make me think! A commonsense approach to web usability, 2nd edition. Berkeley, Ca: new riders. Land, S., & Zembal-Saul, C. (2003). Scaffolding reflection and articulation of scientific expectations in a data-rich, project-based learning environment: an investigation of progress portfolio. Education Technology Research and Designing Digital Resources 333
Pirolli, P. (2009). An elementary social information foraging model. Paper presented at the aCM ChI 2009 Conference on human Factors in Computing Systems. Puntamebkar, S., & Hubscher, R. (2005). Tools for Scaffolding students in a complex learning environment: what have we gained and what have we missed? Educational Psychologist, 40(1), 1-12.
Saye, J., & Brush, T. (1999). Student engagement with social issues in a multimedia-supported learning environment. Social Education, 27(4), 472-504.
Saye, J., & Brush, T. (2002). Scaffolding critical reasoning about history and social issues in multimedia-supported learning environments. Educational Technology Research and Development, 50(3), 77-96.
Saye, J., & Brush, T. (2004). Promoting civic competence through problembased history learning environments. In G. Hamot, J. Patrick& R. Leming (Eds.), Civic learning in teacher education: International perspectives on education for democracy in the preparation of teachers (Vol. 3). Bloomington, Indiana: ErIC Clearinghouse for Social Studies/Social Science Education.
Saye, J., & Brush, T. (2005). The Persistent Issues in history network. Social Education, 69(3), 168-171. Schneider, R., Krajcik, J., & Marx, R. (2000). The role of educative curriculum materials in reforming science education. In B. Fishman& S.O'ConnerDivelbiss (Eds.), Fourth International Conference of the Learning Sciences (pp. 54-61). Mahwah, new Jersey: Erlbaum
Simon, K., & Klein, J. (2007). The Impact of scaffolding and student achievement levels in a problem-based learning environment. Instructional Science, 35, 41–72.
Wertsch, J. (1998). Mind as Action. New york: oxford University Press.
Wineburg, S. (1991). Historical problem solving: a study of the cognitive processes used in the evaluation of documentary and pictorial evidence. Journal of Educational Psychology, 83, 73-87.
These references have been extracted automatically and may have some errors. Signed in users can suggest corrections to these mistakes.
Suggest Corrections to References