You are here: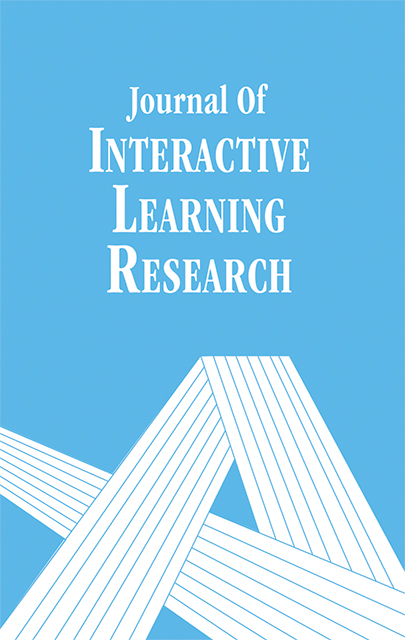 Search Engine Technology Impetus for the Knowledge Revolution in Business Education
Article
Owen P. Hall, Jr., Pepperdine University, United States
Journal of Interactive Learning Research Volume 15, Number 2, ISSN 1093-023X Publisher: Association for the Advancement of Computing in Education (AACE), Waynesville, NC
Abstract
Two equally powerful forces are helping shape the future of business education. First is the growing requirement for competent business managers on a worldwide basis. Second are the changing demands on our academic libraries as a result of the ongoing digital revolution. These dynamics call for new and innovative education systems such as asynchronous learning networks. Internet based learning nets are designed to optimize content delivery in a user-friendly environment. Search engine technology is both a basic ingredient of asynchronous learning as well as the centerpiece of the modern academic library. A primary role for such knowledge amplifiers is to identify content that specifically supports the lesson plan. The purpose of this article is to highlight the growing relationship between advances in search engine technology and the delivery of robust business educational through the Internet.
Citation
Hall, Jr., O.P. (2004). Search Engine Technology Impetus for the Knowledge Revolution in Business Education. Journal of Interactive Learning Research, 15(2), 135-146. Norfolk, VA: Association for the Advancement of Computing in Education (AACE). Retrieved May 18, 2022 from https://www.learntechlib.org/primary/p/12840/.
Keywords
References
View References & Citations Map
Allen, M. (2000). The myth of intelligent agents. Online, 24(6), 45.
Albanese, A. (2002). Library budgets squeezed by lower revenues. Library Journal, 127(16), 19.
Bauer, T., & Leake, D. (2002). Using document access sequences to recommend customized information. IEEE Intelligent Systems, 17(6), 27.
Beagle, D. (2000). Web-based learning environments: Do libraries matter? College & Research Libraries, 61(4), 367.
Carlson, S. (2003, June 6). Essays imagine the future of libraries—and librarians take the predictions seriously. The Chronicle of Higher Education, A35.
Chen, Z., Meng, X., Fowler, R.H., Zhu, B. (2001). Real-time adaptive feature and document learning for web search. Journal of the American Society for Information Science and Technology, 52(8), 655.
Coppola, N.W., & Hiltz, S.R. (2002). Becoming a virtual professor: Pedagogical roles and asynchronous learning networks. Journal of Management Information Systems, 18(4), 169.
Detlor, B., & Arsenault, C. (2002). Web information seeking and retrieval in library contexts: Towards an intelligent agent solution. Online Information Review, 26(6), 404.
Edwards, S., & Bruce, C. (2002). Reflective internet searching: An action research model. The Learning Organization, 9(3/4), 180.
Goldsborough, R. (2000). In search of a higher intelligence. Office Solutions, 17(1), 52.
Graves, W. (1999). The instructional management system cooperative: converting random acts of progress into global progress. Educom Review, 34(6), 32.
Harden, R. (2002). E-learning and all that jazz. Medical Teacher, 24(5), 572.
Herberger, R. (2001). The future of E-learning. Selections, 1(1), p28.
Jackson, M. (2002). The advent of portals. Library Journal, 127(15), 36.
Jones, S. (2002). The internet goes to college. Pew internet & American life project, Washington, DC.
King, T. & Bannon, E. (2002). At what cost? Higher Education Project, Washington, DC.
Levine, D. (2002, December 16). Lengthy stock slump gives university endowments a failing grade. San Francisco Business Times. 146 Hall
Moore, A. (2003). The digital content market: Rushing toward fate. E-Content Leadership Series, 1, 2-3.
Novak, D. (2002). The evolution of internet research: Shift allegiances. Online, 27(1), 18.
Pelz, A. (2002). The next generation of search. KM World, 11(1), 14.
Rebman, C., Aiken, M., Cegielski, C. (2003). Speech recognition in the human-computer interface. Information & Management, 40(6), 509.
Schwartz, E. (2000). Information management gets smart. Online, 24(6), 45.
Wang, X.C., Hinn, M., & Kanfer, A.G. (2001). Potential of computer-supported collaborative learning with different learning styles. Journal of Research on Technology in Education, 34(1), 75.
Wind, J., & Rangaswatty, A. (2001). Customerization: The next revolution in mass customization. Journal of Interactive Marketing, 15(1), 13.
These references have been extracted automatically and may have some errors. Signed in users can suggest corrections to these mistakes.
Suggest Corrections to References