You are here: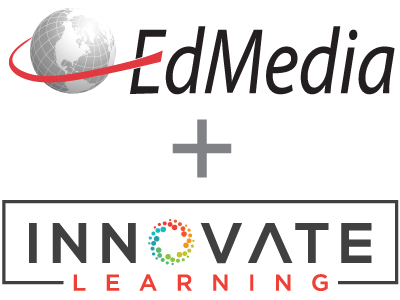 Web 2.0 Tools for Constructivist Online Professional Development
PROCEEDINGS
EdMedia + Innovate Learning, in Victoria, Canada ISBN 978-1-939797-03-2 Publisher: Association for the Advancement of Computing in Education (AACE), Waynesville, NC
Abstract
Abstract: Despite extensive research on effective professional development (PD), a significant divide exists between the application of PD theory and its implementation (Scott, 2010). Particularly with the introduction of technology into learning contexts, there exists an opportunity for PD reform in which educators experience the same Web 2.0 technologies and social media as their students. Exploration of PD with such technologies presents possibilities for their use in educational settings, while also engaging teachers in 21st century learning. This paper will briefly outline Web 2.0 resource tools (i.e. blogs, Twitter, and social book-marking tools) for a constructivist approach to innovative professional learning.
Citation
Cooper, T. & Johnson, C. (2013). Web 2.0 Tools for Constructivist Online Professional Development. In J. Herrington, A. Couros & V. Irvine (Eds.), Proceedings of EdMedia 2013--World Conference on Educational Media and Technology (pp. 1923-1926). Victoria, Canada: Association for the Advancement of Computing in Education (AACE). Retrieved May 27, 2023 from https://www.learntechlib.org/primary/p/112231/.
References
View References & Citations Map
Anderson, P. (2007). What is Web 2.0(cid:1)? Ideas, technologies and implications for education. Retrieved from http://www.jisc.ac.uk/media/documents/techwatch/tsw0701b.pdf Benkler, Y. (2006). Chapter 7 political freedom part 2: Emergence of the networked public sphere. The Wealth of
Byington, T.A. (2011). Communities of practice: Using blogs to increase collaboration. Intervention in School and Clinic, 46(5), 280 – 291. Doi:10.1177/1053451210395384
Darling-Hammond, L., & McLaughlin, M.W. (1995). Policies that support professional development in an era of reform. Phi Delta Kappan, 76(8), 597.
Domine, V. (2012). Blogging the field(cid:1): An emergent continuum for urban teacher development, Journal of Technology and Teacher Education, 20(4), 387 – 414.
Forte, A., Humphreys, M., & Park, T. (2012). Online professional development: How teachers use Twitter. Proceedings of the Sixth International A.A.A.I. Conference on Weblogs and Social Media. Retrieved from http://www.aaai.org/ocs/index.php/ICWSM/ICWSM12/paper/download/4585/4973 Grant-Mueller, J. & DeGroot, J. (2011) The power of Web 2.0: Teacher-librarians become school technology
Greysen, S.R., Kind, T., & Chretien, K.C. (2010). Online professionalism and the mirror of social media. Journal of General Internal Medicine, 25(11), 1227-1229.
Koole, M., McQuilkin, J.L. & Ally, M. (2010). Mobile learning in distance education: Utility or futility? Journal of Distance Education, 24(2), 59-82.
Krause, D. (2012). Diigo for professional development. Retrieved from http://educationismylife.com/diigo-forprofessional-development/
Kuzmich, J. & Pisano, J. (2012). The emerging world of online professional development. School Band and Orchestra, 15(9), 44-46.
Pagliaro, G. (2010). Virtual learning communities: How do they transform learning for educators and teaching in
Perez, L. (2012). Innovative Professional Development: Expanding your professional learning network. Knowledge Quest, 40(3), 20-22.
Scott, S. (2010). The theory and practice divide in relation to teacher professional development. In J.O. Lindberg&
Vaughan, N.D., Cleveland-Innes, M., & Garrison, D.R. (2013). Chapter 6: Technology. In Teaching in Blended
Yang, S. (2009). Using Blogs to Enhance Critical Reflection and Community of Practice. Educational Technology Edmonton, AB. & Society, 12(2), 11 – 21.
These references have been extracted automatically and may have some errors. Signed in users can suggest corrections to these mistakes.
Suggest Corrections to References