You are here: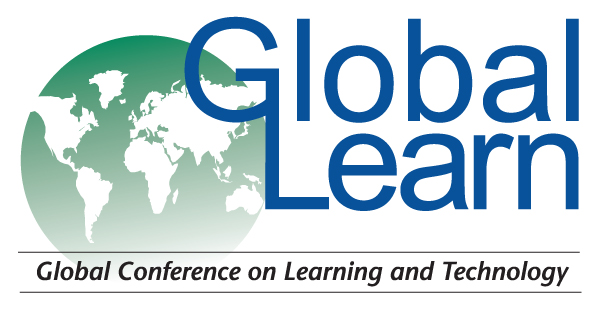 Learners' Internal Management of Cognitive Processing in Online Learning
PROCEEDINGS
Chun-Ying Chen, Department of Electronic Commerce, Transworld Institute of Technology, Taiwan
Global Learn, in Penang, Malaysia ISBN 978-1-880094-79-2 Publisher: Association for the Advancement of Computing in Education (AACE)
Abstract
Computer-mediated communication (CMC) has been widely used to engage learners in academic discourse for knowledge construction. Various studies have attempted to investigate factors that impact the quality of online discussion via CMC. This study investigated the importance of another factor: learning strategies. Several studies in classroom settings have shown the influence of learning strategies on students' deep processing, yet their influence on learning in CMC have not been well investigated. This study therefore aimed to examine students' internal management of cognitive processing in online learning. A mixed method was used to examine students' learning process in online discussion via CMC and explore their strategy use to engage in deep cognitive processing for knowledge construction. The findings suggested that the deep processors used both metacognitive and affective strategies extensively, although did not report significantly more use of elaboration and organizational strategies that are regarded as deep approaches to learning, as compared to the surface processors.
Citation
Chen, C.Y. (2010). Learners' Internal Management of Cognitive Processing in Online Learning. In Z. Abas, I. Jung & J. Luca (Eds.), Proceedings of Global Learn Asia Pacific 2010--Global Conference on Learning and Technology (pp. 4182-4187). Penang, Malaysia: Association for the Advancement of Computing in Education (AACE). Retrieved January 22, 2020 from https://www.learntechlib.org/primary/p/34517/.
Keywords
References
View References & Citations Map
Angeli, C., Valanides, N., & Bonk, C.J. (2003). Communication in a web-based conferencing system: The quality of computer-mediated interactions. British Journal of Educational Technology, 34(1), 31–43.
Bernt, F.M., & Bugbee, A.C., Jr. (1993). Study practices and attitudes related to academic success in a distance learning programme. Distance Education, 14, 97–113.
Biggs, J. (1988). The role of metacognition in enhancing learning. Australian Journal of Education, 32(2), 127–138.
Chi, M.T.H. (1997). Quantifying qualitative analyses of verbal data: A practical guide. The Journal of the Learning Sciences, 6(3), 271–315.
Entwistle, N., & Waterston, S. (1988). Approaches to studying and levels of processing in university students. British Journal of Educational Psychology, 58, 258–265.
Everson, H.T., & Tobias, S. (1998). The ability to estimate knowledge and performance in college. Instructional Science, 26, 65–79.
Fransson, A. (1977). On qualitative differences in learning: IV–Effects of motivation and test anxiety on process and outcome. British Journal of Educational Psychology, 47, 244–257.
Garrison, D.R., & Cleveland-Innes, M. (2005). Facilitating cognitive presence in online learning: Interaction is not enough. American Journal of Distance Education, 19(3), 133–148.
Gunawardena, C.N., Lowe, C.A., & Anderson, T. (1997). Analysis of a global online debate and the development of an interaction analysis model for examining social construction of knowledge in computer conferencing. Journal of Educational Computing Research, 17(4), 397–431.
Henri, F. (1992). Computer conferencing and content analysis. In A.R. Kaye (Ed.), Collaborative learning through computer conferencing: The Najaden papers (pp. 115–136). NY: Springer-Verlag.
Kanuka, H., Rourke, L., & Laflamme, E. (2007). The influence of instructional methods on the quality of online discussion. British Journal of Educational Technology, 38(2), 260–271.
Kurtz, B.E., & Weinert, F.E. (1989). Metamemory, metaperformance, and causal attributions in gifted and average children. Journal of Experimental Child Psychology, 48, 45–61.
Lincoln, Y.S., & Guba, E.G. (1985). Naturalistic inquiry. Newbury Park, CA: Sage.
Moore, M.G. (2002). What does research say about the learners using computer-mediated communication in distance learning? American Journal of Distance Education, 16(2), 61–64.
Moore, M.G., & Kearsley, G. (1996). Distance education: A systems view. Belmont, CA: Wadsworth.
Newman, D.R., Webb, B., & Cochrane, C. (1995). A content analysis method to measure critical thinking in face-to-face and computer supported group learning. Interpersonal Computing and Technology, 3(2), 56–77.
Olgren, C.H. (1998). Improving learning outcomes: The effects of learning strategies and motivation. In C.C. Gibson (Ed.), Distance learners in higher education: Institutional responses for quality outcomes (pp. 77–95).
Salmon, G. (2000). E-moderating: The key to teaching and learning online. London, UK: Kogan Page.
Spatariu, A., Quinn, L.F., & Hartley, K. (2007). A review of research on factors that impact aspects of online discussions quality. TechTrends, 51(3), 44–48.
Taylor, L., Morgan, A., & Gibbs, G. (1981). The "orientation" of Open University foundation students to their studies. Teaching at a Distance, 20, 3–12.
Vygotsky, L.S. (1978). Mind in society: The development of higher psychological processes. Cambridge, MA: Harvard University.
Weinstein, C.E., & Mayer, R.E. (1986). The teaching of learning strategies. In M.C. Wittrock (Ed.), Handbook of research on teaching (3rd ed., pp. 315–327). NY: Macmillan.
These references have been extracted automatically and may have some errors. Signed in users can suggest corrections to these mistakes.
Suggest Corrections to References